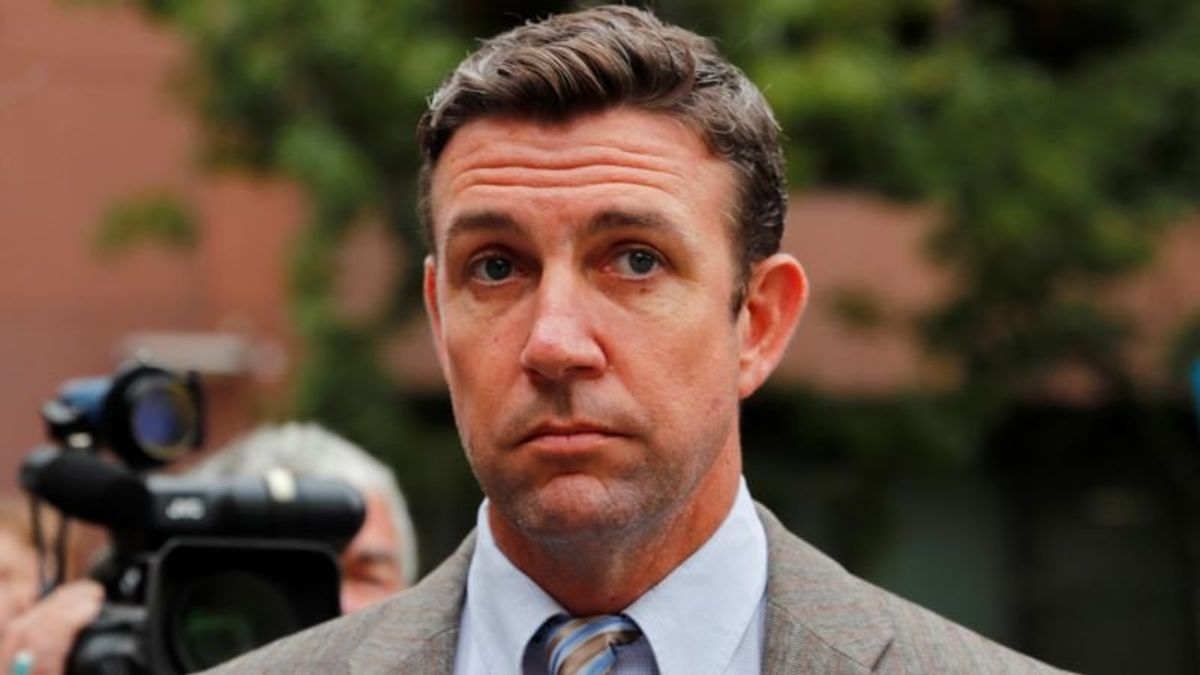 'Terrorism' Ad by Indicted Republican Roils California Election
'Terrorism' Ad by Indicted Republican Roils California Election
SAN DIEGO, CALIF. —
When a Democrat with Palestinian-Mexican ancestry who had never before run for office was elected to challenge a Republican incumbent in a staunchly conservative southern California congressional district, few gave him much of a chance.
But five-term U.S. Representative Duncan Hunter, who has been criminally charged with misusing campaign funds, is concerned enough about Ammar Campa-Najjar to issue a YouTube ad accusing his Democratic rival of trying "to hide his family's ties to terrorism."
It was a reference to his Palestinian grandfather, who was involved in a 1972 plot to kill Israeli athletes at the Olympics and was killed the following year by Israeli commandos.
The ad, released Wednesday, shows Hunter, a former U.S. Marine who followed his father into Congress, dressed in camouflage and saying he approved the message.
​Democrat responds
Campa-Najjar told Reuters on Saturday Hunter's ad was "racist, xenophobic and rooted in lies."
He noted he had security clearances to work in the White House and the Labor Department under former President Barack Obama.
"If Hunter applied for that clearance under indictment, he would be denied, which is why (House of Representatives Speaker) Paul Ryan stripped him of his seat on the Armed Services Committee, because he would have access to confidential materials. That's the irony of this," Campa-Najjar said.
"I think he's trying to tap into dark emotions and I don't think people will rise to that," Campa-Najjar said.
Hunter's campaign did not respond to requests for comment.
Hunter's once-safe seat
Democrats need to pick up 23 House of Representatives seats in the Nov. 6 congressional elections if they wish to take a majority and serve as a more effective counter to U.S. President Donald Trump. Republicans can ill afford to lose normally safe seats like Hunter's, in a district including San Diego, as they look to keep control of that chamber.
Polls show Hunter maintaining a comfortable lead over Campa-Najjar, though not as wide as his 27 percentage point margin of victory in 2016.
A Monmouth University Poll of 401 voters conducted between Sept. 22 and 26, found 53 percent of likely voters supported Hunter versus 38 percent for Campa-Najjar. The poll had a 5.3 percentage point margin of error.
Campa-Najjar's campaign says its polling shows a much closer race.
Family blame game
The 29-year-old Democratic challenger is the son of a Mexican-American mother and a Palestinian father who immigrated from the Middle East. He stresses his Christian faith on the campaign trail and has tried repeatedly to distance himself from his Palestinian grandfather.
He responded to Hunter's ad by pointing to the Republican's own family troubles: "He knows I'm not responsible for my family's actions, just like his wife isn't responsible for his."
Hunter, 41, and his wife pleaded not guilty Aug. 23 to charges of misusing $250,000 in campaign funds to pay for their children's private school tuition, lavish travel including a trip to Italy and restaurant meals that cost hundreds of dollars. He has said the charges were politically motivated.
Criminal charges
Hunter is not the only Republican congressman running for re-election while fighting criminal charges. U.S. Representative Chris Collins is also campaigning in a normally solidly Republican western New York state district while awaiting trial on insider trading charges that he has denied.
Both Hunter and Collins were early supporters of Trump, who early this month criticized Attorney General Jeff Sessions for allowing federal prosecutors to charge Republican candidates in an election year.
Campa-Najjar's fundraising has outpaced Hunter's, according to Federal Election Commission data through June 2018. Hunter's campaign had reported contributions of $854,787, while Campa-Najjar had reported nearly $1.1 million