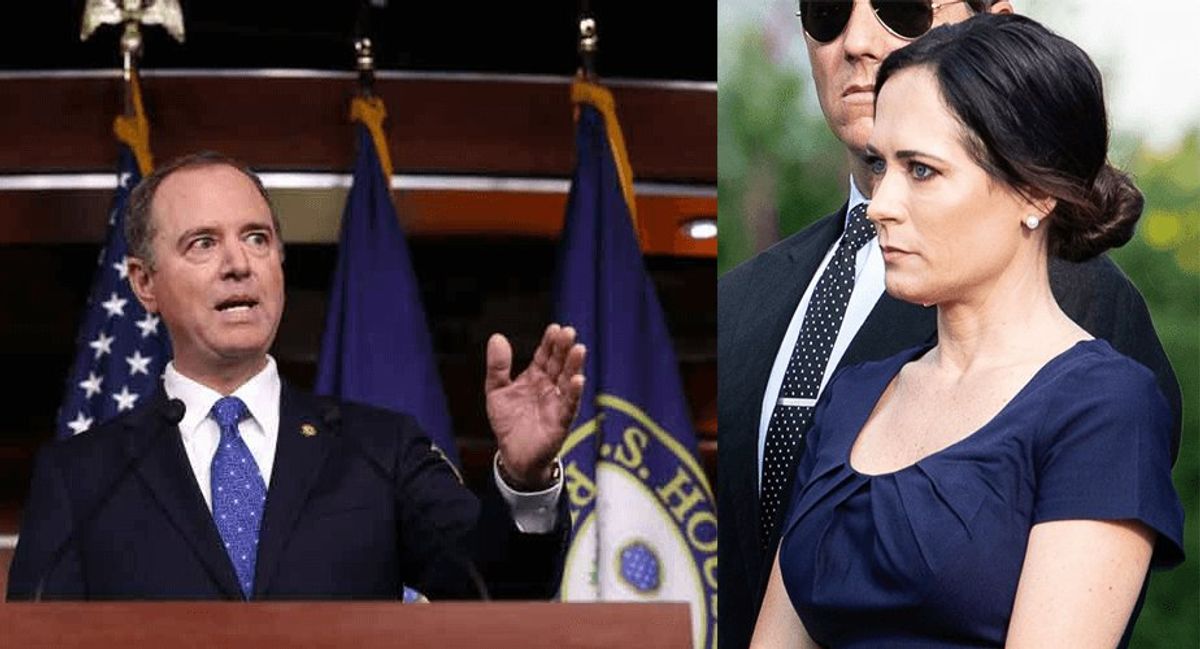 Stephanie Grisham: 'Obsessed' Adam Schiff having a 'mental issue'
While appearing on Sunday's edition of Fox News' "Media Buzz," White House press secretary Stephanie Grisham told Howard Kurtz she believes Adam Schiff, the California Democrat heading up the Democrats' sham impeachment coup, is obsessed with taking President Trump down and is suffering from "a little bit of a mental issue."
WH's Grisham on Fox on Schiff: It seems like he's having a little bit of a mental issue when you sit on the floor for hours and hours and hours. He is obsessed with this president and trying to take him down.

— Chad Pergram (@ChadPergram) January 26, 2020
"Quite frankly, it seems like he's having a little bit of a mental issue when you sit on the floor for hours and hours and hours," she said. "He is obsessed with this president and trying to take him down."
Earlier in the day, Trump issued a tweet calling Schiff "sick," saying the bug-eyed barrister from Burbank has yet to pay a price for his actions.
Shifty Adam Schiff is a CORRUPT POLITICIAN, and probably a very sick man. He has not paid the price, yet, for what he has done to our Country!

— Donald J. Trump (@realDonaldTrump) January 26, 2020
Schiff and his fellow leftists took that to be a threat, but Grisham said it was simply Trump's way of expressing the fact that the California Democrat has yet to pay a political price for his actions in the sham impeachment coup.
EXCLUSIVE: @RepAdamSchiff: "Look at the president's tweets about me today saying I should pay a price.."@chucktodd: "Do you take that as a threat?"@RepAdamSchiff: "I think it is intended to be." pic.twitter.com/8KUqaoJcS3

— Meet the Press (@MeetThePress) January 26, 2020
"That's ridiculous," she said, calling his statement, "grandstanding."
"He hasn't paid the price yet with the people of this country who see that he's been lying and very obsessed," she told Kurtz.
She also hammered the biased liberal media for its one-sided coverage of the impeachment trial.
Here's video:
###
By Joe Newby
Joe Newby is a 10-year veteran of the U.S. Marine Corps, Joe ran for a city council position in Riverside, Calif., in 1991 and managed successful campaigns for the Idaho state legislature. Co-author of "Banned: How Facebook enables militant Islamic jihad," Joe wrote for Examiner.com from 2010 until it closed in 2016 and his work has been published at Newsbusters, Spokane Faith and Values and other sites. He now runs the Conservative Firing Line.
JOIN US ON RUMBLE LIVE NOW!