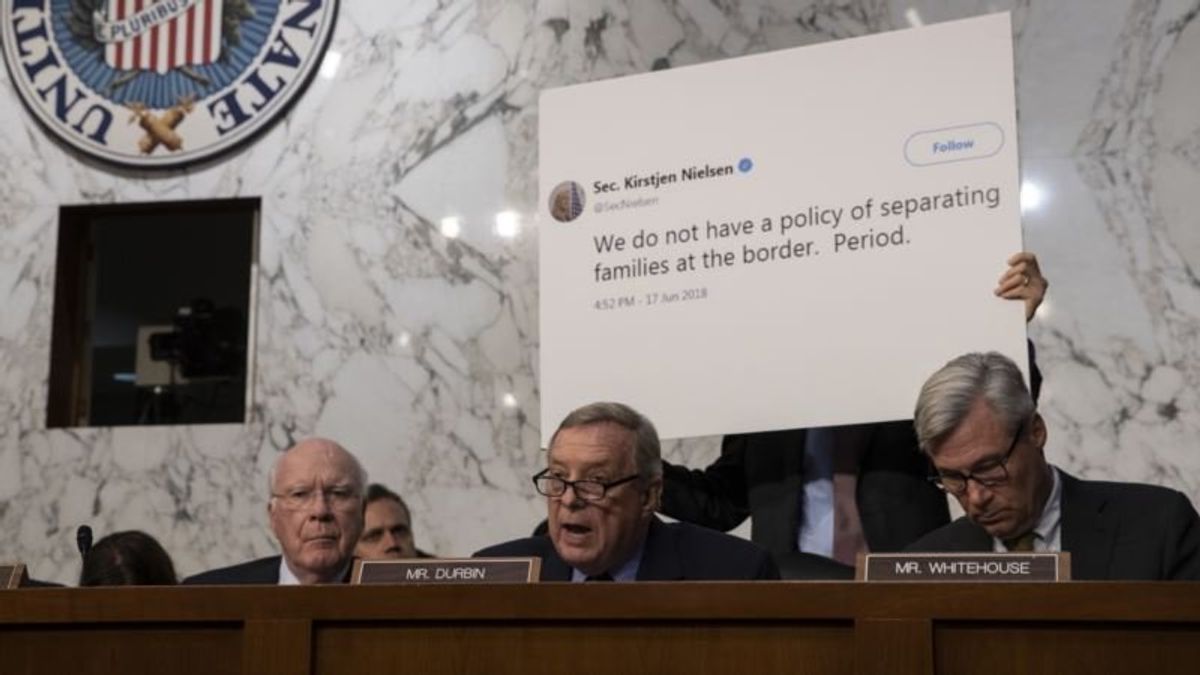 Senate Grills Officials on Handling of Immigrant Family Separations
Senate Grills Officials on Handling of Immigrant Family Separations
CAPITOL HILL —
Trump administration officials on Tuesday withstood blistering criticism from Senate Democrats over continued immigrant family separations at the U.S.-Mexico border, with officials likening detention facilities to summer camps and insisting federal agencies are working valiantly to comply with U.S. law as well as court orders.
"Nearly 2,700 children were separated from their parents and more than 700 children still have not been reunited with their families, including more than 400 whose parents were apparently deported and more than 90 whose parents can't be located at all," said the Senate's No. 2 Democrat, Dick Durbin of Illinois.
"The policies of President Trump and Attorney General Jeff Sessions may essentially orphan hundreds of immigrant children," said the ranking Democrat on the Senate Judiciary Committee, Dianne Feinstein of California.
Testifying before the committee, top immigration and border protection officials admitted they missed a court-ordered deadline earlier this month for completing the reunification of families separated under the Trump administration's "zero tolerance" policy for illegal border crossings. But, they said, nearly all remaining minors fall into two categories: those whose parents have been deported and those who could be in some form of danger if released from federal custody.
Matthew Albence, who oversees U.S. Immigration and Customs Enforcement's removal of undocumented immigrants, said that when facing deportation, many parents of separated children "do not wish to have their child return home with them — the reason most of these individuals have come here in the first place is to get their children to the United States. … They've succeeded by getting their child here."
Albence added that ICE field offices have been working "24/7" to reunify families as quickly as possible.
Casting blame
The Department of Health and Human Services cares for detained undocumented minors, many of whom cross the border unaccompanied by a parent or family member. Some U.S. lawmakers have been turned away when attempting to visit and inspect HHS facilities, but a federal public health coordinator for separated minors, Cmdr. Jonathan White, insisted children are well cared for.
"The quality of care provided by HHS for children is excellent," White said. "The high standard of care … is the same as for American children in licensed residential care settings across the country."
None of the officials who testified admitted to any missteps by their agencies in separating immigrant families or in efforts to reunify them, insisting they have done all they can to follow laws written by Congress, implement President Donald Trump's executive orders, and comply with court orders.
Senators of both parties challenged them. Vermont Democrat Patrick Leahy quipped that a popular kids' pizza parlor, Chuck E. Cheese's, has a better system for keeping children with their parents than the federal government.
The committee's chairman, Republican Chuck Grassley of Iowa, suggested there is plenty of blame to go around.
"Although the administration has mishandled the family separations, it's also important to remember that this institution, the Congress, also deserves its fair share of blame," Grassley said.
Looking ahead
Democratic and Republican senators have unveiled competing proposals to end family separations as a matter of federal law.
"I hope that maybe, just maybe, the efforts to come up with a solution are not dead, and that we will be able to come up with a compassionate solution to the problem," said the Senate's No. 2 Republican, John Cornyn of Texas.
For now, Durbin demanded accountability.
"This [family separations] started with somebody in the White House with a bright idea that turned out to be a disaster," the Illinois Democrat said. "I am today calling on the architect of this humanitarian disaster, Department of Homeland Security Secretary Kirstjen Nielsen, to step down."
DHS did not immediately respond to Durbin, but earlier this month a department spokesman, Tyler Houlton, tweeted that "obstructionists in Congress should get to work to secure our borders, end legal loopholes & protect American lives."
At the White House, meanwhile, Trump signaled no backing away from his hardline stances on immigration and border security, and reiterated he is willing to see the federal government shut down to press for border wall funding.
"I don't care what the political ramifications are, our immigration laws and border security have been a complete and total disaster for decades," the president tweeted. "Border Security is National Security, and National Security is the long-term viability of our Country. A Government Shutdown is a very small price to pay for a safe and Prosperous America!"