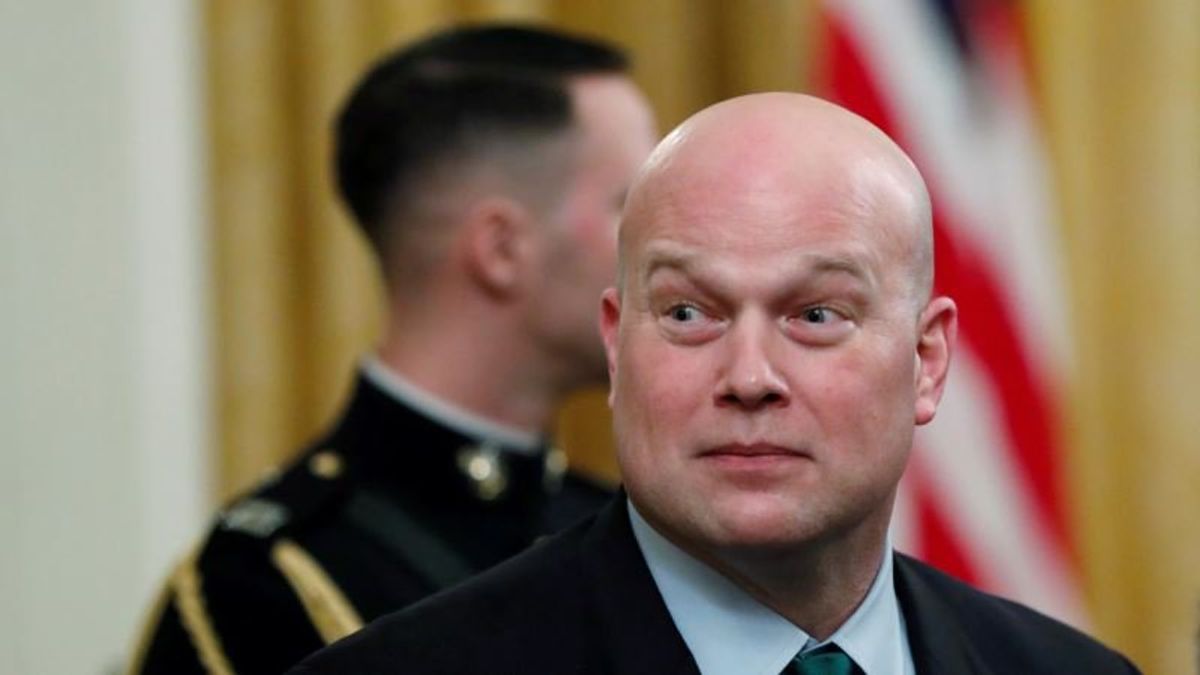 Right-Leaning Nonprofit Paid Whitaker More Than $1.2 Million
Right-Leaning Nonprofit Paid Whitaker More Than $1.2 Million
Before joining the Justice Department, acting Attorney General Matthew Whitaker earned more than $1.2 million from a right-leaning nonprofit that doesn't disclose its donors, according to the nonprofit's tax filings. Whitaker's earnings represented a sizable chunk of the charity's revenue.
Financial disclosure forms released Tuesday show Whitaker received $904,000 in income from the Foundation for Accountability & Civic Trust from 2016 through nearly the end of 2017. He also received $15,000 from CNN as a legal commentator, according to the documents released by the Justice Department.
The nonprofit group, known as FACT, styles itself as a nonpartisan government watchdog promoting ethics and transparency. The tax-exempt group is supposed to serve the public interest without supporting or opposing specific candidates for office. However, its challenges and its website have focused largely, though not exclusively, on Democrats and their party.
Whitaker used his role as president and executive director of FACT in 2016 as a platform to question the ethics of Democratic presidential nominee Hillary Clinton.
From 2014 through 2016, FACT paid out nearly 30 percent of its total revenue to Whitaker. In 2015 alone, Whitaker's $252,000 salary made up half of what the group brought in. Whitaker's salary also grew each year from $63,000 in 2014 to as much as $502,000 in 2017, according to the tax filings and public financial disclosures released by the Justice Department.
Separately, Whitaker is also facing criticism about whether he violated federal law because a campaign committee set up for his failed 2014 U.S. Senate bid accepted $8,800 in donations this year, while Whitaker was serving as a top Justice Department lawyer.
On Wednesday, Sen. Sheldon Whitehouse, D-R.I., called for an investigation into whether Whitaker violated the Hatch Act, a statute that generally prohibits executive branch employees from accepting or soliciting campaign donations.
Whitaker's campaign committee, which still carries about $49,000 in debt, hadn't received any contributions between 2015 through 2017, according to Federal Election Commission data.
The campaign committee, Whitaker for U.S. Senate Inc., also reported paying $500 to Whitaker's old law firm, Whitaker, Hagenow & Gustoff, for space rental on Febraury 2. The campaign paid a $228 reimbursement to Christopher Hagenow — an Iowa legislator and founding partner of the law firm — for data services that same day.
Several news outlets, including The Associated Press, and outside groups had requested Whitaker's financial disclosure forms from the Justice Department after President Donald Trump ousted Attorney General Jeff Sessions and elevated Whitaker to the agency's top post on Nov. 7.
Those documents show Whitaker began revising his public disclosures the day he was appointed acting attorney general. He revised the forms four more times, including on Tuesday.
In a disclosure form Whitaker completed when he joined the Justice Department in September 2017, he reported receiving $1,875 in legal fees from a company called World Patent Marketing. Whitaker has come under scrutiny for his involvement with the company, which was accused of misleading consumers and is under investigation by the FBI.
Whitaker also disclosed his partial interest in a family farm in Ely, Iowa, that he valued at between $100,000 and $250,000. The forms also included disclosures of $20,000 to $30,000 in credit card debt in 2017.
FACT drew its funds from 2014-2016 mainly from Donor's Trust, another nonprofit designed to provide anonymity to conservative and libertarian donors. Though such tax-exempt groups can legally withhold the identity of their contributors and generally do so, there may be a distinct irony when a group dedicated to transparency keeps its funding sources in the shadows.
Whitaker's appointment has been criticized by Democrats who have challenged its constitutionality and are concerned that he will interfere with special counsel Robert Mueller's Russia investigation.
On Tuesday, the Senate's top Democrat, Sen. Charles Schumer, asked the Justice Department's inspector general to investigate communications between Whitaker and the White House and to look into whether Whitaker had access to confidential grand jury information in Mueller's probe.
Deputy Attorney General Rod Rosenstein, the second-ranking Justice Department official, had been overseeing the special counsel's Russia investigation until Whitaker's appointment. Whitaker is now overseeing the investigation.
Schumer and other Democrats have said they are concerned about Whitaker's past criticism of the Mueller probe, which is looking at Russian interference in the 2016 election and ties to Trump's campaign.
Whitaker's past public statements have included an op-ed article in which he said Mueller would be straying outside his mandate if he investigated Trump's family finances. In a talk radio interview he maintained there was no evidence of collusion between Russia and the Trump campaign during the 2016 election.