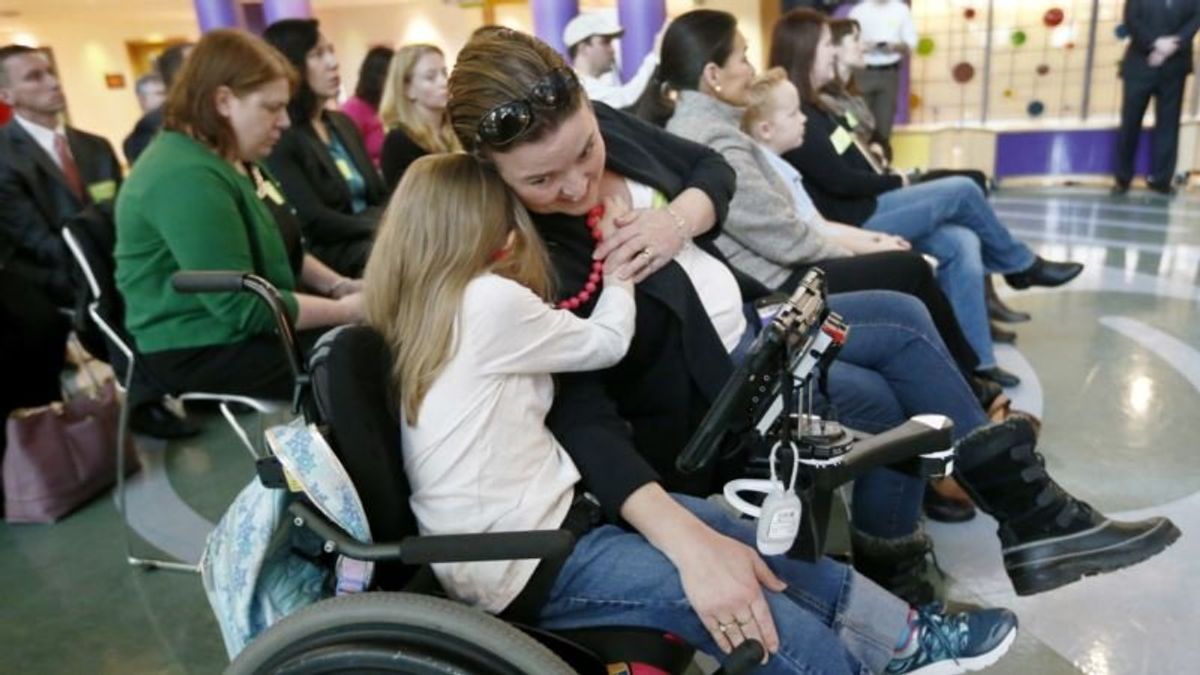 Report: Number of Uninsured Kids Spikes to 3.9M in US
Report: Number of Uninsured Kids Spikes to 3.9M in US
FORT LAUDERDALE, FLA. —
The number of uninsured children in the United States has increased for the first time in nearly a decade, placing it at 3.9 million in 2017, according to a report Thursday from Georgetown University's Center for Children and Families.
Nationally, the number of uninsured children increased by an estimated 276,000 in 2017, from a historic low of 4.7 percent in 2016 to 5 percent last year. Experts say about 75 percent of the newly uninsured children are clustered in states that did not expand Medicaid such as Florida, Texas and Georgia.
Under President Obama's Affordable Care Act, Florida and other states could take federal funding to help pay for health coverage for nearly 900,000 people, but the Republican-led Legislature in Florida voted against it. The vast majority of states have already expanded Medicaid and increased the number of residents eligible for its coverage.
Joan Alker, executive director for Georgetown's Center for Children and Families, has written the report for the last eight years and said she's never seen the rates of uninsured children go up in all 50 states, which happened last year.
Better economy, low unemployment
She said that what is perhaps most concerning is that the uninsured rate among children increased despite an improving economy and low unemployment rate that allowed more children to get private coverage through their parents.
The study blamed the increases on the Trump administration's repeated attempts to prompt an overhaul of publicly funded health care. There were major efforts to repeal Obama's Affordable Care Act and cut Medicaid, and the children's CHIP insurance funding also ran out and hung in the balance for months before Congress extended it.
"There was a lot of confusion among families as to whether these public coverage sources were available,'' Alker said.
At the same time, the Trump administration slashed funding for advertising and enrollment counselors to help sign people up for these health insurance programs. The country's enrollment decline was not just in Medicaid and CHIP, but also in Obamacare, or the federal marketplace where parents can purchase private health insurance and often receive a subsidy to help pay for it.
The report noted that many of the children who do not have health insurance are eligible for coverage but just aren't enrolled.
'More of a fluctuation'
Ed Haislmaier, a senior research fellow with the Heritage Foundation, a conservative think tank, said the figures were statistically insignificant.
He did agree that there were dips in Medicaid enrollment and through the Obamacare marketplace, but noted there's no enrollment cutoff for Medicaid, meaning families can sign up their children year-round.
"It's really more of a fluctuation. There's no policy driver there,'' he said, saying he didn't think marketing cuts had any impact.
In Florida, the uninsured rate went from 288,000 in 2016 to 325,000 in 2017.
Florida has one of the highest rates of uninsured residents in the country, and also has had the highest number of enrollees purchasing insurance through the Obamacare federal marketplace. However, Medicaid expansion in Florida is likely off the table for this upcoming legislative session. Incoming Gov.-elect Ron DeSantis, a Republican, is against it. His opponent, Democrat Andrew Gillum, campaigned heavily on his support to expand Medicaid coverage for more residents.
The report also expressed concern that strict immigration policies and enforcement were making many immigrant families leery of enrolling, even if their children were eligible for health coverage. "We think it's really this national unwelcome mat regarding public coverage,'' Alker said.