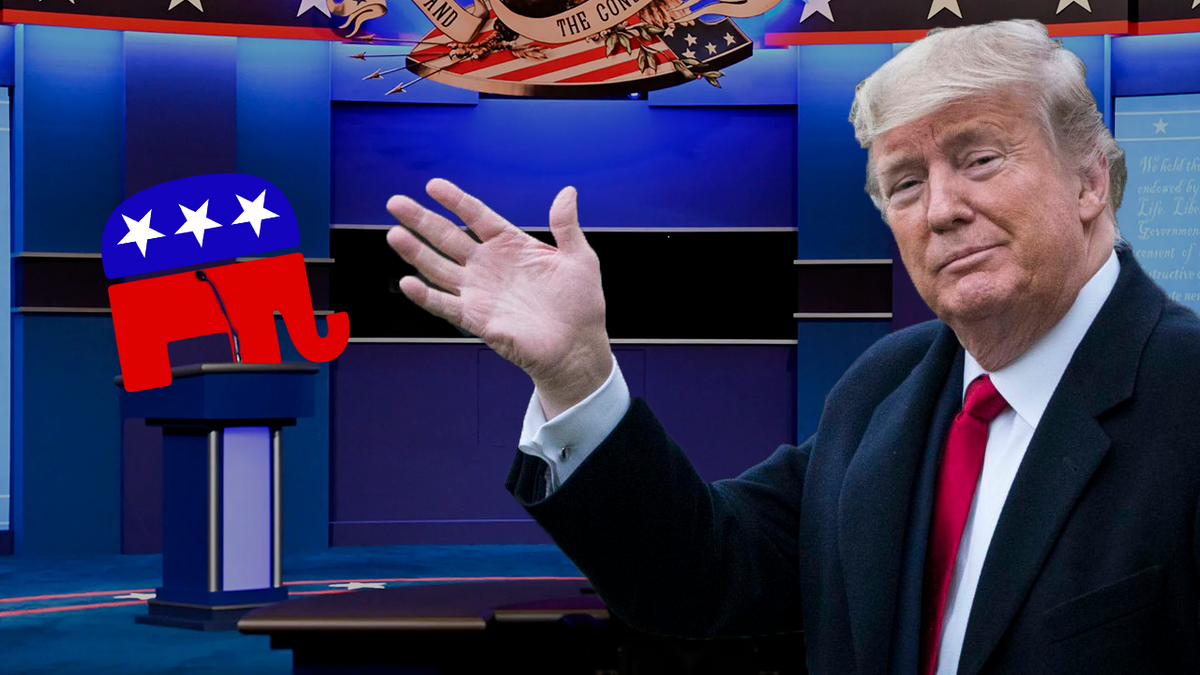 PRESIDENT TRUMP SHOULD DITCH THE GOP DEBATES
The Republican Party, led by an incompetent Chairwoman, Ronna Romney McDaniel, has scheduled its first presidential candidate debate on August 23 in Milwaukee, Wisconsin. To qualify, presidential candidates must have a minimum of 40,000 individual donors, two hundred unique donors in at least twenty states and 1% or more in three or more national or early primary state polls conducted in the seven weeks before the scheduled debate.
At this point, it seems likely there will be at least five candidates on the debate stage: Florida Governor Ron DeSantis, former Vice President Mike Pence, entrepreneur Vivek Ramaswamy, former South Carolina Governor Nikki Haley, and South Carolina Senator Tim Scott.
Of course, President Donald Trump, the frontrunner, would also qualify. Fortunately, he is very reluctant to participate. On Truth Social, he posted, "Maybe I should enter the debates- But, then again, when you have a 40-to-50-point lead over the field, maybe I shouldn't???"
One factor Trump should consider is that his nemesis, former New Jersey Governor Chris Christie, might qualify for the debate as well. Christie is being helped by establishment Republicans and Democrats who want to see the former President bashed on stage by a candidate who hates him. In fact, Christie's primary focus in recent media interviewing is harsh criticism of President Trump.
The Republican National Committee (RNC) will also demand that all candidates participating in the debates sign a pledge to support the eventual nominee. This did not work in 2016 as several GOP presidential candidates, such as former Ohio Governor John Kasich and former Florida Governor Jeb Bush, refused to honor their pledge and support the nominee, Donald Trump. This infuriated Trump who claimed that the candidates "broke their word" and their actions were "disgraceful."
Regardless of the pledge, the same scenario will likely occur this year. If Trump is the 2024 GOP nominee, many of the current candidates will probably not support him, whether they sign the pledge or not. With pathetic party leadership and a stage full of low polling candidates ready to attack, the best decision for President Trump is to forgo the debate.
Trump gains nothing by allowing these lesser-known candidates achieve equal billing and join him on the debate stage. While it would elevate these low polling candidates, it could potentially harm President Trump.
At this point, Trump does not need to prove anything. This is his third national campaign for the presidency. Everyone in America knows his positions on the issues, as he has consistently outlined them for eight years.
A debate would have only traps for President Trump. Not only would he be viciously attacked by desperate competitors, but the Fox News debate moderators are known for their anti-Trump views.
Instead, President Trump should provide Americans with counter programming. He could host an event, such as a large rally, which would be more interesting. He could also conduct a national town hall event with Tucker Carlson, submitting to questions from real Americans, not biased journalists. Whatever Trump decides to do, unquestionably, the event would generate much higher ratings than a presidential debate without the main attraction.
Who wants to watch a debate between Mike Pence and Ron DeSantis arguing over tax policy or their legislative agenda? Most Americans would only be motivated to tune in to observe Trump in action, to see how he fares against his opponents and learn what new nicknames he has created for them.
Without Trump, there would be little interest to see lower-level candidates struggling for traction in the polls. Right now, as in 2016 and 2020, Donald Trump dominates the Republican nomination contest.
In this campaign, Trump's major opponent, Governor DeSantis, has struggled. In a Sunday Fox News interview, host Maria Bartiromo asked him, "I'm wondering what's going on with your campaign?" Bartiromo referred to a recent Fox News poll that showed Trump with a commanding 56-22% lead over DeSantis.
She also cited an unflattering media profile and his own representative admitting the DeSantis campaign was far behind. She asked the question all political pundits have been wondering, "What happened?"
DeSantis blamed the media, claiming that leftwing journalists oppose him because "they know I will actually deliver on all these things."
In addition, DeSantis noted that the various indictments leveled against Trump have made him stronger. He said, "I think one of the reasons that Donald Trump is in the lead, because of the corruption and the unfairness of our justice system."
DeSantis is right, the justice system is biased against Trump, yet that will not change anytime soon. In the weeks ahead, Americans can expect more criminal charges against Trump; however, Republican voters will rally behind him even more.
Trump is also a once in a generation political talent, someone who inspires the GOP base in the same way that President Ronald Reagan did during his storied political career.
As evidence, on July 1, President Trump attracted a massive crowd of at least 50,000 people to a rally in Pickens, South Carolina. He drew a crowd that was more than ten times larger than the population of the city.
On Saturday night, Trump attended the UFC 290 at the T-Mobile arena in Las Vegas. He met with celebrities and fighters and was greeted like a rock star by the adoring crowd.
No one else running for President in 2024, especially not the incumbent, could attract such intense public support. The more Trump is attacked, the stronger he becomes.
Even with the indictments and unfair treatment by the media and the Deep State, Trump leads President Joe Biden in most of the polls. For example, in the latest national poll by Echelon Insights, Trump leads Biden nationally by a 43-42% margin, but the lead is greater, 48-40%, in the battleground states.
Millions of Americans, especially Republicans, remember his successful presidency and want him back in the White House. As noted by former Trump campaign operative Bryan Lanza, "voters aren't looking for Trump-light. They're looking for Trump."
By: Jeff Crouere
#####
Jeff Crouere is a native New Orleanian and his award-winning program, "Ringside Politics," airs Saturdays from Noon until 1 p.m. CT nationally on Real America's Voice TV Network & AmericasVoice.News and weekdays from 7-11 a.m. CT on WGSO 990-AM & Wgso.com. He is a political columnist, the author of America's Last Chance and provides regular commentaries on the Jeff Crouere YouTube channel and on Crouere.net. For more information, email him at jcrouere@gmail.com