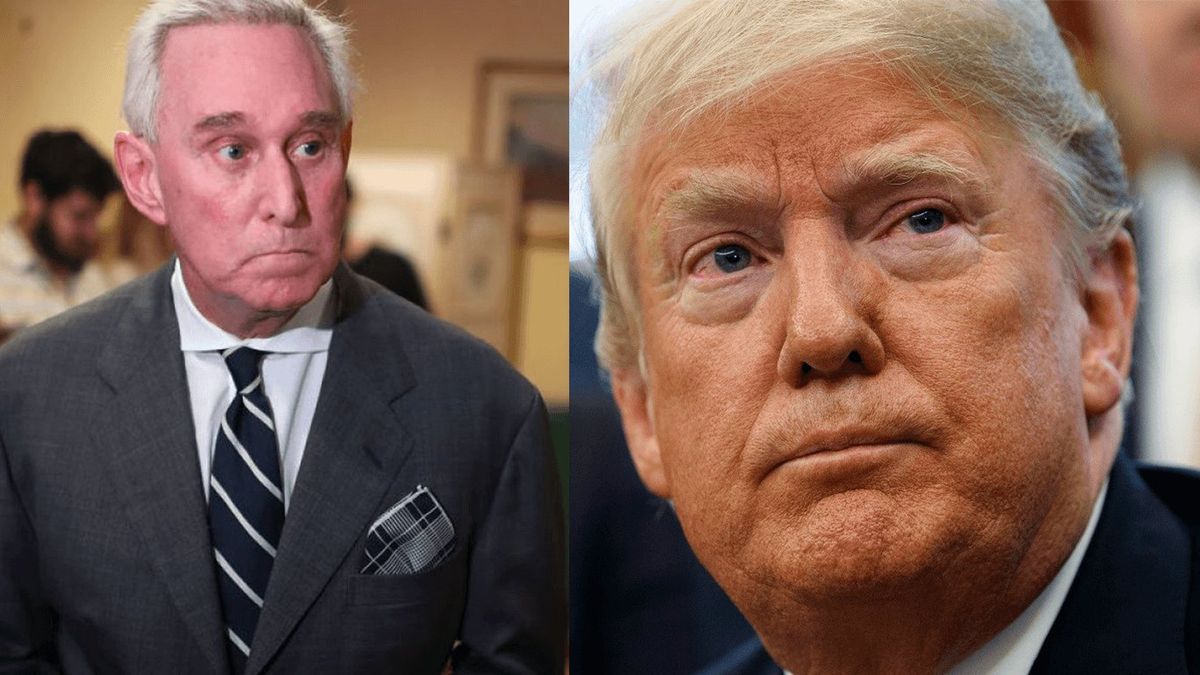 President Trump Pardoning Roger Stone Would Be A Win For Justice
February 21, 2020, 2:50 PM
American patriots are rallying behind longtime President Donald Trump political adviser Roger Stone following the legendary Republican strategist's sentencing Thursday to three years, four months in federal prison for process crimes related to the Robert Mueller investigation, which found no Russian collusion on the part of Trump's team in the 2016 election.
Massive evidence is coming out to bolster the case for a mistrial, due to the jury's obvious bias and the anti-Trump jury foreperson lying during jury selection.
President Trump is stoking speculation that he might pardon Stone, recently pinning to his Twitter a video of Fox News host Tucker Carlson, who wants Trump to pardon Stone to establish that politically motivated prosecutions will not be tolerated in the age of Republican governance. 
"Now for perspective on that sentence, the typical rapist in this country spends four years in prison. Armed robbers. Three years. Thugs who commit violent assault. Less than a year and a half," Tucker Carlson said on his 8 PM weeknight show, which has become the Big Media conscience of Trump's movement.
"CNN has been is actually ghoulish on the subject. You'll remember that prosecutors tipped off Jeff Zucker's network last year so they could have cameras at his place when dozens of federal agents armed with automatic weapons dragged Roger Stone from his home at dawn," Carlson said. "Talk about state TV. For the last few days, the hyenas on CNN have been driven into hysteria by the thought that the Justice Department might reduce Roger Stone's sentence even by a day."
"But at least it's now clear what's actually going on. This is a pure political hit. Roger Stone is facing prison because he is a high profile, Donald Trump supporter. It's that simple," Carlson said.
Democrats accuse Stone of being the Trump team's point man on Julian Assange's publication of Democrat National Committee emails, which Assange maintains were not obtained through a Russian hack on the DNC server.
Those emails, dropped during the 2016 election, revealed that Hillary Clinton campaign chairman John Podesta was invited to a demonic "Spirit Cooking" session with occultist Maria Abramovic and that institutional Democrats rigged the nominating contest against Bernie Sanders. Stone has said that he merely promoted the email release.
"They say Roger Stone lied to Congress. @CNN OH, I see, but so did Comey (and he also leaked classified information, for which almost everyone, other than Crooked Hillary Clinton, goes to jail for a long time), and so did Andy McCabe, who also lied to the FBI! FAIRNESS?," President Trump tweeted, pointing out the hypocrisy of the two-tiered justice system in which American patriots are targeted by federal law enforcement whilst corrupt Democrats operate with relative impunity.
The fix was clearly in at Thursday's sentencing in Washington, D.C. as Stone supporters set up camp outside the courthouse early. Reporter Glenn Kirschner noticed the pro-Stone contingent and tweeted out this photo: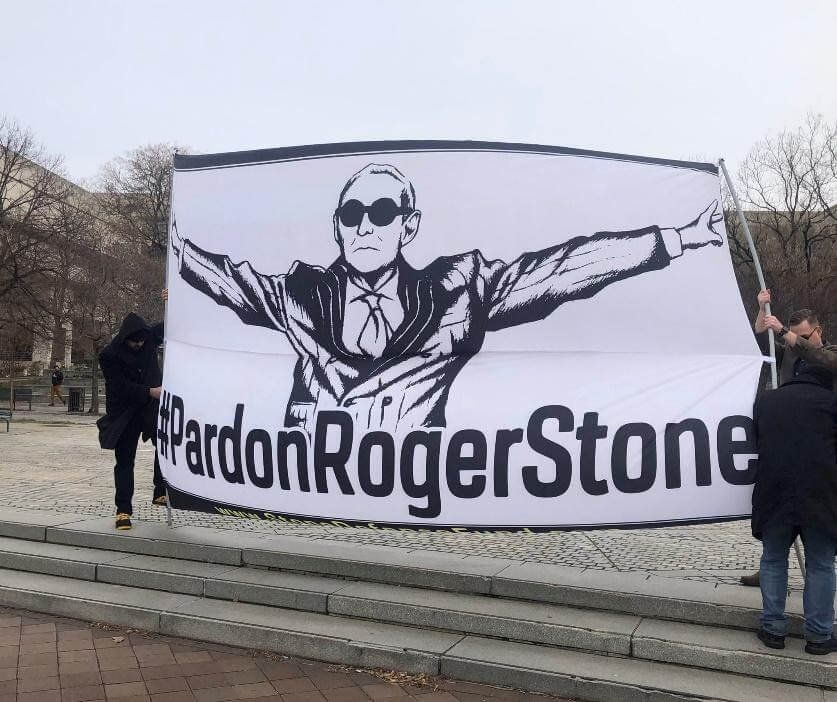 Obama-appointed federal judge Amy Berman Jackson did not even bother to mask her contempt for Stone, choosing to deliver a politically charged condemnation of the America First, anti-neocon Republican defendant.
"He was not prosecuted, as some have claimed, for standing up for the president. He was prosecuted for covering up for the president," said Berman Jackson, whose statement defies credulity considering that Mueller came up empty in his Russia investigation and so Stone had no reason to cover up for Trump. 
"It arose because Roger Stone characteristically inserted himself smack in the middle of one of the most incendiary issues of the day," Berman Jackson stated, apparently criminalizing the Constitutionally protected right for citizens to engage with the political process during an election year.
"The U.S. Congress cared. The government and the Department of Justice and U.S. Attorney's office cared. The American people cared. I cared," Berman Jackson said.
Perhaps Berman Jackson cared a bit too much. The judge presided over a trial rife with misconduct, which could spark a mistrial.
Stone jury foreperson Tomeka Hart, a former Memphis school board member who has worked for the Bill and Melinda Gates Foundation and has been photographed with ex-DNC acting chairwoman Donna Brazile, tweeted negatively about President Trump and positively about Hillary Clinton during the Stone trial, which took place in November 2019. Hart also retweeted an anti-Stone comment from a CNN commentator following Stone's arrest.
"So nothing that I can recall specifically. I do watch sometimes paying attention and sometimes in the background CNN. So I recall just hearing about him being part of the campaign and some belief and reporting around interaction with the Russian probe and interaction with him and people in the country, but I don't have a whole lot of details. I don't pay that close attention or watch C-Span," Stone jury foreperson Tomeka Hart said when she was interviewed during jury selection, as evidenced by this transcript. 
But in fact, Tomeka Hart has admitted to watching C-Span, which evidently emboldens her partisan sentiments.
@RepDianaDeGette watching C-Span now. Thank you for being a voice of reason–at least for trying!

— Tomeka Hart (@hartformemphis) November 4, 2011
As I reported, Stone met in Miami during the 2016 election with a Ukrainian and also a Russian who used the alias "Henry Greenberg." It turns out that "Henry Greenberg," who offered damaging material on Hillary Clinton that never surfaced, was actually a long-serving FBI informant including during Robert Mueller's career as FBI director.
Henry Oknyansky, the Russian who posed as "Henry Greenberg," said in an August 2015 U.S. District Court affidavit, "After almost 2 years in INS custody, in 2000, I decided to leave US voluntarily…More than 8 years, while outside U.S., I provide information to FBI Special Agent David Baker. Wherever I was, from Iran, to North Korea, I always send information to Mr. Baker…In 2009 FBI requested another parole for me, because of very good information I provided."
Clearly, given the hostile circumstances that led to Stone's conviction and sentencing, American patriots want to see justice operate independently of the political war ravaging the country. A Trump pardon of Roger Stone could re-instill faith in his supporters, and in independent-minded people everywhere, that we will not be prisoners – literally —  of a corrupt justice system. Now that would be a show of strength with months to go until Election Day.
By Patrick Howley