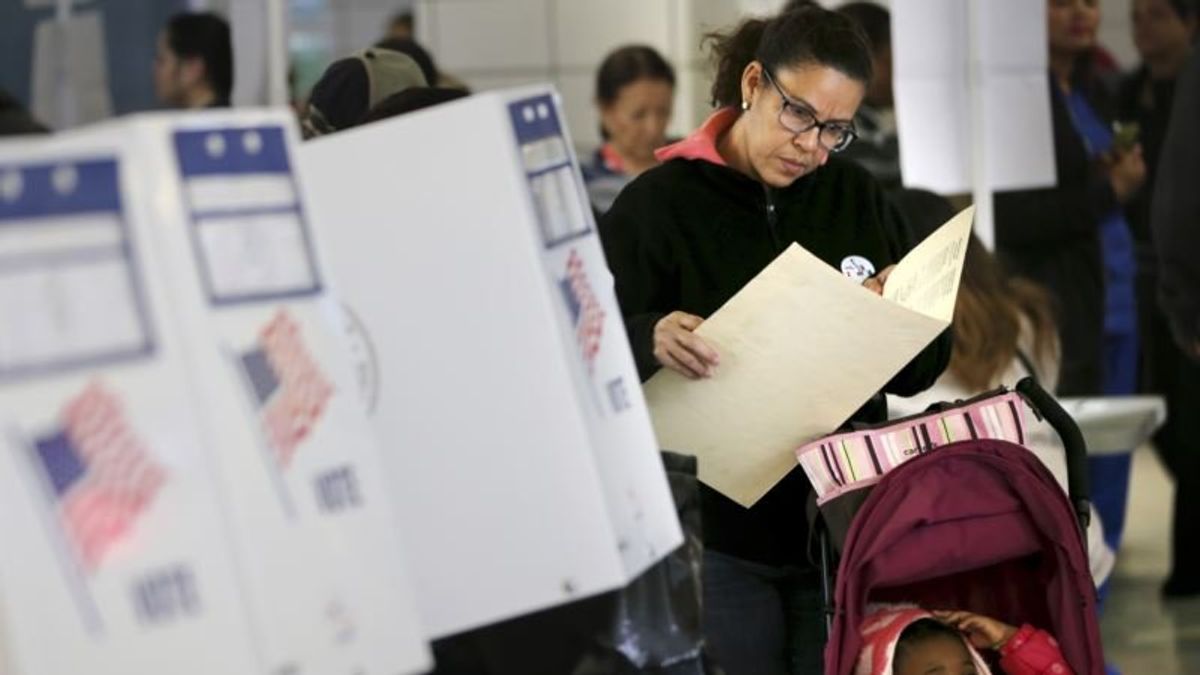 Polls: Democrats Favored to Take House, Republicans to Hold Senate in US Midterms
November 2, 2018, 9:15 AM
Polls: Democrats Favored to Take House, Republicans to Hold Senate in US Midterms
WASHINGTON —
As the U.S. midterm election enters the final stretch, many races are too close to call but most polls have Democrats seizing control of the House of Representatives and Republicans clinging on to the Senate.
President Donald Trump is ratcheting up the rhetoric and campaigning furiously as he seeks to hold on to the Republican majorities in the two chambers of Congress.
All 435 seats in the House are up for grabs on Tuesday while 35 seats in the 100-member Senate are at stake. Americans will vote for governor in 36 states.
Republicans have a slim 51-49 hold on the Senate, where Democrats have a tough hill to climb with 26 Democratic seats on the ballot and only nine Republican seats.
Democrats need a net gain of 23 seats to take control of the House they lost in 2010 and House minority leader Nancy Pelosi boldly predicted this week they would do so.
"Democrats will carry the House," Pelosi said on "The Late Show With Stephen Colbert," while also forecasting victory in the Senate.
Political forecasting outlet FiveThirtyEight.com gives Democrats a 6 in 7, or 85 percent, chance of gaining control of the House but only a 1 in 7, or 15 percent, chance of winning the Senate.
As election day approaches and with turnout a major factor, Trump has sought to drive Republicans to the polls and rekindle the enthusiasm of his 2016 upset presidential bid.
"I'm not on the ticket, but I am on the ticket because this is also a referendum about me," he said at a rally last month in Mississippi. "Pretend I'm on the ballot."
Anti-immigration rhetoric
Trump has scheduled 10 campaign rallies over the next five days in eight states — Florida, Georgia, Indiana, Missouri, Montana, Ohio, Tennessee, and West Virginia.
Trump has dialed up the rhetoric on immigration, issuing dire warnings about caravans of Central American migrants heading to the U.S. southern border.
Claiming the caravans include "very bad thugs and gang members," Trump has ordered 5,000 active-duty troops to the border and said he is considering sending up to 15,000.
Trump also posted a political ad on his Twitter account on Wednesday which shows a Mexican man boasting about killing police officers and includes the caption "Democrats let him into the country."
Democrats accused the president of seeking to inflame his supporters with racist anti-immigration appeals.
"This is fear mongering," Tom Perez, the chairman of the Democratic National Committee, told CNN. "This has been Donald Trump's playbook for so long."
Control of the Senate will come down to a handful of races, in Arizona, Florida, Indiana, Missouri, Montana, Nevada, New Jersey, North Dakota, Tennessee, Texas, and West Virginia, according to political analysts.
Tight Senate races
In Arizona, two women – Democratic Representative Kyrsten Sinema and Republican Representative Martha McSally, a former air force fighter pilot – are battling to replace Senator Jeff Flake, a Trump critic who is not running for reelection. 538.com currently gives Sinema a slight edge.
In Florida, incumbent Democratic Senator Bill Nelson is involved in a tough reelection battle with Republican governor Rick Scott. 538.com has Nelson with a small lead.
In Missouri, 538.com gives incumbent Democratic Senator Clare McCaskill a 3-in-5 chance of holding off a stiff challenge from 38-year-old state attorney general Josh Hawley.
In other closely watched races, Democratic Senator Heidi Heitkamp of North Dakota is trailing in most polls and incumbent Republican Senator Dean Heller of Nevada is locked in a dead heat with Democratic challenger Jacky Rosen.
In reliably Republican Texas, Senator Ted Cruz is facing a surprisingly competitive challenge from rising Democratic star Beto O'Rourke but most polls give the edge to the Republican incumbent.
Two races for governor have drawn widespread attention.
In Georgia, Democrat Stacey Abrams, former minority leader in the state House of Representatives, is seeking to become the first black woman to become governor of a U.S. state.
And in Florida, the African-American mayor of Tallahassee, Andrew Gillum, is in a bitter battle with a Trump acolyte, Republican Representative Ron DeSantis.