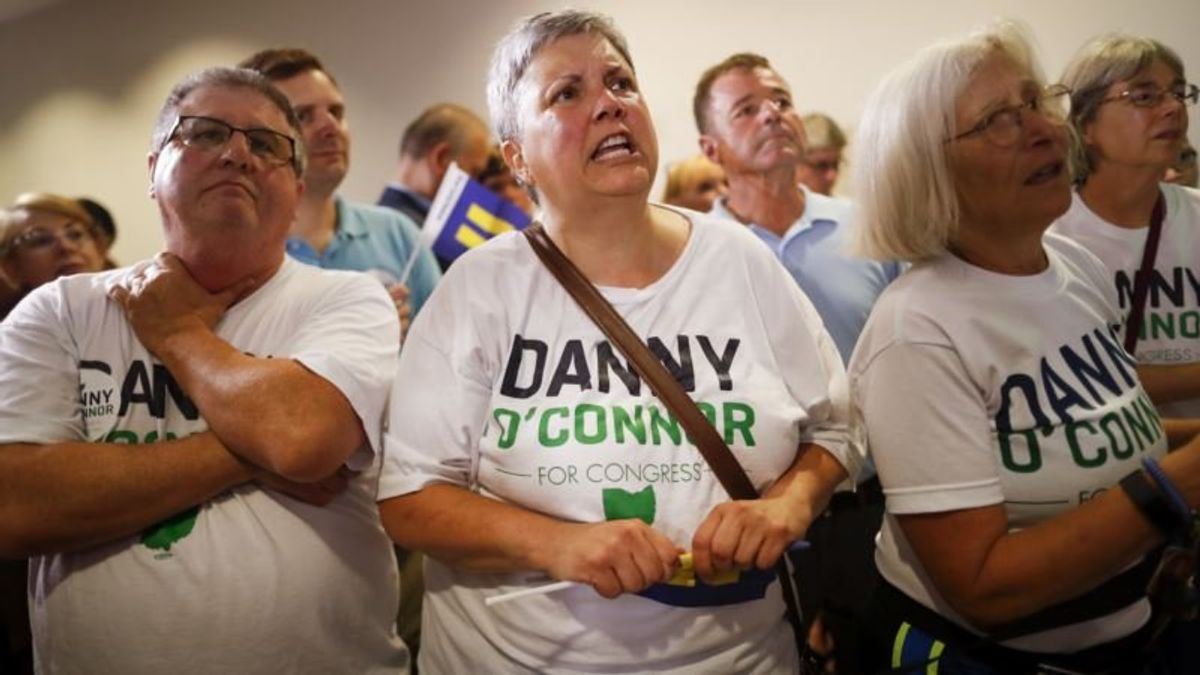 Ohio House Election Too Close to Call as Democrats, Republicans Look to November
Ohio House Election Too Close to Call as Democrats, Republicans Look to November
A closely watched special election for a U.S. House of Representatives seat in the state of Ohio was too close to call Wednesday, as Republicans and Democrats weighed the results of that race and primary voting elsewhere in the country looking for signs of how national midterm elections might go in November.
With all precincts reporting, Republican Troy Balderson led Democrat Danny O'Connor by about 1,700 votes. Ohio's Secretary of State said more than 3,400 provisional ballots and 5,000 absentee ballots were cast, but that under state law officials cannot begin counted them until 11 days after Tuesday's election.
The winner fills a seat vacated by Republican Pat Tiberi, who announced his resignation in October 2017. He would have been up for re-election in November, meaning voters will again choose between Balderson and O'Connor in three months.
President Donald Trump used Twitter to take credit for what he said was a "great win" for Balderson.
"After my speech on Saturday night, there was a big turn for the better," Trump said. "Now Troy wins a great victory during a very tough time of the year for voting. He will win BIG in Nov."
Balderson thanked Trump as he spoke to his supporters late Tuesday and said he was ready to work for the people of Ohio's 12th Congressional District.
"America is on the right path and we're going to keep it going that way," he said. "It's time to get to work. Over the next three months. I'm going to do everything I can to keep America great again."
A Republican has represented the district since the early 1980s, and O'Connor told his supporters he had done well in an election pundits did not think he could win.
"We went door to door, we went house to house, we made our case for change," he said. "We're gonna make that case tomorrow, we're not stopping now. Tomorrow we rest and then we keep fighting through to November. Let's go out there, let's get it done, let's change the country."
In the November election, all 435 House of Representatives seats, 35 of 100 Senate seats, and 36 of 50 governors' offices will be up for election.
Democrats must win 23 seats in the House and two seats in the Senate to gain control of those chambers.
There have been nearly a dozen special elections since last year, and while Republicans have won far more times than Democrats, the Democratic candidates have generally seen big improvements in their support compared to how the party did in the same areas in the 2016 election.
In the Midwest state of Kansas, the Republican primary for the party's candidate for governor in November featured a tight race between Secretary of State Kris Kobach and the incumbent Governor Jeff Colyer. Each candidate had about 41 percent of the vote with 88 percent of precincts reporting.
Trump used Twitter to urge people in Kansas to vote for Kobach, noting he was "a strong and early supporter of mine."
Trump also threw his support behind John James in the Republican primary for a Senate seat representing the state of Michigan. James defeated Sandy Pensler 55 percent to 45 percent in that race Tuesday. James will face incumbent Sen. Debbie Stabenow.
The Democratic race for governor in Michigan tested the electoral power of the party's progressive wing. But the more moderate former state Senate leader Gretchen Whitmer easily defeated health director Abdul el-Sayed, who was trying to become the country's first Muslim governor.
In the Republican race, Michigan Attorney General Bill Schuette, another Trump ally, handily won a race that featured Lt. Gov. Brian Calley.
Democrat Rashida Tlaib is set to make history in January as the first Muslim woman in Congress. She won the Democratic primary for Michigan's 13th Congressional District for the November election in which there will be no Republican challenger.