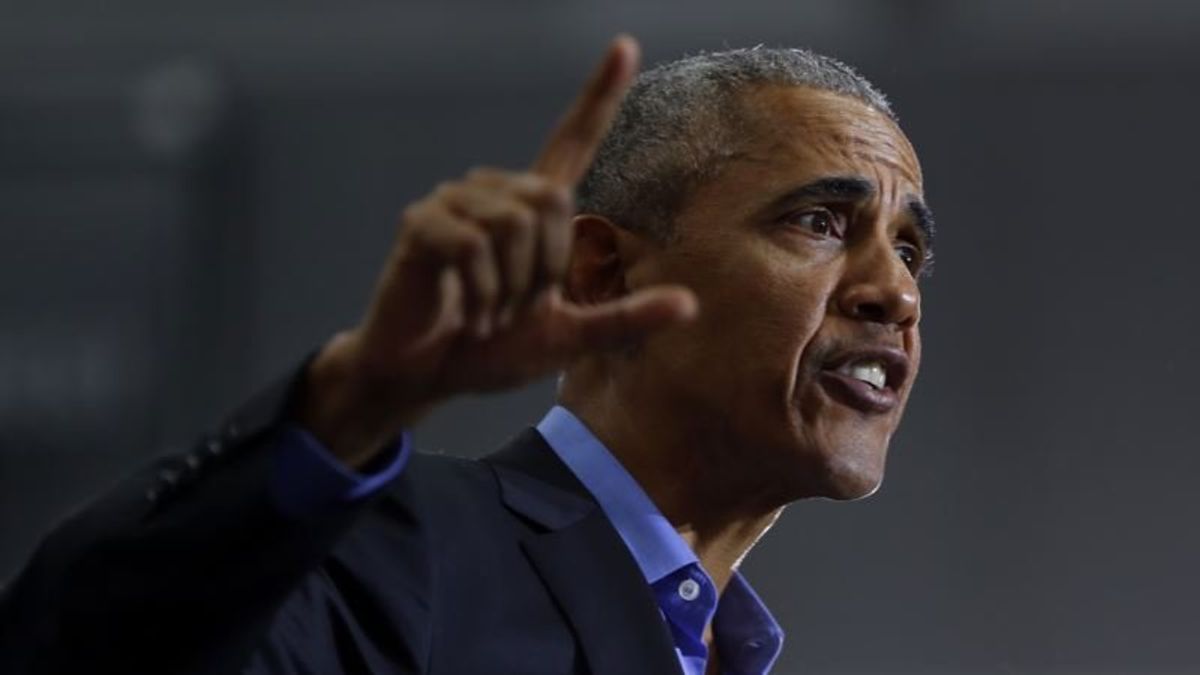 Obama Blasts Republicans as He Campaigns in US Midwest
Obama Blasts Republicans as He Campaigns in US Midwest
Former U.S. President Barack Obama is blasting President Donald Trump's Republican Party for allegedly deceiving the American public on a variety of issues, including taxes and health care.
Obama, Trump's predecessor in the White House, delivered two fiery speeches Friday in Wisconsin and Michigan, urging people to vote for the states' Democratic candidates in the Nov. 6 midterm elections.
"Throughout human history, certainly throughout American history, politicians have exaggerated," Obama said during a rally in Milwaukee. "But what we have not seen before in our recent public life is politicians just blatantly, repeatedly, baldly, shamelessly lying, making stuff up."
"That's what your governor is doing with these ads — just making stuff up," Obama said, referring to Wisconsin Republican Gov. Scott Walker and his declarations that he wants to preserve health care for people with pre-existing medical conditions. Democrat Tony Evers is running to unseat Walker.
The former president pointed out to a crowd of thousands that Republicans have attempted numerous times to repeal his health care law, which protects those with pre-existing conditions.
"Don't be hoodwinked. Don't be bamboozled. Wisconsin, don't fall for that," Obama implored.
Without mentioning Trump by name, Obama seemed to question the integrity of the current administration.
"In Washington, they have racked up enough indictments to field a football team," he said. "Nobody in my administration got indicted. So, how is it that they cleaned things up?"
In Detroit, Obama used the issue of former Secretary of State Hillary Clinton's private email server to accuse Republicans of hypocrisy. Clinton, who lost the 2016 presidential race to Trump, was repeatedly criticized during her campaign for allegedly mishandling classified information on a personal server.
"They didn't care about emails and you know how you know? Because if they did, they'd be up in arms right now that the Chinese are listening to the president's iPhone that he leaves in his golf cart," Obama said.
The New York Times reported Wednesday that Trump has continued to use his personal cellphone, even though aides warned that the Chinese and the Russians were eavesdropping on it.
Obama also seized on a recent Trump comment that he would get Congress to approve a tax-cut bill before the midterm elections.
"Congress isn't even in session before the election! He just makes it up!" Obama said.
Obama also applauded Michigan Democratic gubernatorial candidate Gretchen Whitmer for helping to expand Medicaid, a joint federal and state program that helps cover medical costs for people with limited resources. He said "few people fought against it harder" than Whitmer's Republican opponent, state Attorney General Bill Schuette.
Wisconsin and Michigan are key battleground states in the midterm elections. Democrats lost Michigan in the 2016 general election, despite Obama's visit the day before. Clinton narrowly lost Wisconsin, a defeat that proved crucial to Trump's victory in the presidential contest.