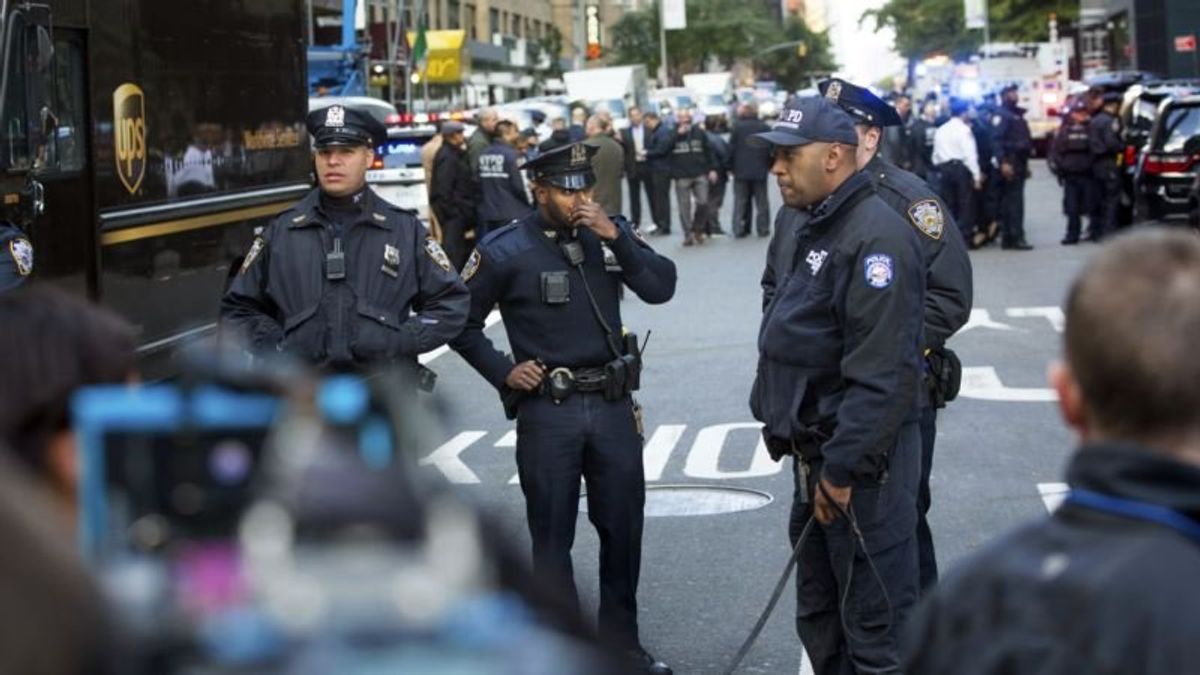 NY Police Seize 'Suspicious Package' Sent to De Niro Restaurant
NY Police Seize 'Suspicious Package' Sent to De Niro Restaurant
WHITE HOUSE —
New York police seized early Thursday what they called a suspicious package in a lower Manhattan neighborhood.
Media reports quoted police officials as saying a package similar to one sent to prominent Democrats earlier this week was sent to the address of a restaurant owned by actor Robert De Niro. The package was carried away in a containment vehicle for examination.
The latest development came as U.S. investigators worked Thursday to figure out who is responsible for mailing explosive devices to a number of current and former high-ranking government officials and the news network CNN.
WATCH: Trump Calls for Unity, Blames Media Amid Bomb Threats
Embed share
Trump Calls for Unity, Blames Media Amid Bomb Threats
Embed share The code has been copied to your clipboard. width px height px
Share on Facebook
Share on Twitter
The URL has been copied to your clipboard
No media source currently available
0:00 0:02:21 0:00 Direct link
270p | 6.7MB
360p | 11.0MB
720p | 60.7MB
1080p | 52.7MB
​Multiple suspected bombs
Federal Bureau of Investigation Director Christopher Wray called the probe the FBI's highest priority after authorities discovered someone sent pipe bombs to former President Barack Obama, former Secretary of State Hillary Clinton and other prominent Democrats.
"We have committed the full strength of the FBI's resources and, together with our partners on our Joint Terrorism Task Forces, we will continue to work to identify and arrest whoever is responsible for sending these packages," Wray said in a statement.
President Donald Trump said at a rally late Wednesday that targeting government officials "is an attack on our democracy itself."
Throughout the day Wednesday, leaders from both the major parties called for a return to civility in the political arena, a theme Trump picked up on at the rally.
"No one should carelessly compare political opponents to historical villains, which is done often and all the time. It's got to stop," said the president. "We should not mob people in public spaces or destroy public property. There is one way to settle our disagreements — it's called peacefully, at the ballot box. That's what we want."
Trump, known for his personal criticism of others, also requested people "stop treating political opponents as being morally defective."
In an uncharacteristically muted tone for his political rallies, Trump noted, "I'm trying to be nice," but also blamed the media for the negative national tone.
"The media also has a responsibility to set a civil tone and to stop the endless hostility and constant negative, and, often times, false attacks," he said.
​CNN statement
CNN President Jeff Zucker issued a statement saying members of the Trump administration have a "complete lack of understanding" about the seriousness of their frequent attacks against the media.
"The president, and especially the White House press secretary, should understand their words matter.Thus far, they have shown no comprehension of that," Zucker said.
White House Press Secretary Sarah Huckabee Sanders responded on Twitter, accusing Zucker of being divisive.
"[President Trump] asked Americans 'to come together and send one very clear, strong, unmistakable message that acts or threats of political violence of any kind have no place in the USA' Yet you chose to attack and divide. America should unite against all political violence," Sanders posted.
Democrats' statement
Packages were also sent to a former attorney general, a Democratic Party member of Congress and a former director of the CIA, all of whom are prominent critics of Trump's presidency.
House Minority Leader Nancy Pelosi and Senate Minority Leader Chuck Schumer, the top two Democrats in Congress, issued a statement Wednesday afternoon, accusing Trump of fanning the flames of political unrest.
"Time and time again, the President has condoned physical violence and divided Americans with his words and his actions," they wrote, pointing to recent Trump campaign rallies where he has voiced support for a legislator who used physical violence against a reporter, and where he has branded the press as enemies of the people.
Within hours of the U.S. Secret Service announcing it had intercepted a package sent to Clinton in New York and one to Obama in Washington, the Time Warner Center in New York, where CNN has studios, was evacuated Wednesday morning after a suspicious package addressed to former CIA Director John Brennan was found in the mail room there.
A device that was contained in an envelope was safely transported from the site in a special truck by the city's police department bomb squad. The addressee, Brennan, is a commentator on MSNBC, a rival cable news broadcaster.
New York police officials said it appeared to be a live explosive device and the package it came in also contained a white powder.
New York Mayor Bill de Blasio said, "What we saw here today was clearly an act to terrorize," but stressed there were no other credible threats in New York City.
The police department in Sunrise, Florida, and the FBI are investigating a suspicious package found near a building containing the local office of Congresswoman Debbie Wasserman Schultz, who formerly chaired the Democratic National Committee. News reports say the package was addressed to Eric Holder, the attorney general during the Obama administration, but had a delivery issue and was returned to the listed sender, Wasserman Schultz.
All of the other suspicious packages also contained a printed label with the congresswoman's name and address as the sender.
The Secret Service says the package addressed to Clinton was discovered late Tuesday, intercepted at a mail screening facility near her home in a New York suburb where she lives with her husband, former President Bill Clinton.
Speaking on Wednesday, Hillary Clinton thanked the Secret Service for intercepting the package that was addressed to her.
"It is a troubling time, isn't it? It's a time of deep divisions and we have to do everything we can to bring our country together," said the former secretary of state at an event in Florida.
A separate package addressed to Obama, according to the Secret Service, was intercepted at a screening facility at Joint Base Anacostia-Bolling, a 365-hectare military facility in Washington.
California Congresswoman Maxine Waters was sent two suspect packages, one intended for her office in the nation's capital and the other for her home district office. The first was intercepted at a congressional mail sorting center in the state of Maryland, and the second discovered by postal inspectors at the Los Angeles Central Mail Sorting Facility.
The first in the series of explosive devices was found Monday in a mailbox outside the New York home of billionaire philanthropist George Soros, a major donor to Democratic candidates.
The Secret Service said the packages addressed to Obama and Hillary Clinton "were immediately identified during routine mail screening procedures as potential explosive devices and were appropriately handled as such. The protectees [Obama and the Clintons] did not receive the packages nor were they at risk of receiving them."
Officials say all of the explosive devices appear similar in construction.
VOA's Masood Farivar and Ken Bredemeier contributed to this report.
JOIN US ON RUMBLE LIVE NOW!