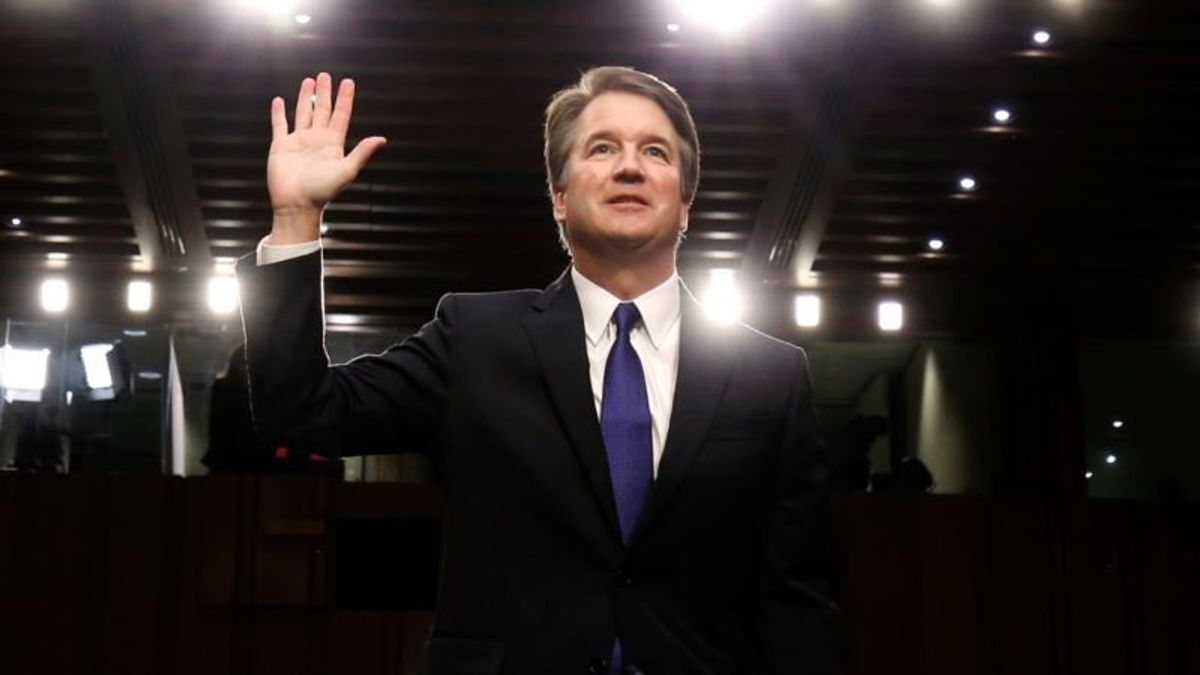 Nominee Brett Kavanaugh: 'I Am a Pro-Law Judge' 
Nominee Brett Kavanaugh: 'I Am a Pro-Law Judge'
WASHINGTON —
Judge Brett Kavanaugh, President Donald Trump's nominee to be the ninth justice on the U.S. Supreme Court, says his philosophy is straightforward: a judge must interpret the law, not make the law.
Kavanaugh's confirmation hearing before the U.S. Senate Judiciary Committee got off to a raucous start Tuesday with Democrats trying to postpone the hearing and loud disruptions by protesters in the crowd, drawing insults from some of the senators.
'​Never … a partisan institution'
Kavanaugh sat patiently for nearly seven hours, listening to Republican and Democrats speak for and against his joining the court before he finally got his chance to address the panel.
"The Supreme Court must never be viewed as a partisan institution," Kavanaugh said. "A good judge must be an umpire — a neutral and impartial arbiter who favors no litigant or policy."
He said during his 12 years as a federal appeals judge, he decided more than 300 cases.
"I have ruled sometimes for the prosecution and sometimes for criminal defendants, sometimes for workers and sometimes for businesses, sometimes for environmentalists and sometimes for coal miners."
In each case, Kavanaugh said, he followed the law and did not let any personal or policy preferences get in his way.
"I am a pro-law judge," he declared.
​Hearing continues Wednesday
Kavanaugh is expected to face tough questioning by the committee Wednesday, when the hearing is scheduled to begin at 9:30 a.m. EDT (1330 UTC).
Democrats will likely try to portray Kavanaugh as someone too tied to Trump and who will push a conservative agenda on the high court. Republicans are expected to try to paint the nominee as an independent thinker and a principled jurist.
Kavanaugh's Republican supporters say he is one of the most qualified jurists ever to be considered for the nation's highest court.
They pointed to endorsements from fellow judges and Kavanaugh's legal associates, liberals and conservatives, including a number of women.
​Presidential power
Democrats say they have a lot of misgivings about Kavanaugh's pledge to be nonpartisan, saying he has a history of conservative political activism. They said they fear he may rule against a woman's right to choose whether to have an abortion. And, at a time when President Trump is facing his own legal troubles, Democrats are concerned about Kavanaugh's views on executive authority. Kavanaugh has argued that presidents should be free from civil lawsuits, criminal prosecution and investigations while in office.
The matter could be significant to Trump if the high court is called upon to render judgment on matters arising from special counsel Mueller's ongoing Russia-related investigation into the Trump administration and several civil lawsuits pending against Trump.
Kavanaugh will also likely face tough questioning on environmental controls, affirmative action and the conflict between religious beliefs and gay rights.
​Delay hearing
As Tuesday's hearings opened, Democrats on the Judiciary Committee tried but failed to get the proceedings delayed. They say the White House is withholding thousands of documents about Kavanaugh's past work inside the White House, when he was a staff secretary for former President George W. Bush, a Republican.
Democrats argued that not being able to see the pages makes it impossible for them to do their jobs and properly question Kavanaugh.
Committee Chairman Charles Grassley, a Republican, rejected a motion to vote on a postponement. He said plenty of information on Kavanaugh has already been made public, including 415,000 pages turned over to the Judiciary Committee.
Besides, Grassley pointed out, not a single Democratic senator has said he or she will vote to confirm Kavanaugh, so putting off the hearings would be pointless.
If confirmed by the Senate, Kavanaugh would replace retired Justice Anthony Kennedy, a moderate conservative who was a swing vote on the court. He sided with the four liberals on such major rulings as upholding abortion and gay rights, and affirmative action to increase university admissions for racial minorities.
If he is approved by the panel, his nomination goes to the entire Senate, where Republicans will hold a very slim 51-49 majority when Republican Jon Kyl fills the seat of the late Arizona Senator John McCain.
So far, no Republicans have said they plan to vote against Kavanaugh.
WATCH: What's Involved in Confirmation Process?
Embed share
Explainer: SCOTUS Confirmation
Embed share The code has been copied to your clipboard. width px height px
Share on Facebook
Share on Twitter
The URL has been copied to your clipboard
No media source currently available
0:00 0:01:20 0:00 Direct link
270p | 3.8MB
360p | 5.6MB
720p | 27.8MB
1080p | 23.2MB