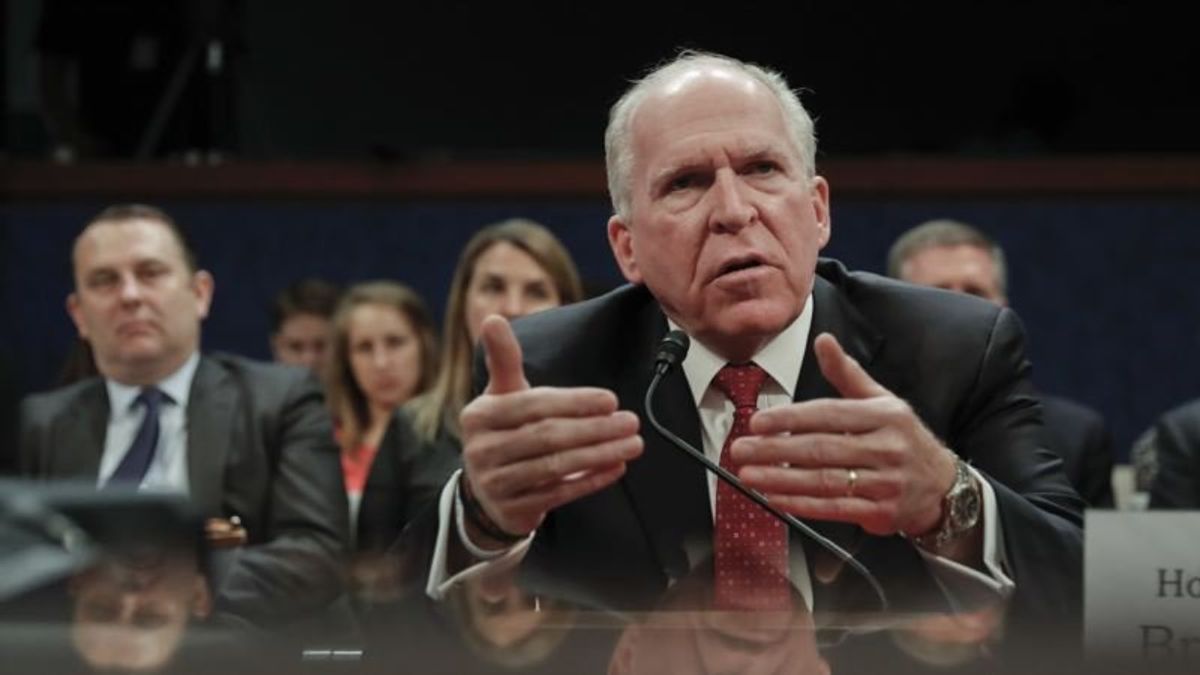 New Outcry over Trump's Revocation of Brennan Security Clearance
New Outcry over Trump's Revocation of Brennan Security Clearance
More than 175 former State Department and Pentagon officials added their names to a statement signed by former national security officials criticizing President Donald Trump's decision to cancel the security clearance of former Central Intelligence Agency director John Brennan.
New signatories to the statement, which was initially issued last week by 15 former directors and deputy chiefs of the CIA and Office of Director of National Intelligence, include former political appointees and career civil servants. They worked under both Democratic and Republican presidents.
Among the most prominent individuals to sign a new version of the statement released on Monday by senior officials from the George W. Bush and Barack Obama administrations are former NATO Commander Admiral James Stavridis, former Deputy Secretaries of State Anthony Blinken and William Burns and former Undersecretaries of State Nicholas Burns, Wendy Sherman and Thomas Pickering.
While they may not agree with all of Brennan's public attacks on Trump, the statement reads, they believe that "the country will be weakened if there is a political litmus test applied" before former officials are allowed to voice their views.
Separately, U.S. Senator Mark Warner, the Democratic vice chairman of the Intelligence Committee, filed legislation on Monday that would limit the president's ability to revoke an individual's security clearance.
Trump said last week he was considering withdrawing clearances for other former high-ranking officials as well as Bruce Ohr, a current Justice Department official in the criminal division.
Brennan, who has publicly characterized Trump's comments at a recent summit with Russian President Vladimir Putin as "treasonous," has said he might sue the Trump administration over the revocation of his clearance.
U.S. Representatives Elijah Cummings and Stephen Lynch, top Democrats on the House Oversight and Government Reform Committee, in a letter on Monday to White House Chief of Staff John Kelly, questioned the security clearance of John Bolton, Trump's national security adviser.
Cummings and Lynch asked Kelly to turn over documents related to whether Bolton, in security clearance forms or "other White House vetting materials," reported that in 2013 he participated by video in a roundtable discussion on gun rights organized by Maria Butina.
Butina was arrested in July and accused of acting as a Russian government agent while developing ties with American citizens and infiltrating political groups.
The Washington Post has reported that Bolton recorded the video promoting an expansion of gun rights in Russia that was used by Right to Bear Arms, a group Butina formed.
The White House National Security Council had no immediate comment on the Democrats' letter. Representatives for the White House also declined to comment on the letter.
Russia has denied any interference in the 2016 U.S. election, and Trump has said there was no collusion with his campaign team.
"Everybody wants to keep their Security Clearance, it's worth great prestige and big dollars, even board seats, and that is why certain people are coming forward to protect Brennan," Trump said in a series of posts on Twitter.