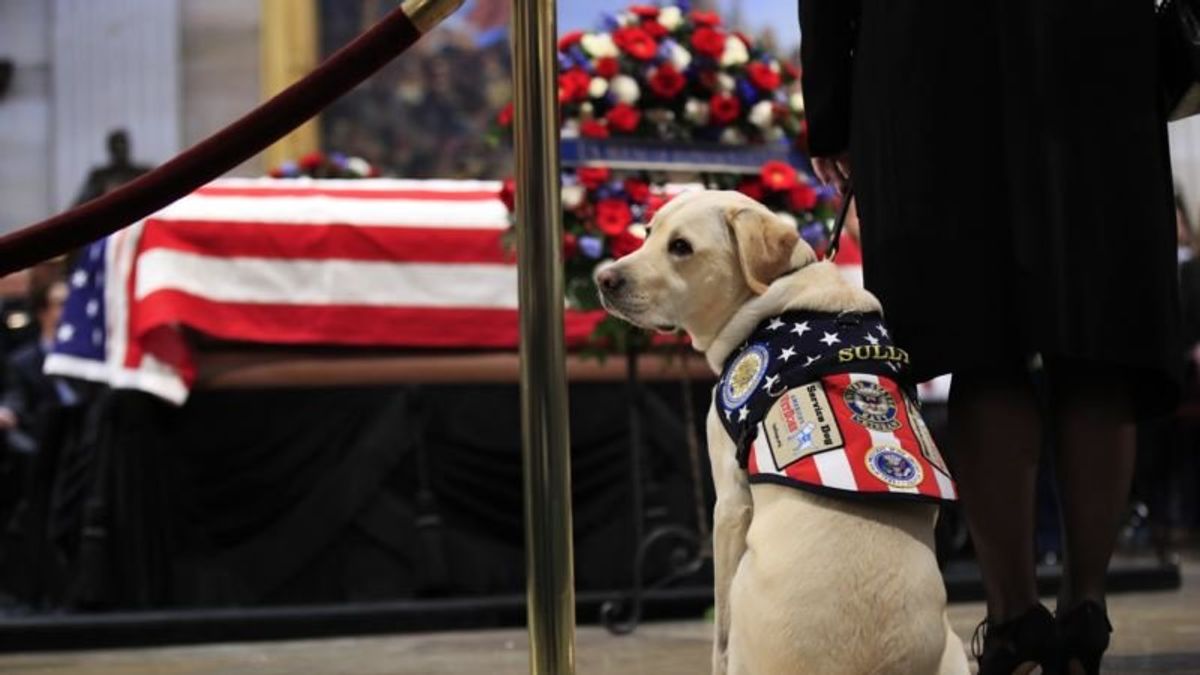 Nation Pauses Wednesday to Mourn Former US President George H.W. Bush
December 5, 2018, 3:42 AM
Nation Pauses Wednesday to Mourn Former US President George H.W. Bush
Five living American presidents will come together Wednesday to pay final tribute to George Herbert Walker Bush, the nation's 41st president, who died last Friday at the age of 94.
Former presidents Jimmy Carter, Bill Clinton and Barack Obama will join the current commander-in-chief, Donald Trump, for Bush's funeral services at the Washington National Cathedral, where they will hear a eulogy from George W. Bush, the late president's son and the 43rd president.
Also scheduled to speak at the state funeral will be former Prime Minister Brian Mulroney of Canada, former U.S. Senator Alan Simpson, and historian Jon Meacham, the elder Bush's biographer. Among the dignitaries who will be in attendance include Britain's Prince Charles, German Chancellor Angela Merkel, and Lech Walesa, Poland's former president.
WATCH: Mourners give their condolences
Embed share
Thousands of Visitors Pay Respects to Former President Before Funeral in Washington
Embed share The code has been copied to your clipboard. width px height px
Share on Facebook
Share on Twitter
The URL has been copied to your clipboard
No media source currently available
0:00 0:01:57 0:00 Direct link
270p | 5.7MB
360p | 9.9MB
720p | 54.7MB
1080p | 47.5MB
​Wednesday's services will begin when a motorcade will deliver the ex-president's flag-draped casket to the cathedral from the U.S. Capitol, where it lay in state Tuesday as thousands of mourners filed through the Rotunda to pay their final respects. An emotional moment during the public viewing occurred when 95-year-old former Senator Bob Dole was helped from his wheelchair and saluted his fellow Republican and World War Two veteran.
After the funeral, former President Bush's casket will be taken to Andrews Air Force Base and flown back to Houston, Texas for a second and final service on Thursday. He will be laid to rest at his presidential library and museum at Texas A&M University in nearby College Station, next to his wife of 73 years, Barbara, who passed away in April, and their daughter Robin, who died of leukemia in 1953 when she was only three years old.
President Trump has designated Wednesday as a national day of mourning in Bush's honor. The New York Stock Exchange will be closed, as are most government offices.