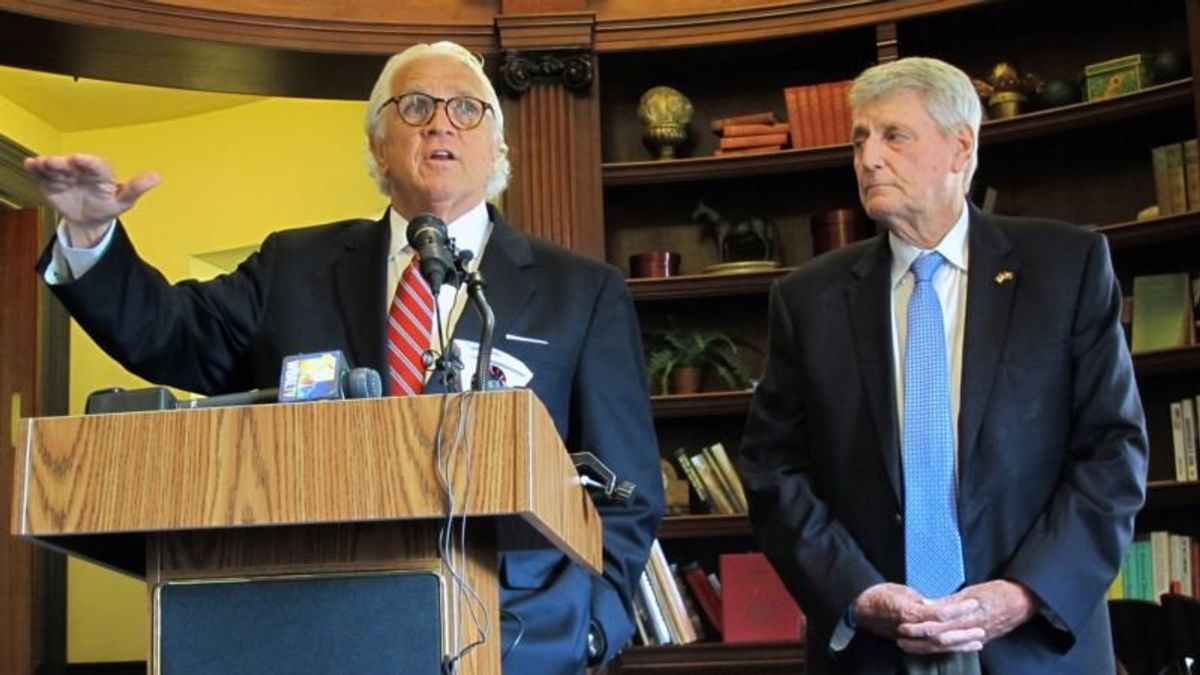 Maryland Elections Vendor Owned by Russian Firm
Maryland Elections Vendor Owned by Russian Firm
ANNAPOLIS, MD. —
A vendor that provides key services for Maryland elections has been acquired by a parent company with links to a Russian oligarch, state officials said Friday after a briefing a day earlier from the FBI.
Senate President Thomas V. Mike Miller and House Speaker Michael Busch made the announcement at a news conference in the Maryland State House, a gathering that included staff members of Gov. Larry Hogan.
"The FBI conveyed to us that there is no criminal activity that they've seen," Busch said. "They believe that the system that we have has not been breached."
In a letter Friday, Hogan, Busch and Miller asked the U.S. Department of Homeland Security for technical assistance to evaluate the network used by the elections board.
"It is with concern that I learned that information provided to the Maryland State Board of Elections by federal law enforcement this week indicates that a vendor contracted by the Board to provide a number of services, including voter registration infrastructure, had been acquired by a parent company with financial ties to a Russian national," Hogan said in a statement.
Miller and Busch also said they have asked Maryland Attorney General Brian Frosh to review existing contractual obligations of the state, and asked for a review of the system to ensure there have been no breaches.
Vendor statement
The vendor, ByteGrid LLC, was purchased by a Russian investor in 2015 without knowledge of Maryland state officials, officials said.
In a statement released late Friday the company said, "ByteGrid's investors have no involvement or control in company operations."
It also said, "We stand by our commitment to security in everything we do, and do not share information about who our customers are and what we do for them." ByteGrid encouraged people to read the company's Maryland elections contract, which is a public record.
State officials said ByteGrid hosts the statewide voter registration, candidacy, and election management system; the online voter registration system; online ballot delivery system; and unofficial election night results website.
Public trust
Hogan said in his statement that while the information relayed by the FBI did not indicate "any wrongdoing or criminal acts have been discovered," he noted that even the appearance of the potential for "bad actors" to have any influence on the state's election infrastructure could undermine public trust in the election system.
"That is why it is imperative that the State Board of Elections take immediate and comprehensive action to evaluate the security of our system and take any and all necessary steps to address any vulnerabilities," Hogan said.
In a statement, the state elections board said the FBI told officials that ByteGrid is financed by AltPoint Capital Partners, whose fund manager is a Russian, and its largest investor is a Russian oligarch named Vladimir Potanin. The board said that in response, it has been working with various federal and state officials to ensure that voter data and the state's election systems are secure.
Busch described the leading investor as being "very close to the Russian prime minister, Vladimir Putin."
Miller said Maryland officials decided it was "imperative that our constituents know that a Russian oligarch has purchased our election machinery, and we need to be on top of it."
Maryland officials made the announcement hours after the Justice Department released a grand jury indictment against 12 Russian military intelligence officers for computer hacking offenses during the 2016 U.S. election. Miller said that announcement convinced Maryland officials to disclose the FBI briefing, even if the agents who briefed them were not eager to make the information public.
"They weren't really anxious for us to come forward, but after today we felt we had an obligation to share it with you and share it with our constituents that this has occurred and we want the public to know this as well," Miller said.
Maryland and US indictment
In a statement, Maryland's elections board said it was not the state election office mentioned in the federal indictment. The board also said no Maryland election official has used or is using services provided by the vendor referenced in the indictment.
Busch said there was no indication the company had anything to do with a voter registration error at the state's Motor Vehicle Administration that created the potential for tens of thousands of voters to require provisional ballots in last month's primary.
Maryland was one of the states with suspicious online activities before the 2016 election, according to the U.S. Department of Homeland Security.
In August 2016, the state board says "unusual activity" was observed on the state's online voter registration and ballot request system, and the board immediately responded. The board says it provided log files to the FBI, one of the state's cybersecurity vendors and another cybersecurity firm, and all three independently reviewed the transactions related to the activity and found nothing suspicious.