THE FOOD CRISIS - WILL AMERICA GO HUNGRY?

Join us for this Special Report presentation hosted by RAV's veteran journalist, Steve Gruber tonight at 7 PM EST. Sponsored by the Informing America Foundation

Food industry leaders, from farmers to distributors to grocers, as well as consumers, are sounding the alarm on growing and urgent food security challenges facing America today. Will America Go Hungry?, a major TV special hosted by award-winning journalist Steve Gruber and sponsored by the Informing America Foundation, will examine the growing food crisis in America, how it is affecting Americans across the country, and what we can do to ensure that the nation stays fed.


READ THE PRESS RELEASE ->
Special Guest Appearances by:
Troy Duhon, Founder, The Food Pantry of New Orleans
Todd Armstrong, Owner, and Manager, Armstrong Cattle and Crops
Thomas Hackman, Owner, Hackman Family Farms
Leah Beyer, farmer and AG Marketing Leader
Andy Puzder, former CEO, CKE Restaurants
Alfie Oakes, CEO, Oakes Farms
Dave Brat, Dean, Liberty University School of Business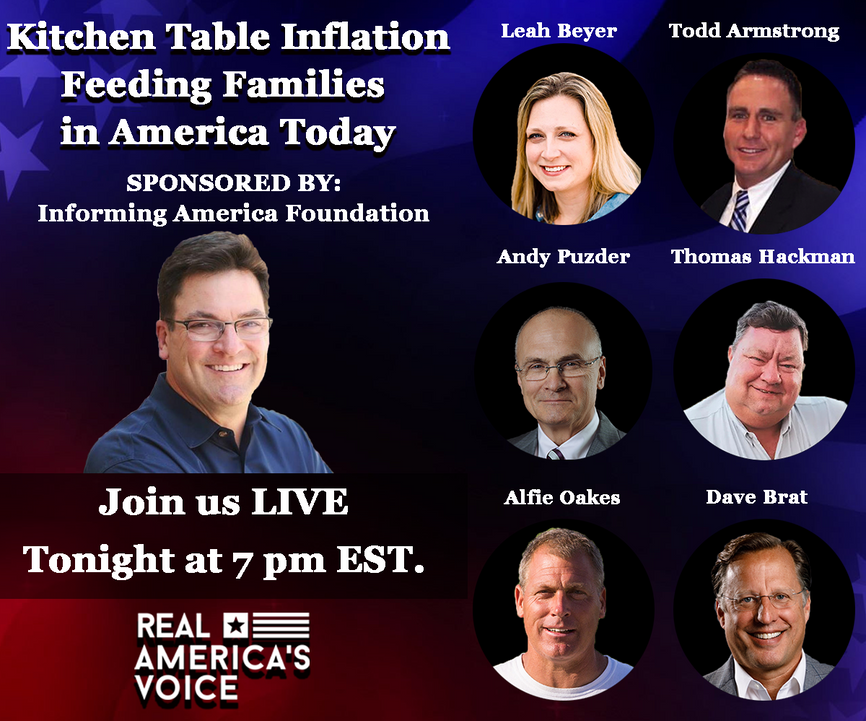 WATCH IT LIVE HERE ON THIS PAGE!
Sign up to receive email and text updates about the ongoing food crisis in America.
Click the buttons below to contact your Reps and Senators with your thoughts on the situation and ideas on how we can solve it.