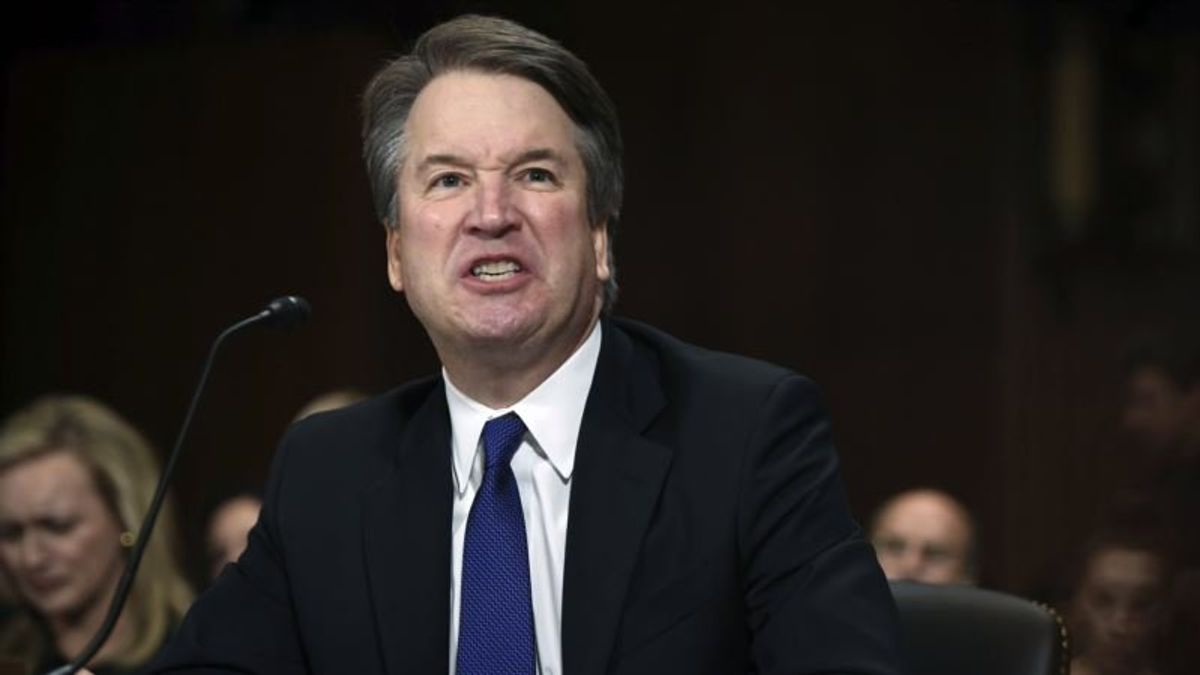 Kavanaugh: I Did Not Sexually Assault Ford 
Kavanaugh: I Did Not Sexually Assault Ford
Supreme Court nominee Brett Kavanaugh denied Thursday that he sexually assaulted Dr. Christine Blasey Ford in 1982.
Speaking to the Senate Judiciary Committee, an angry and strident Kavanaugh said he was not at the party described in testimony by Ford and that he never sexually assaulted her or anyone else at any time in his life.
He accused Democratic senators and those opposed to his joining the Supreme Court of executing a calculated political hit and a grotesque and coordinated character assassination.
Kavanaugh said he would not be intimidated into withdrawing. He said the Supreme Court confirmation process had become a circus and a national disgrace.
The judge shed tears and paused several times as he described his life throughout the summer of 1982, when the attack is alleged to have occurred. He also cried when he talked about how his daughter said she wanted to pray for Ford and about the longtime female friends who support him.
​Ford's testimony
Earlier Thursday, Ford provided detailed and emotional testimony, saying she was "100 percent" certain it was Kavanaugh who sexually assaulted her and that she feared he was "going to accidentally kill" her during the alleged attack.
Ford recalled the 1982 house party that she attended and said Kavanaugh, his friend Mark Judge and others were present. She alleged Kavanaugh and Judge locked her in a bedroom and that Kavanaugh forced himself on top of her.
"He began running his hands over my body and grinding into me. I yelled, hoping that someone downstairs might hear me, and I tried to get away from him, but his weight was heavy," she told the Judiciary Committee.
Ford said Kavanaugh tried to unclothe her but "had a hard time because he was very inebriated" and because she was wearing a bathing suit under her clothes.
"I tried to yell for help," Ford testified. "When I did, Brett put his hand over my mouth to stop me from yelling. This is what has terrified me the most."
She alleged Kavanaugh and Judge were "drunkenly laughing during the attack," which she maintained "has drastically altered" her life.
A prosecutor, Rachel Mitchell, asked questions at the hearing on behalf of Senate Republicans on the committee. She asked Ford about timelines and peripheral issues but did not challenge her basic account of sexual assault.
Judiciary Committee Chairman Chuck Grassley opened the hearing by defending the Supreme Court nominee and criticizing Democrats for not disclosing the accusations earlier.
"As part of Judge Kavanaugh's nomination to the Supreme Court, the FBI conducted its sixth full field background investigation of Judge Kavanaugh since 1993, 25 years ago," he said. "Nowhere in any of these six FBI reports … was there a whiff of any issue, any issue at all," related to inappropriate sexual behavior.
Political allegations
Grassley also criticized the committee's ranking Democrat, Dianne Feinstein, for not revealing accusations she received from Ford in July.
Feinstein defended her handling of what was originally an anonymous allegation by Ford, and said the FBI should have investigated the matter.
President Donald Trump selected Kavanaugh to replace Justice Anthony Kennedy, who was a "swing" vote on the Supreme Court and sometimes sided with liberal justices on key cases. Kavanaugh's confirmation could solidify a conservative majority on the court for a generation.
On Wednesday, Trump accused Democrats of drumming up sexual misconduct charges against Kavanaugh.
"They are actually con artists because they know how quality this man is and they have destroyed a man's reputation and they want to destroy it even more, and I think people are going to see that in the midterms, what they have done to this family, what they have done to these children, these beautiful children of his, and what they have done to his wife. They know it is a big fat con job," Trump said.
Other women have come forward in the past few days with detailed complaints about Kavanaugh. He has denied all the allegations.
Trump said he would watch Thursday's hearing and that he could still change his mind about his nominee once he heard what Ford had to say.
VOA's Jim Malone, Wayne Lee and Kenneth Schwartz contributed to this report.