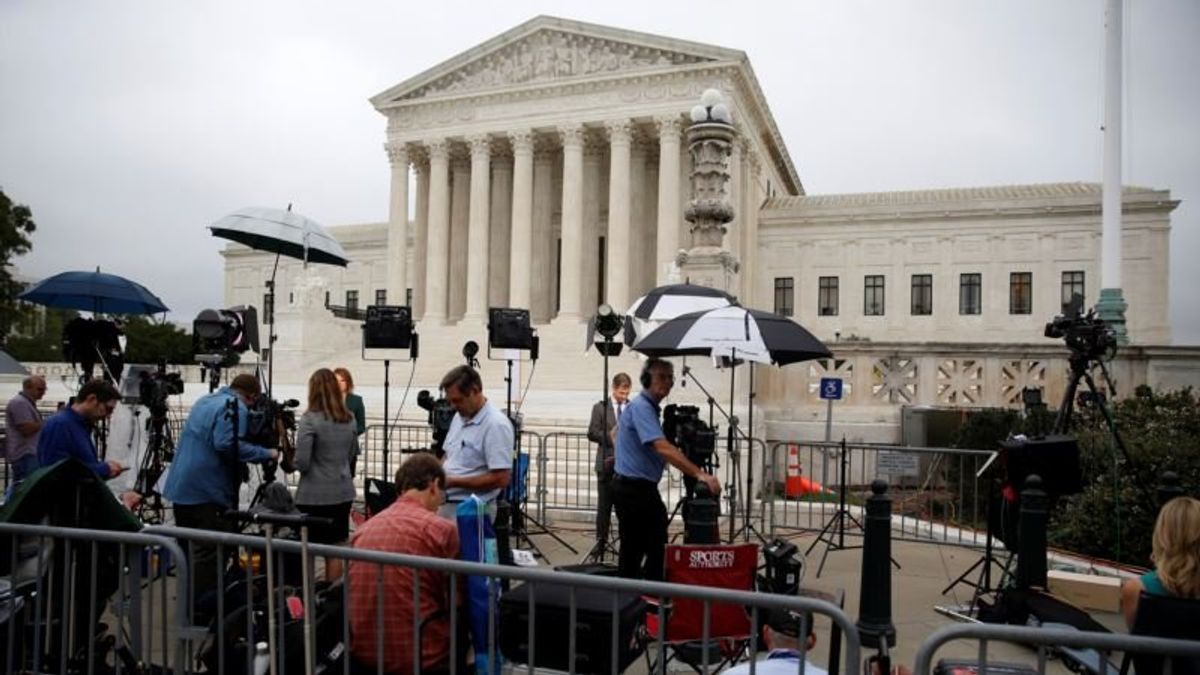 Kavanaugh Hears First Arguments as New US Supreme Court Justice
October 9, 2018, 11:24 AM
Kavanaugh Hears First Arguments as New US Supreme Court Justice
WASHINGTON —
The newest member of the U.S. Supreme Court, Brett Kavanaugh, took his seat Tuesday and heard his first arguments, just days after he narrowly won Senate confirmation to fill a vacancy on the country's highest court.
A handful of protesters opposed to President Donald Trump's nomination of Kavanaugh to a lifetime appointment to the court gathered outside, chanting, "This isn't over, we're still here."
Trump, in a Twitter comment, claimed without evidence that demonstrators against Kavanaugh were hired to protest. But he said that "the paid D.C. protesters are now ready to REALLY protest because they haven't gotten their checks – in other words, they weren't paid! Screamers in Congress, and outside, were far too obvious – less professional than anticipated by those paying (or not paying) the bills!"
Kavanaugh's first Supreme Court case involved arguments over the federal criminal sentencing law and came hours after Trump staged a ceremonial swearing-in for Kavanaugh at the White House. The jurist had already been officially sworn in Saturday soon after the Senate voted 50-48 to confirm his appointment.
Kavanaugh's appointment roiled Washington for weeks, after university professor Christine Blasey Ford accused him of sexually assaulting him more than three decades ago when both were teenagers growing up in suburban Washington. Ford told lawmakers she was "100 percent" certain Kavanaugh attacked her, but Kavanaugh forcefully denied he had assaulted her or any other woman.
At Monday night's ceremony, Trump declared, "On behalf of our nation, I want to apologize to Brett and the entire Kavanaugh family for the terrible pain and suffering you have been forced to endure. You, sir, under historic scrutiny, were proven innocent."
Kavanaugh said, "Every American can be assured that I will be an independent and impartial justice."
As Trump, the other eight court justices and a number of Republican senators crucial to the confirmation process watched, retired Justice Anthony Kennedy administered the judicial oath to Kavanaugh.
"The Senate confirmation process was contentious and emotional. That is now over," Kavanaugh said. He added that the Supreme Court "is not a partisan or political institution," promising to "always be a team player on a team of nine."
Hours before the White House ceremony, Trump accused opposition Democrats of plotting to remove Kavanaugh from the bench.
Kavanaugh was "caught up in a hoax set up by the Democrats," Trump told reporters, without elaborating. "And now they want to impeach him."
Speaking before boarding the Marine One helicopter on the White House south lawn, Trump predicted the attack on Kavanaugh would cost the opposition party in next month's nationwide congressional elections.
The president and his fellow Republicans are hoping the confirmation of the 53-year-old conservative jurist will energize their supporters in the midterm voting when political control of Congress is at stake.
"The American public has seen this charade, and it was a disgrace. And I think it's really going to show you something come November 6," Trump said.
Kavanaugh replaces Kennedy, a conservative jurist who often cast the deciding swing vote on ideologically divisive issues, upholding abortion and gay rights and the use of affirmative action aiding racial minorities in college admissions.
Independent court analysts, however, predict Kavanaugh is likely to concur with more conservative interpretations of the law, giving a solid 5-4 ideological edge on the court to those who lean to the right.