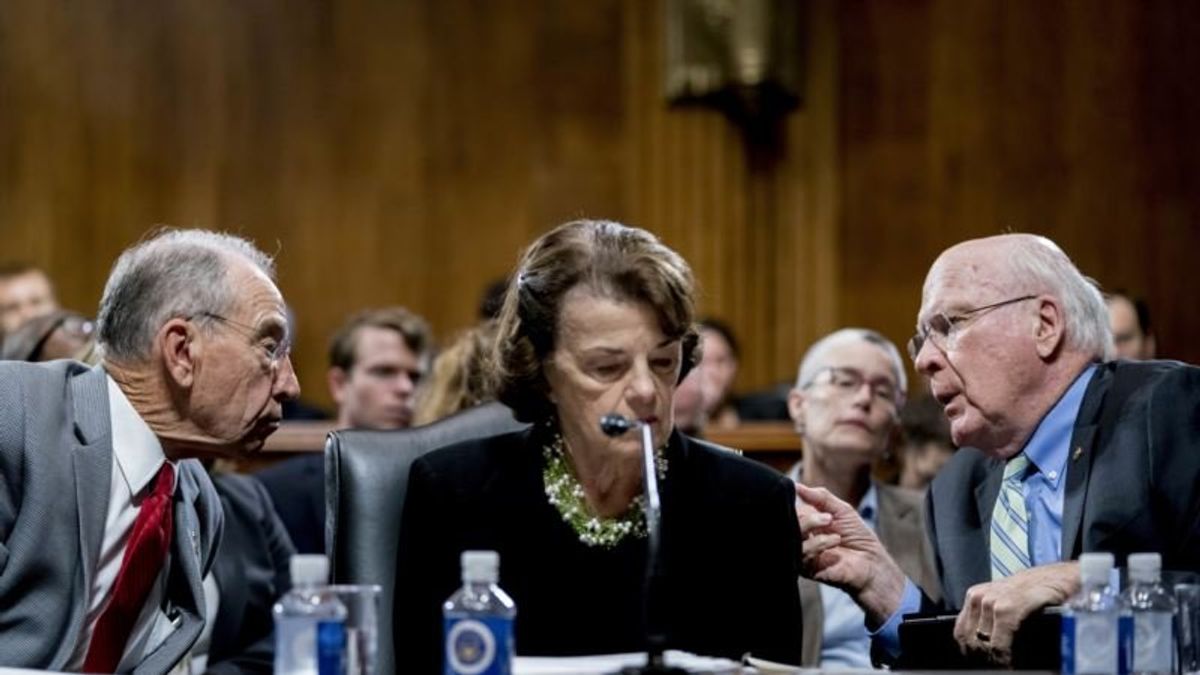 Kavanaugh Accuser Makes Tentative Deal To Testify Thursday
Kavanaugh Accuser Makes Tentative Deal To Testify Thursday
The Senate Judiciary Committee and lawyers for the woman who has accused Supreme Court nominee Brett Kavanaugh of sexually assaulting her when they were both high school teenagers have reached a tentative agreement that she will testify before the committee Thursday.
According to media reports, the two sides reached the deal over the telephone Saturday and are expected to further negotiate Sunday the terms of Christine Blasey Ford appearance before the committee.
Attorneys for Ford sent an email, saying Ford accepts the invitation of the committee to testify, adding, "Although many aspects of the proposal you provided via email … are fundamentally inconsistent with the Committee's promise of a fair, impartial investigation into her allegations, and we are disappointed with the leaks and the bullying that have tainted the process, we are hopeful that we can reach agreement on details."
Ford and her lawyer had asked that media access to the room be limited and that Kavanaugh not be there. It was not clear if those requests had been granted.
Republican Senator Lindsey Graham told Fox News that Ford "will be treated fairly but we're not going to turn the hearing over to her lawyers."
On Friday, U.S. President Donald Trump questioned the integrity of Ford, posting on Twitter that "if the attack …was as bad as she says, charges would have been immediately filed" with police.
When asked about Trump's tweet on CNN Sunday, U.N. Ambassador Nikki Haley said "Every accuser deserves the right to be heard. But at the same time, I think the accused deserves the right to be heard."
The Senate committee had originally given Ford until late Friday to make a decision, but her lawyer asked for a one-day extension just minutes before the Friday deadline of 10 p.m. Senate Judiciary Committee Chairman Charles Grassley then tweeted that he would give Ford until 2:30 p.m. on Saturday to decide if she would testify.
Lawyers for Ford earlier said Ford would testify only if her safety is ensured. Ford's Attorney Debra Katz says her client has gotten death threats. The Washington Post reported Saturday that Ford and her family are no longer living at their California home, which was surrounded by reporters shortly after her identity became public. The Post reported that Ford and her husband "have looked into a security service to escort their children to school."
The Post says Ford met with FBI officials on Friday to discuss her safety.
Katz has called for the FBI to probe the charges against Kavanaugh. Ford alleges that at a 1982 house party, Kavanaugh, then 17 and "stumbling drunk," pinned her to a bed and groped her, leaving her fearful for her life before she escaped. Kavanaugh has denied the allegations.
Late Thursday, the White House released a letter from Kavanaugh to Grassley in which he said he wants to tell his side in a Monday hearing.
"I will be there. I continue to want a hearing as soon as possible so that I can clear my name," he wrote.
Media reports say Kavanaugh has also received what law enforcement officials say are credible death threats.