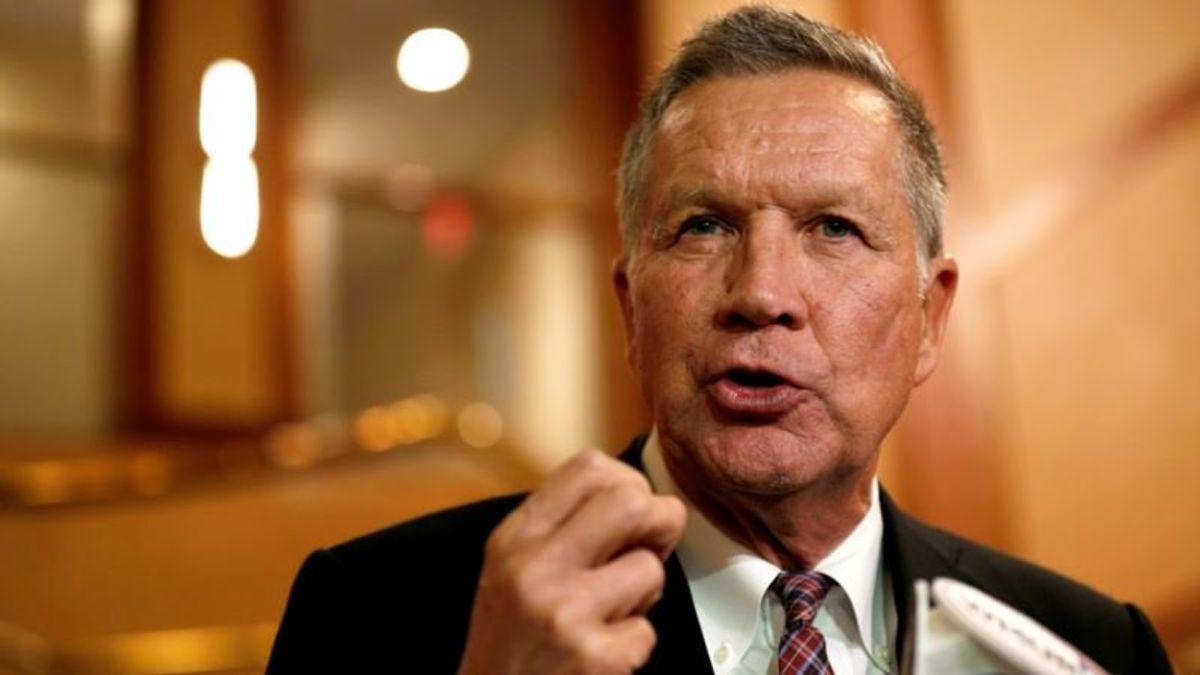 Kasich: Midterm Turnout Suggests Opening for Independent Bid
November 15, 2018, 11:00 PM
Kasich: Midterm Turnout Suggests Opening for Independent Bid
CONCORD, N.H —
Ohio Gov. John Kasich said Thursday while he remains undecided about another presidential run, the midterm election results could suggest a greater opening for an independent or third-party candidate.
Kasich made his second trip this year to New Hampshire, where he finished second in the state's leadoff Republican presidential primary in 2016.
"I'm encouraged every time I come back here," he told reporters in Concord before meeting with supporters. "I know everybody's wondering how I'm going to make a decision, when I'm going to make a decision. I don't know, but what's most important to me is that I can have a voice that can be a healing voice for the country."
Asked about his previous speculation about running as a third-party or independent, Kasich said all options remain on the table.
"I think there's a vast ocean in the middle. The middle has been numb, they didn't know what to do. But they did something they haven't done in 100 years, they voted. They turned out in unbelievable numbers to say we've had enough," he said. "Where that takes us, I can't quite tell. But if you have this big ocean in the middle, there's perhaps a chance for something that's unique in American history."
Kasich elaborated a bit later in Manchester, noting the rapid pace of innovation in technology and medicine.
"In an era of all this change, why wouldn't we think there could be fundamental political change?" he said. "The day will come, I think. When it will happen, I don't know."
The former congressman has been one of President Donald Trump's most outspoken Republican detractors, and said the president will have a hard time getting re-elected as a divider. He said the midterm elections showed the Republican Party needs to change its message on separating families at the border, health care and other issues.
"To me, there is a very positive message. And that is: Americans don't want the negativity. They don't want the chaos. They don't want the divide," he said.
In contrast to Trump, who characterizes the media as an enemy of the people, Kasich spoke later at the annual First Amendment Awards given by Nackey S. Loeb School of Communications. The school is a nonpartisan, nonprofit organization founded by the late president and publisher of the New Hampshire Union Leader.
"The press is the one thing that holds the rich and the powerful accountable so we normal citizens can make up our minds about the current state of affairs, about our culture, about the world, about what we can do, and think and take action about," Kasich said.
Fergus Cullen, a former chairman of New Hampshire Republican Party, backed Kasich's 2016 primary bid and wrote him in on the general election ballot rather than vote for Trump or Democrat Hillary Clinton. He refused to vote for any midterm candidate who supports Trump, leaving him with a nearly blank ballot.
"The election results to me suggest that enough Republicans are disgusted with the Trump administration that it's now costing other Republicans their chance to win," he said.
Kasich noted while many Republican governors lost, Ohio elected another Republican to replace him.
"Why is that? A big factor is because no one was left behind in the state over the last eight years," he said. "People in Ohio feel pretty good. They're not angry. They don't feel left out. They feel like why would I change, we're going in the right direction."
But back at home, the Republican-controlled Ohio General Assembly spent Thursday thumbing its nose at the absent governor . Lawmakers overrode Kasich's veto of a measure expanding their power to revisit rules written and finalized by the government's executive branch. The Ohio House also passed a "stand your ground' gun bill and a restrictive heartbeat abortion bill like one Kasich vetoed in December 2016. Both measures still need to be voted on by the Ohio Senate before a bill reaches Kasich's desk.