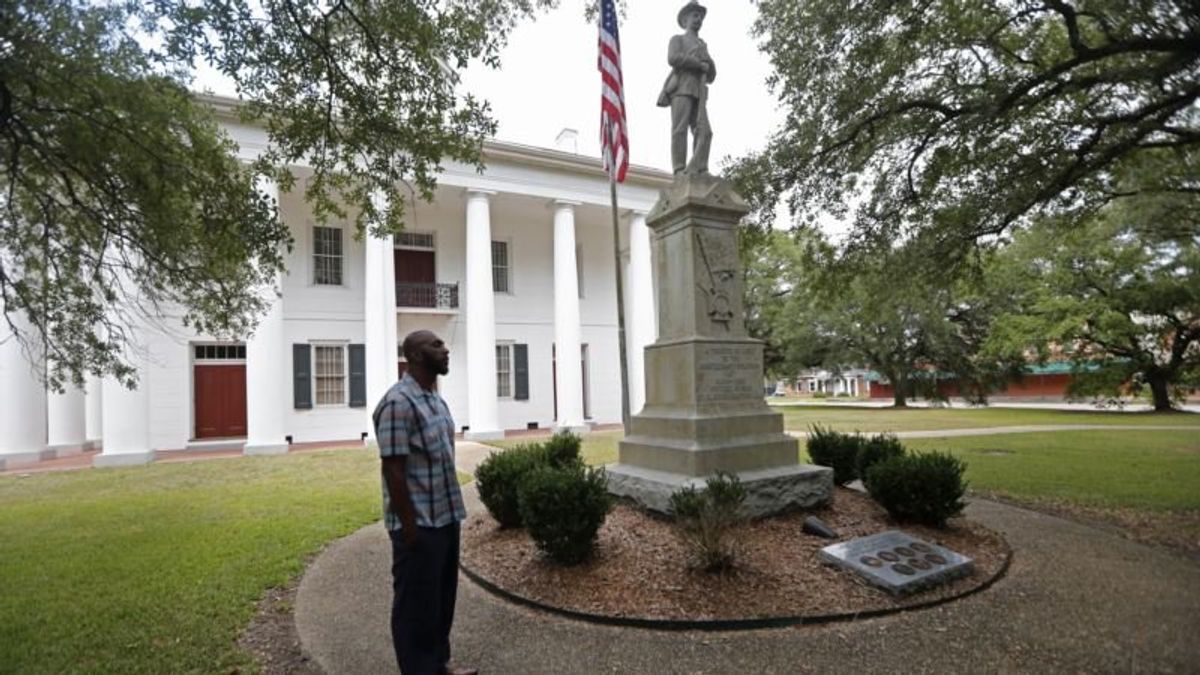 Is Justice Blind At a Courthouse with a Confederate Statue?
Is Justice Blind At a Courthouse with a Confederate Statue?
CLINTON, LA —
The statue of the unnamed Confederate soldier has stood since 1909 in front of the courthouse in Louisiana's East Feliciana Parish, hands resting on his rifle looking down on the flow of lawyers, jurors and defendants going into the white columned building.
Ronnie Anderson, an African-American man charged with possession of a firearm by a convicted felon, illegal possession of a stolen firearm, and speeding, was one such defendant and the statue gave him cause for concern.
"It's just intimidating to walk into a courthouse that's supposed to be a place of equality, fair justice and to see this monument that made me feel like … I don't stand a chance,'' Anderson said.
Anderson wants his case to be moved to another parish without such a memorial; his motion to change venue argues he can't get a fair trial in the same place where a "symbol of oppression and racial intolerance'' stands.
​Confederate flags and monuments – long a part of the Southern landscape – have come under renewed scrutiny following the 2015 shooting by Dylann Roof of nine black churchgoers in South Carolina and the 2017 deadly white nationalist rally in Charlottesville, Virginia.
Supporters say the statues are a part of history honoring their ancestors; detractors say they, in effect, honor slavery and in many cases were erected during the Jim Crow era to intimidate black people and bolster white supremacy.
Confederate monuments dot the lawns of many Southern courthouses. In addition to the one in East Feliciana, a database compiled by the Southern Poverty Law Center lists 11 more in front of Louisiana courthouses.
Ben Cohen, a lawyer with the New Orleans-based Promise of Justice Initiative that advocates for reforming Louisiana's criminal justice system, says so far it's rare for defendants to use the legal argument Anderson is making.
Cohen represented a defendant appealing a conviction in a Caddo Parish murder case in which a prospective juror objected to the Confederate flag in front of the courthouse.
The state Supreme Court ultimately upheld the conviction but Cohen said he anticipates this argument being used more often.
"I think people are looking at these monuments in a new light,'' he said.
Officials in Caddo Parish voted last October to remove theirs. They concluded that citizens would be better served if it was not in front of the courthouse "where justice is to be administered fairly and impartially.'' A lawsuit stalled the move, but was recently dismissed by a federal judge.
The East Feliciana Parish District Attorney, Sam D'Aquilla says its "ridiculous'' to think a statue would affect the fairness of Anderson's trial and questions why an out-of-town defendant and lawyer are stirring up trouble in the primarily rural parish, located about 30 miles (48 kilometers) north of Baton Rouge. Anderson is from Plaquemines Parish to the southeast and was driving through when he was pulled over. His lawyer, Niles Haymer is based in Baton Rouge.
D'Aquilla said he doesn't have an opinion on the statue but regardless of whether it's there the people inside strive for colorblind justice. He also points out the racial diversity of the elected officials across the parish.
"All the elected officials that I know of, your judges, your clerk of court, your sheriff, we all strive for racial equality. And we work hard for that,'' he said.
This is not the first time the East Feliciana Parish statue has come under scrutiny.
In 2016, retired physician Paul Jackson Jr. asked the parish to move the statue to a local Confederate cemetery. He says having the statue on the courthouse grounds signals that the Confederacy was for justice: "But it wasn't. They're for slavery obviously.''
His suggestion was debated during a parish meeting and ultimately rejected. Jackson said he lost two friends over the issue. He said he supports Anderson's change-of-venue motion.
Lataya Johnson, who lives and works in the parish, sympathized with Anderson's argument and dismissed the idea that most people don't pay attention to the statue.
"You walk by and you think about it. Because if you're African-American do you look at it and say, 'My fate is already destined because of this statue … Judgment has already been made because of this statue,''' she said.
But parish president Louis Kent said Anderson is "very mistaken'' in believing he will not get a fair trial in East Feliciana.
"I have been in this parish all my life. We don't have a race problem. We never have and we're not going to create one,'' he said.
Anderson's lawyer, Niles Haymer, says he's already heard from other lawyers interested in filing similar motions, and he may be filing the same motion for another client. For him, this case could become a catalyst for change. A hearing on the motion is expected Tuesday.
"I feel like if we flood the criminal justice system with these motions, they're going to have to deal with this monument issue,'' he said.