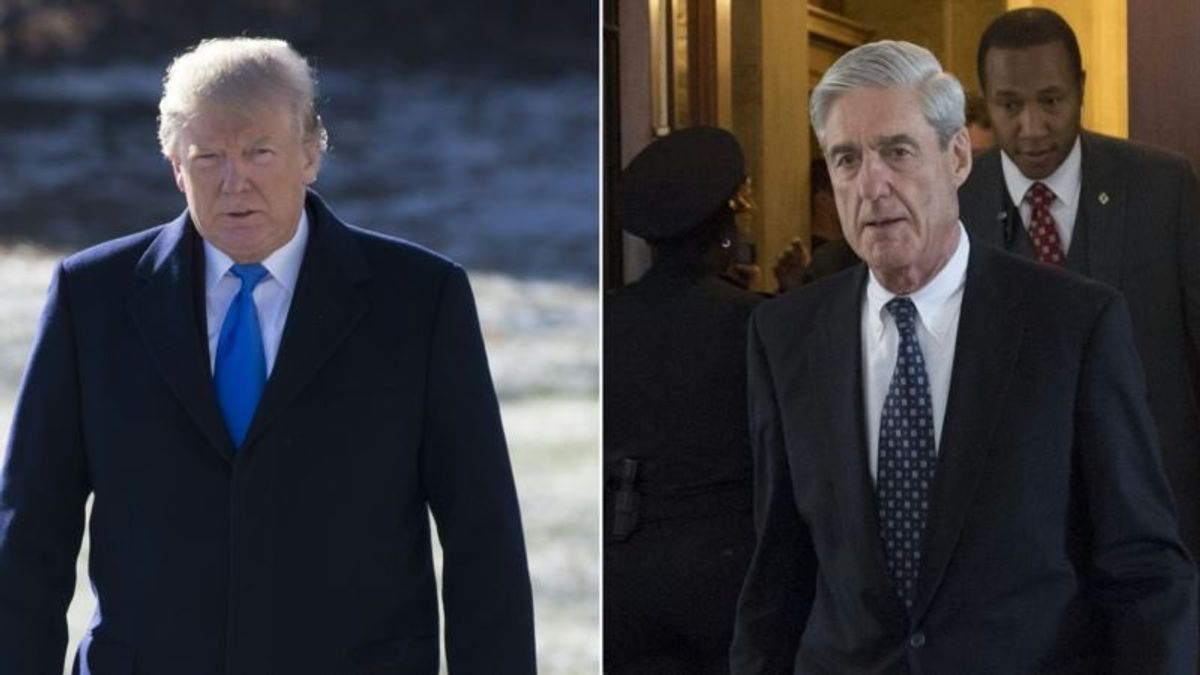 Is End of Russia Probe in Sight?
Is End of Russia Probe in Sight?
The Russia probe led by special counsel Robert Mueller appears to be entering a new phase in the wake of last week's guilty plea by Michael Cohen, who had long served as President Donald Trump's personal attorney. Now, legal analysts are debating whether the Russia investigation is moving toward a conclusion, and if so, what the stakes could be for the president and for the country.
WATCH: Jim Malone's video report
Embed share
Is the End of the Russia Probe in Sight?
Embed share The code has been copied to your clipboard. width px height px
Share on Facebook
Share on Twitter
The URL has been copied to your clipboard
No media source currently available
0:00 0:02:53 0:00 Direct link
270p | 8.2MB
360p | 12.9MB
720p | 74.7MB
Last week in New York, Cohen pleaded guilty to lying to Congress to mislead lawmakers about Trump's interest in a building project in Russia while he was running for president.
Cohen, who once famously bragged he would "take a bullet" for Trump, told investigators in August that then-candidate Trump had ordered him to illegally arrange payments to buy the silence of two women who claimed affairs with Trump prior to the 2016 election.
A short time after Cohen's plea last week, Trump told reporters at the White House that Cohen was lying to get a better deal from the special counsel.
Trump was also asked if he was worried about what else Cohen might tell investigators.
"No. Not at all. Not at all. I am not worried at all about him," Trump told reporters shortly before he left for the G-20 summit in Argentina.
Twitter attack
The president was back on the attack on both Cohen and Mueller on Monday. In a series of tweets, Trump said Cohen was a "proven liar" and said he should serve a "full and complete" jail sentence.
Trump also lashed out at Mueller and his "out of control band of Angry Democrats." Trump tweeted they "don't want the truth, they only want lies."
The Cohen plea moves the Russia investigation closer to possible ties between then-candidate Trump and Russia, according to Virginia Democratic Senator Mark Warner.
"This is one more example of one of the president's closest allies lying about their ties to Russia and Russians," he said.
Warner and Republican Senator Richard Burr lead the Senate Intelligence Committee investigation into Russian interference in the 2016 election.
"Our mandate is at the end of this is to get as close to the clear truth as we possibly can. And we can't do it on conjecture. We have to do it on facts," Burr told a recent gathering in Texas.
Approaching the endgame?
Some legal analysts believe that recent developments suggest the Russia probe could be headed for a climax.
"I would expect that we would see some sort of conclusion of this within the next few months," said Ohio State legal expert Ric Simmons via Skype. "Again, he [Mueller] does not have a timeline that he is required to meet by law and he does not have to tell us where he is, so we can't know for sure."
The Cohen plea along with past indictments and guilty pleas have bolstered the credibility of the Russia probe, even though the president continues to dismiss it as a witch hunt.
"It does, I think, add more legitimacy to the investigation," said University of Connecticut law professor Doug Spencer. "And that there is actually a lot of smoke going on in this particular realm that deserves investigation. I think it undercuts the claims that this is a hoax, or that this is a witch hunt."
Spencer also said he thinks public support for the investigation "has begun to increase again."
2019 looms decisive
Throughout the Russia probe, Mueller has said nothing publicly about where the investigation is headed, but analyst Simmons believes that 2019 could prove to be a pivotal year.
"He has done a lot of work with other witnesses that have flipped, and he has had months to work with them too. So I would expect that we would see some sort of conclusion of this within the next few months," Simmons said.
Spencer also notes that the president recently submitted written answers to Mueller, reportedly in response to questions about possible collusion between his presidential campaign and Russia.
"Because he was able to get some of these responses in writing, that does suggest that he is reaching the final stages of the people that he wants to interview and that he has reached the final stages of fact collection."
The investigation may be entering its final phase just as Democrats reclaim the majority in the House of Representatives in the wake of the recent midterm elections and just as the president prepares for his re-election bid in 2020.