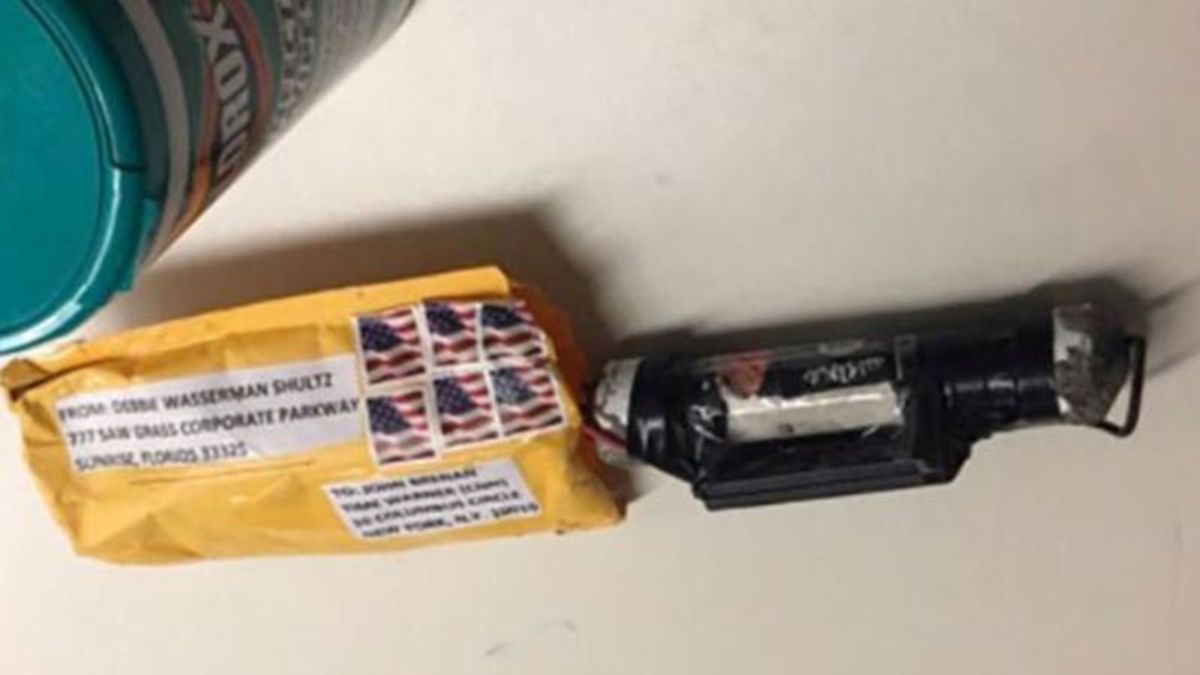 Investigators Search Mail Facility for Pipe Bomb Clues
Investigators Search Mail Facility for Pipe Bomb Clues
Federal investigators searched a massive U.S. mail sorting facility in Florida Thursday night after determining that at least one of 10 pipe bombs mailed to prominent Democrats and critics of U.S. President Donald Trump was processed there.
A report in the Miami Herald says the package that ended up in the office of U.S. Representative Debbie Wasserman Schultz is "likely" the package in question, according to a federal law enforcement official familiar with the case.
Before arriving in Schultz's office, however, the mail bomb was initially sent to the office of former U.S. Attorney General Eric Holder in Washington, but was not delivered and was sent to the return address, which was Schultz's address. It was processed through the massive Opa-locka mail sorting facility in Florida, The Herald reports.
Investigators are expressing confidence they will identify who is responsible for sending the 10 pipe bombs.
"We will identify and arrest the person or people responsible for these acts," New York City Police Commissioner James O'Neill told reporters Thursday afternoon.
FBI laboratory
All of the "suspected explosive devices" were being taken to the Federal Bureau of Investigation's laboratory at the U.S. Marine Corps base in Quantico, Virginia, O'Neill said.
"We are discovering things by the hour," he added at a news conference where other officials also said tips from the public were providing leads for investigators.
FBI Assistant Director William Sweeney, who is in charge of the bureau's New York field office, said "the investigation is still in its early stages," thus he would not provide specific answers to the media about possible suspects or whether the pipe bombs were properly wired to explode.
Investigators are specifically looking at the southern part of the state of Florida as a source of some of the packages, according to media reports.
U.S. President Donald Trump is largely blaming the media for the angry political atmosphere in America that critics contend has led to what is being regarded as a wide-scale assassination attempt.
Early Friday, Trump posted on twitter.
Trump's tweet Thursday came as suspected explosive devices addressed to actor Robert De Niro and former Vice President Joe Biden were found Thursday.
Police in New York Thursday said one package was sent to a production company owned by De Niro and that it is similar to those sent to other prominent Democrats, including former President Barack Obama and former Secretary of State Hillary Clinton. The New York City Police Department's bomb squad transported the suspected bomb in a special truck out of the Tribeca neighborhood on Thursday.
The FBI also confirmed two packages addressed to former Vice President Biden were found in Delaware.
Other packages have been addressed to former President Barack Obama and former Secretary of State Hillary Clinton, as well as a former U.S. attorney general, two Democratic Party members of Congress and former Central Intelligence Director John Brennan.
The retired intelligence official, now a commentator for MSNBC cable news network and NBC News, responded to Trump's tweet Thursday.
What police described as a live explosive device that arrived in an envelope addressed to Brennan at CNN's New York bureau prompted the evacuation of the Time Warner Center for hours on Wednesday.
Pressed by reporters Thursday on whether there could be a link between Trump insulting political opponents and the dispatch of the bombs,White House Press Secretary Sarah Sanders replied, "the president is certainly not responsible for sending suspicious packages to someone no more than (Democratic Party U.S. Senator) Bernie Sanders was responsible for a supporter of his shooting up a baseball field practice last year."
Trump said at a rally late Wednesday that targeting government officials by sending them explosives "is an attack on our democracy itself."
JOIN US ON RUMBLE LIVE NOW!