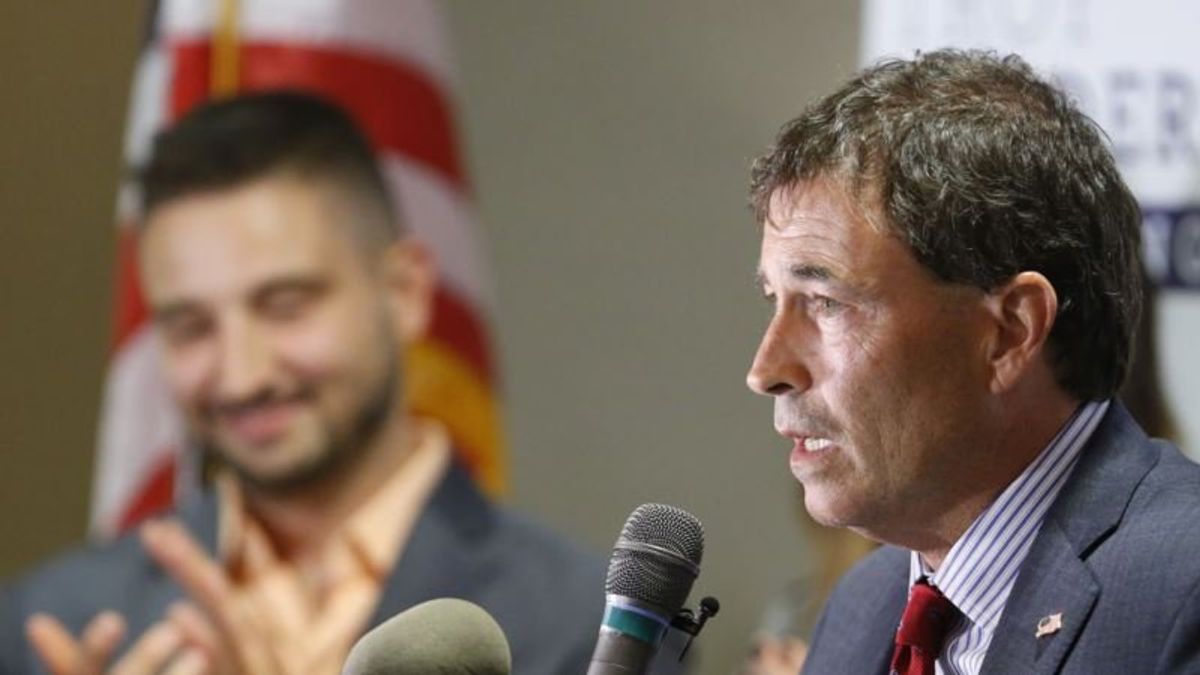 Instead of Tax Cuts, GOP Candidates Motivate With Anxiety
Instead of Tax Cuts, GOP Candidates Motivate With Anxiety
There's a border crisis in Pennsylvania. The radical left is surging in New Jersey. And Nancy Pelosi is a threat to New York.
Republican candidates in the nation's premier midterm battlegrounds have embraced a central message in their fight to maintain the House majority this fall — and it has little to do with the surging economy or the sweeping tax cuts that the GOP celebrated as a once-in-a-generation achievement just eight months ago.
Instead, as Republicans enter the final month of the primary season, they're looking ahead to a general-election strategy of embracing anxiety as a tool to motivate voters. That was clear this week as the GOP's closing message in an Ohio special election questioned Democrat Danny O'Connor's connection to Pelosi, the House Democratic leader and preferred super villain for Republicans.
"We wish it got the pitch forks out and it doesn't," GOP ad maker Will Ritter said of the Republican tax cuts.
Some Republican strategists are frustrated the party isn't focused on the tax law or the broader health of the economy in the run-up to Election Day. Others concede that in the Trump era, there's no better motivator than fear of the other side, particularly the prospect of Pelosi returning to the speaker's chair.
The plan had some success in Ohio: The race was too close to call Wednesday as Republican Troy Balderson maintained a razor-thin advantage over O'Connor, staving off an embarrassing GOP defeat for now. Going forward, the debate over highlighting the tax law will help determine whether Republicans will maintain control of Capitol Hill after November.
While Republicans are reluctant to engage on tax cuts, it's a fight Democrats — and their voters — want.
"The tax cuts were for the top … income earners," said George Stringer, a 58-year-old Democrat who lives in Detroit. "The rich keep getting richer, the poor keep getting poorer."
In Ohio, which hosted the season's final special election, O'Connor railed against the tax cuts as a giveaway to the rich that threatened Medicare and Social Security. While his Republican opponent may prevail, the 31-year-old Democrat trailed by less than 1 percentage point in a district that's been in Republican hands since before he was born. On the defensive, Balderson appeared in a late ad sitting next to his ailing mother and promising that he wouldn't dismantle the social safety net.
It's somewhat similar to the problems Democrats faced in 2010, when they controlled the White House and Congress and managed to pass the most significant health care legislation since the creation of Medicare and Medicaid. They celebrated with President Barack Obama in the Rose Garden, only to run from it in the midterm elections that became a disaster for the party.
President Donald Trump, plagued by scandal and wed to his Twitter account, sits atop the struggle.
Republican pollster Frank Luntz said Trump energizes the Republican base, but that his broadsides and distractions will also alienate the swing voters who tip battleground House districts.
"This is political malpractice," he said. "You can't find me a time in modern times when the economy was this strong and the governing party was headed toward a potential political disaster like this."
Republicans are also reluctant to embrace their tax cuts because the benefits don't change the household budget for many Americans. The party predicts that will change next year when families file their first tax returns under the new law. But as electoral strategy, that's akin to Democrats in 2010 insisting voters would like the health care law once they understood it.
The tax debate comes amid new evidence of a Democratic surge in early elections across America.
Michigan Democrats will feature the state's first all-female statewide ticket this November following Tuesday's primary elections. Democrat Rashida Tlaib also won a race to run unopposed for the Detroit-area House seat vacated by John Conyers, making her poised to become the first Muslim woman in Congress. In Kansas, 38-year-old attorney Sharice Davids won her congressional primary and became the state's first Native American and gay nominee for Congress.
Both Davids and Tlaib campaigned aggressively against the Republican tax cuts.
Beyond avoiding the tax law, there has been a consistent theme for Republicans across House battlegrounds: casting the Democrat as too liberal.
A National Republican Congressional Committee ad in Ohio tied Democratic candidate O'Connor to Pelosi and "the liberal resistance movement." A super PAC backed by House Speaker Paul Ryan charged that it was O'Connor who would cut Social Security and Medicare by $800 billion; fact checkers have questioned the accuracy of the attack.
In central Kentucky, GOP Rep. Andy Barr is reminding voters that Amy McGrath, a former fighter pilot, voted for President Barack Obama and opposes Trump's proposed border wall. In suburban Pennsylvania, vulnerable Republican Rep. Brian Fitzpatrick has warned of "a border in crisis" and demanded a surge of immigration enforcement agents. And in New Jersey, Republican Rep. Leonard Lance featured an ad in which Democrat opponent Tom Malinowski calls himself a "lifelong progressive Democrat" over and over. Lance also warns of his "dangerous policies" like abolishing U.S. Immigration and Customs Enforcement.
Anthony Brindisi, Democratic nominee in an upstate New York district, is the target of an ad from Rep. Claudia Tenney claiming that Pelosi is "bankrolling" Brindisi "because he'll support their radical immigration agenda."
Brindisi blasted the Tenney ad as dishonest, repeating his general support for border security and opposition to Pelosi continuing as Democratic leader. "I'd think after almost two years of being in Congress, the first advertisement that my opponent would run would be something about her accomplishments," Brindisi said.
He's running his own tax ad, localizing the law by highlighting Tenney's campaign support from the cable giant Charter, whose New York subsidiary, Spectrum, has raised rates and spent hundreds of millions on stock buybacks after getting a tax windfall. "I want to point out to the voters that when we talk about the swamp, this is the worst kind of example," Brindisi told The Associated Press.
Republicans aren't apologizing for their tax votes, even if it's not at the forefront of their campaigns.
Rep. Mimi Walters, a vulnerable Republican in southern California, said in a recent interview that she plans to use it in her paid advertising this fall. But her ads so far this year have focused on other topics.
"In the beginning … there was a lot of pushback. That's just natural. You're making a big change, and people weren't sure," said Walters, who represents one of 25 districts nationally that sent a Republican to the House in 2016 but opted for Hillary Clinton over Trump in the presidential race.
"Now that people have started to see the benefits … people come up and thank me," Walters said, adding that she's "results oriented" and pointing to economic growth figures that she says prove "we made the right decision."