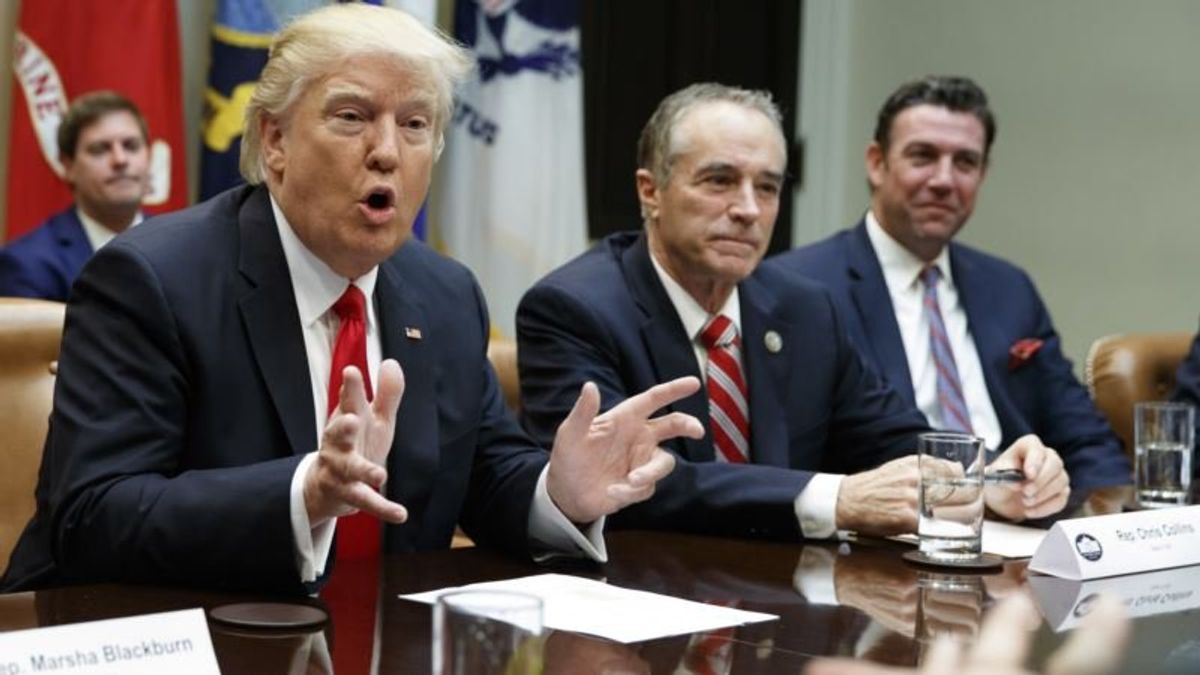 Indicted California Congressman Still Likely to Win Re-Election
August 22, 2018, 11:52 PM
Indicted California Congressman Still Likely to Win Re-Election
ALPINE, CALIF. —
The indictment of U.S. Rep. Duncan Hunter and his wife that alleges they illegally converted his campaign account into a household checkbook reorders his re-election contest, giving Democrats a suddenly stronger hand in a district that for decades has embraced Republican candidates.
But even with charges shadowing him, it will be an upset if Hunter loses.
Two months ago Hunter coasted through the June primary despite the ongoing FBI investigation that produced the 60-count indictment. His 30-point, first-place finish made him a strong favorite to win a sixth term in November.
The 50th Congressional District east of San Diego is the most Republican in Southern California. The party holds a nearly 15-point registration edge over Democrats, and President Donald Trump won the district by the same margin while losing statewide by more than 4 million votes in 2016.
Political dynasty
The Hunter name is something of a political dynasty in the area, his father was elected to the seat in 1980 and held it until his son won in 2008. Hunter's Democratic opponent, Ammar Campa-Najjar, 29, has never held elective office. He won just more than 17 percent of the votes in June but that was good enough for second place in the state's primary where the top-two vote-getters advance to the general election regardless of party.
A day after Hunter and his wife were charged with looting his campaign funds to finance family vacations, boozy restaurant binges and shopping sprees, voters in Hunter's rural hometown of Alpine were sharply divided on what it all means. Some are shocked, some outraged, and some are rising to defend Hunter and his claim of being pursued by politically motivated prosecutors eager to see one of Trump's early supporters in Congress fall.
Sandy Hintz, 75, said she has supported Hunter in the past but needs more information before making up her mind about him in November.
"I was really shocked, wow. How could that happen?" she asked. "He had seemed like a good guy."
Chris Wilmot, 47, a Republican and longtime Hunter supporter, said he was rethinking the race. To Wilmot, Hunter "has talked like a politician," and the certified public accountant has been put off by "the way he dresses, and his ego."
"I wonder what else they will get on him," Wilmot said outside a coffee shop near the town's business strip, where pickups rolled by feed stores, diners and gun shops.
Austin Bodger, 21, who works in a feed store, said he intends to vote for Campa-Najjar but acknowledged the candidate faces an uphill fight.
In the rural district with a large military presence "there are a lot of conservative Republicans who vote only Republican," Bodger said. "A lot of people don't think the charges are real. They think they are trumped up to take him down."
Conservative district
The district is near Camp Pendleton, the largest Marine base in the West, and has many active duty and retired military who feel a kinship with Hunter, a Marine who saw combat in Iraq and Afghanistan, and his father, an Army Ranger who won the Bronze star during the Vietnam War.
In an interview with The Associated Press in San Diego, Campa-Najjar said he was hopeful of breaking the Hunter family's nearly 40-year hold on the district. He said his message of affordable health care and college would cut across party lines.
"If we are a nation of laws, then you cannot in good conscience vote for Duncan Hunter," he said.
Hunter's district has been changing demographically, but it remains something of a holdout, where Republicans remain politically powerful.
Indictment 'changed everything'
The indictment "has changed everything," said Republican John Dadian, a lobbyist and consultant long involved in area politics, though he still gives Hunter an edge based on the district's generous GOP registration numbers.
The charges have brought new attention to Campa-Najjar, a former Obama administration Labor Department official whose father is a Palestinian Muslim and mother a Mexican Catholic. He was born in San Diego County but spent part of his childhood in Gaza.
Massachusetts Sen. Elizabeth Warren, a Democrat and potential 2020 presidential contender, used Twitter on Tuesday to urge her supporters to donate to his campaign. Joe Trippi, a Democratic strategist working for Campa-Najjar, said the campaign has seen a spike in fundraising and volunteers.
Hunter and his wife were charged by a federal grand jury with using more than $250,000 in campaign funds to finance family trips to Italy and Hawaii, golf outings, school tuition, theater tickets — even fast food purchases — and attempting to conceal the illegal spending in federal records.
The indictment depicts a couple freely dipping into campaign cash for years to bankroll their personal lifestyle, while their household budget was awash in red ink. The spending ranged from the banal to the lavish, from movie tickets to a $6,288.74 family vacation at a resort in Lahaina, Hawaii.
House Speaker Paul Ryan called the charges "deeply serious" and said Hunter will be removed from his committee assignments.