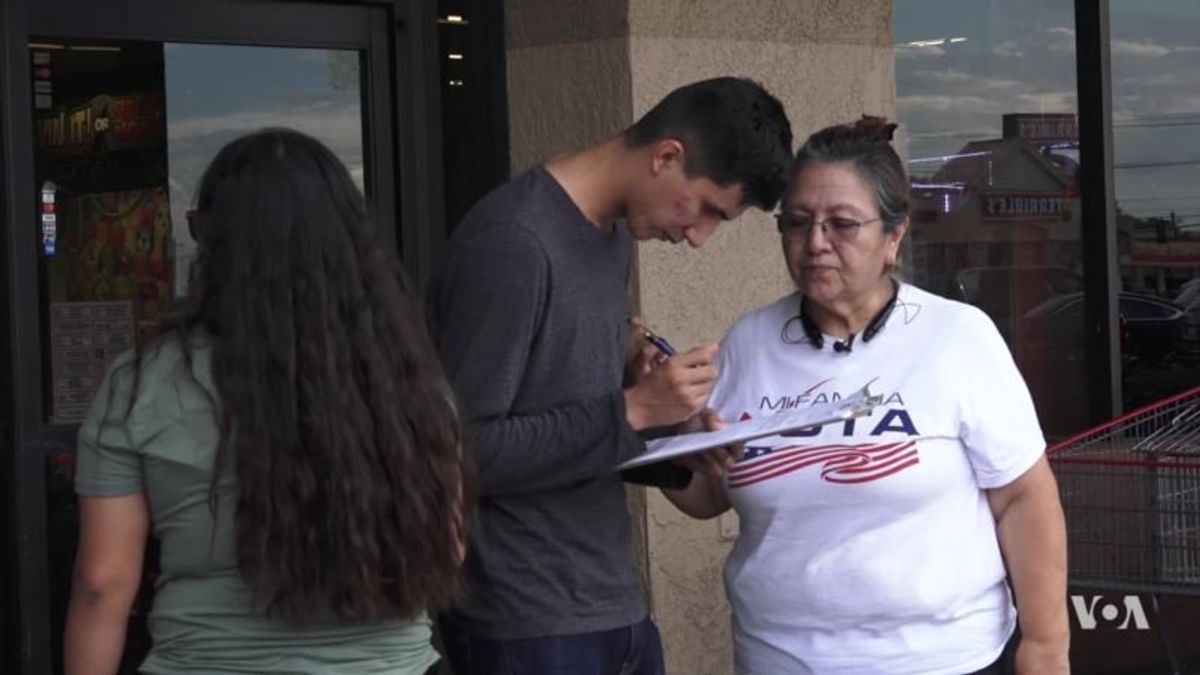 In Limbo, DACA Dreamers Look to Midterm Election
In Limbo, DACA Dreamers Look to Midterm Election LAS VEGAS —
Argelia Rico was 4 months old when her mother brought her and her 1-year-old sister across the U.S.-Mexico border illegally, fleeing domestic abuse in their native Morelia, Michoacán.
Now 26, Rico is a full-time college student in Las Vegas, Nevada, a pre-kindergarten teaching assistant, a one-on-one tutor for children with autism, and a single mother to spunky 6-year-old Lily. She is no different from a lot of hopeful young Americans — except that she isn't documented.
What keeps her from deportation is former President Barack Obama's Deferred Action for Childhood Arrivals (DACA) program, which allows her to work and live in the country legally on renewable two-year permits. Without DACA, she could not go to school, work or even drive legally in the U.S.
When President Donald Trump announced an end to the program in September 2017, many of these young people hoped Congress would step in and save the program. But Congress didn't. The courts intervened on a temporary basis, extending the program while its constitutionality was tested in the courtroom.
The result has been a perpetual limbo for some 700,000 DACA recipients, known as "dreamers."
"Everything is talked about for a few months, then it just slowly dies down, sadly," Rico told VOA.
November's election could change that, but only if the Democrats succeed in winning control of the House and Senate. And that will require a massive turnout of Latino and Hispanic voters, who historically have not displayed a lot of fire power at the polls.
A recent Politico analysis of more than 20,000 interviews conducted in battleground congressional districts by Siena College and The New York Times found that Latinos indicated they were less likely to vote than both white and African-American voters.
If the incoming Congress can't agree on a permanent solution, the Supreme Court would likely weigh in on the program. The high court's further tilt to the right with the confirmation of Justice Brett Kavanaugh does not bode well for DACA, according to some immigration rights advocates.
Despite it all, Rico displays calm energy as she presses for change and urges her citizen friends who can vote in November to do so.
Nevada has a Senate seat and two House seats on the line in the Nov. 6 midterm election and could contribute to a majority party change in Congress, most likely in the House.
"Our generation — we need to make change happen," Rico insisted.
In Nevada, it's personal
"[DACA recipients] thought they were playing by the rules, only to find out now that the rules are changing," said John Tuman, a professor of political science at the University of Nevada, Las Vegas.
In Tuman's estimation, DACA and other immigration issues likely will pose a liability to Republicans and boost turnout for Democrats in Nevada, where one in six residents is native-born with at least one immigrant parent.
WATCH: DACA and the elections
"We now have more than a quarter of our population which is Latinos, and a large segment of that population is made up of foreign-born Latinos," Tuman said. "As we become a more diverse state, there is generally more support for immigrants."
Nationwide, nearly one in four Latino registered voters listed "protecting immigrant rights" as the most important election issue in 2018, according to a recent NALEO Educational Fund/Latino Decisions tracking poll.
Nevada is home to nearly 13,000 DACA beneficiaries and has one of the highest per capita shares of undocumented immigrants in the country.
Nevadan Latinos find DACA easy to relate to, said Alicia Contreras, interim Nevada state director for Mi Familia Vota ("My Family Votes"), a multistate civic engagement organization.
"The conversation is, 'My family is under attack. My neighbor's under attack. My friends are under attack. And maybe I'm not an impacted individual, but I still care about those folks because they are a part of my life,'" Contreras told VOA. "That is something that cannot be ignored."
"Immigration is a part of every conversation at the dinner table," added Lalo Montoya, canvass director for Make the Road Nevada, who is himself a DACA recipient. "People are energized. People are ready to exercise their right to vote."
Bipartisan support
Among Trump's core base of supporters, and in towns outside of Las Vegas where there is less diversity, voters concerned about illegal immigration and border security are more likely to view DACA negatively.
"That's a bunch of bull," said Lyle Kump, a retired plumber in Moapa Valley, Nevada. "They should stay with their parents in another country."
But such hard-line views don't sit well with the majority of either major party. Nationwide, more than eight in 10 Americans believe DACA recipients should be allowed to stay in the U.S., according to separate CBS News and CNN polls conducted early this year.
Eddie Diaz, a field director with The LIBRE Initiative, a conservative grassroots organization, argues that support for dreamers and secure borders are not mutually exclusive goals.
"People can really get behind certainty for our dreamers so they can stop living in this limbo and bring more security to our country," Diaz said.
As of August, Diaz's group of 100-plus volunteers had made over 50,000 calls and knocked on nearly a thousand doors. One volunteer, 17-year-old Wilfredo Villeda, is a DACA recipient from El Salvador, whose parents brought him to the U.S. when he was 4.
"When we get someone that wants to answer [our] questions — them listening to us makes me think that people still want to do something about it," Villeda said.
However, he adds, "there's a lot of people that don't."
Placed on a shelf
"There's always something happening that takes priority," said Juan Ulises Juárez, a bilingual multimedia reporter and DACA recipient based in Las Vegas. "You kind of put it on a shelf and let it rest there."
Juárez, whose family crossed from Mexico to El Paso, Texas, when he was 10, said the frustration of being undocumented took hold in his late-teens as he was looking to attend college and worried about a lack of scholarships available to him at public universities.
In 2012, the year Obama announced DACA, Juárez said he experienced a "rollercoaster" of emotions, from elation to despair. The program, as he understood it, was temporary and "not the solution to everything."
But as challenges from the right wore on, he was frustrated by a persistent feeling of inability to control his own destiny. He also felt that Democrats — "the Promise Party"— shared some of the responsibility for the dreamers' plight.
"Democrats had the chance to do something for the immigrant community and they blew that chance," he said. "Sometimes, we feel like they even use the community just to be there, and they kind of paint the other party as the bad guys."
Last year, Juárez received an Emmy award for his work at KINC 15, a local Univision affiliate that now broadcasts from El Paso, Texas, for viewers in Las Vegas.
Standing in front of an audience of multilingual broadcasters wearing a red-accented tuxedo, Juárez spoke up for DACA recipients.
"I am 23 years old. I am a bilingual journalist. I am actually undocumented. I am a dreamer. I have DACA," he announced at the ceremony, hoisting his statue to applause. "And this is very special because of that."
"That story is the story of many others," he later told VOA.
'We're still here'
At Cardenas supermarket on East Bonanza Road, Contreras and a team of volunteers hold clipboards and voter registration forms for a largely Spanish-speaking community.
"It's been rough, I'm going to be honest," Contreras said of their efforts since January to increase voter enthusiasm and overall turnout. "We need to be better allies."
Together, Latinos and younger voters comprise a sizeable portion of Nevada's electorate, but have been especially unreliable in non-presidential years.
Similarly to Rico, Juárez said it's a day-to-day drill reminding would-be voters who might otherwise "get busy" to show up at the polls in November.
"I know people that have our backs and that will support us," Juárez said, assuredly.
Still, "it's important to remember that we're still here," he said.
JOIN US ON RUMBLE LIVE NOW!