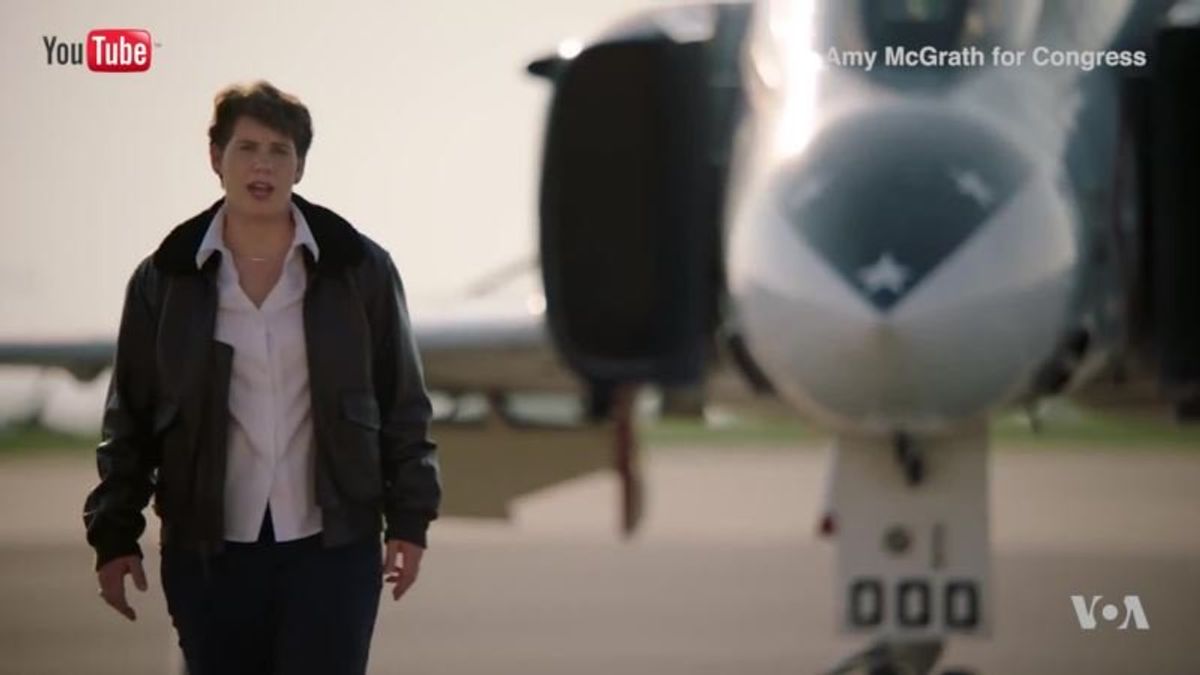 In 2018, Women Candidates Can 'Be Themselves' in TV Ads
November 3, 2018, 5:45 AM
In 2018, Women Candidates Can 'Be Themselves' in TV Ads WASHINGTON —
Lights flicker into brightness, one-by-one in an empty boxing ring. It is silent until a gym bag plops to the floor. A woman puts earbuds in. Championship music blares and then a woman's voice says, "This is a tough place to be a woman."
Sharice Davids' TV commercial looks more like a movie trailer than a typical political ad for U.S. Congress in Kansas. But, Davids is no ordinary candidate.
The Democrat, running in Kansas for the 3rd Congressional District seat, is a Native American. She is lesbian. And she is a former mixed martial arts fighter. In her ad, Davids says, "Truth is, I've had to fight my whole life because of who I am, who I love, and where I started." At the end of the ad, she nails a sharp right jab at the camera.
Scuba diving for votes
A record number of women are up for election Tuesday. According to figures compiled by The Center for America Women and Politics at Rutgers University, 237 women are running for the U.S. House of Representatives, 23 for the Senate, and 16 for governor.
Political science experts, like Brigid Callahan Harrison of Montclair State University, say the current political climate has fostered numerous female candidates without political experience. Harrison says the Democratic Party specifically selected candidates with a "unique skillset, great narratives and resumes that are kind of middle of the road" to appeal to a new constituency, especially in swing districts.
Consequently, their ads are entertaining and provocative. Like Democrat Debbie Mucarsel-Powell running for a House seat in Florida's 26th Congressional District. Her TV commercial looks like a National Geographic documentary on coral reefs. Then, you see her, kneeling among the fish in full scuba gear, holding a sign "I'm Debbie Mucarsel-Powell. I'm running for Congress." The ad promotes one of her top issues: clean water.
'Grow a pair of ovaries'
Republican Martha McSally is a member of the U.S. House from Arizona's 2nd Congressional District. She is running for U.S. Senate against another female House member, Democrat Krysten Sinema. McSally's ad includes a clip of her TV profile on CBS' "60 Minutes," with Leslie Stahl introducing her as the "first female pilot to fly in combat."
McSally includes a comment from President Trump, mixed in with the fighting music and quick edits. She speaks straightforwardly about her time in Congress: "That's why I told Washington Republicans to grow a pair of ovaries and get the job done."
Going viral, courtesy of 'Hamilton'
​Democrat MJ Hegar, running in the Texas 13th Congressional District, produced a video clip called "Doors." Her biographical ad begins inside houses until the camera pans to a military-issued grey-green door hanging on the wall above her family as they eat dinner. Hegar, with her short sleeves showing an upper arm tattoo explains, "that's all that's left of the aircraft I was flying that day."
In 2009, the Air Force pilot was flying a rescue mission in Afghanistan when her helicopter was shot down by the Taliban.
​
No more St. John suits, Ferragamo shoes
The trend in political ads is increasingly leaning more toward social media, because most younger voters choose to get their news there than conventional television. Hegar's 3 minute, 30 second video clip has been viewed nearly 6 million times once "Hamilton" composer Lin-Manuel Miranda tweeted it to his 2.5 million followers.
Chris Nolan is the founder of Spot-On.com, a cloud-based ad agency. Her company ran 25 campaigns for the 2018 midterm elections.
She says this is the first election where women can "be themselves" in commercials rather than a perfectly coiffed person, ready for TV. She attributes that to the increased number of women running campaigns who understand that voters want to vote for "real people" and not candidates molded into stiff politicians.
"What that means is that we are moving away from the heavily produced candidate wearing a St. John suit, Ferragamo bow flats, and headband because she looks like a woman you'd never want to have a drink with," Nolan said.
Double standards for voices
But, even in a social media age and in the 2018 political "year of the woman," female candidates have to spend more time debating what is kept in and what stays out of their ads.
Republican Leah Vukmir, a Wisconsin state senator running for U.S. Senate, received death threats when she and other Republicans backed elimination of collective bargaining for public employees. The voicemail leads her ad, saying, "I know where you live and I'm going to come for you. You're going to die and I'm going to be the one who does it."
Vukmir told VOA the words are tame compared to what the caller said, but she wanted to use the words to show her resolve not to be intimidated.
Vukmir says, like most women, she knows there are certain standards for men and women in political ads, and she is extra careful of her vocal tone and how she speaks. Her model is former British Prime Minister Margaret Thatcher who "learned how to moderate her voice so that she didn't sound shrill."