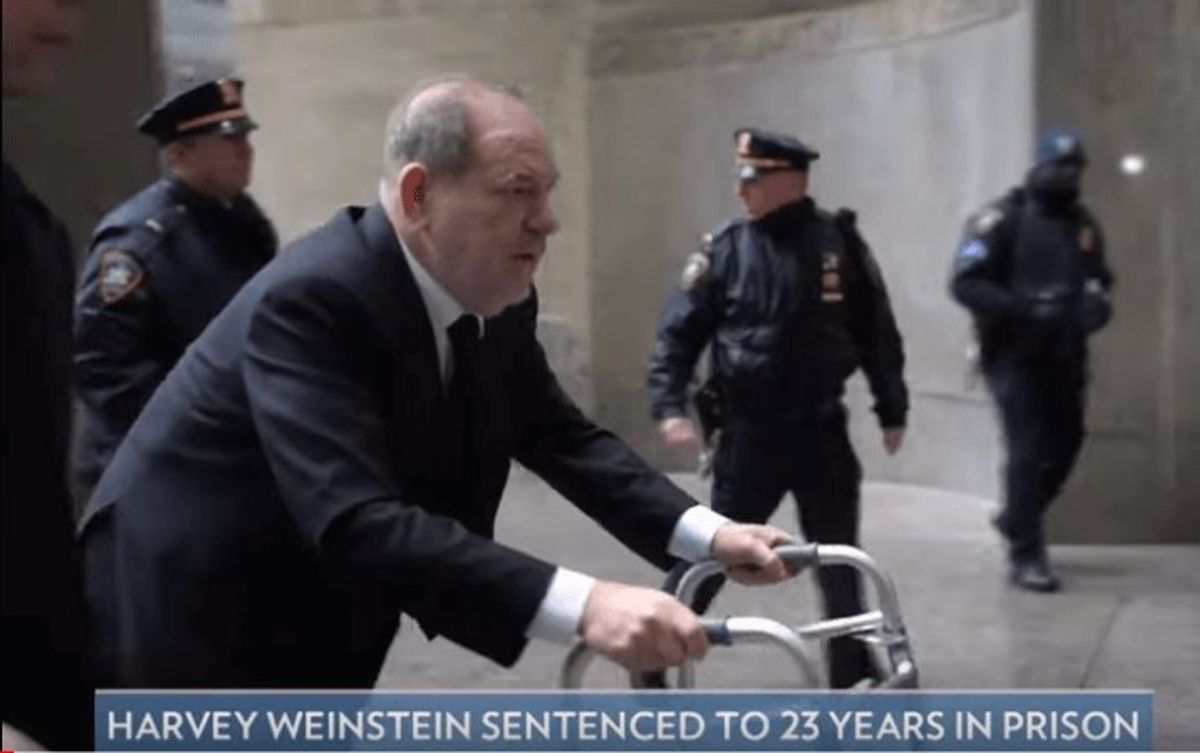 Harvey Weinstein's Prison Sentence Spells Trouble For Democrats
Disgraced former Hollywood studio executive Harvey Weinstein was sentenced to 23 years in prison Wednesday following his convictions for two separate sexual assaults, which occurred in 2006 and 2013. Weinstein's incarceration provides terrible optics for the Democrat Party, considering Weinstein's longtime tenure as a de facto boss of the Democrat political machine.
Following his recent convictions, Weinstein began walking again, after an extended period of relying on a walker during his trial due to his supposed physical frailty. Harvey Is Healed!
And it's officially a prison sentence of 23 years for Harvey Weinstein! 😃👍 At least he no longer needs a walker! 😂😂 pic.twitter.com/7WlaLyESwi

— Shawnasaurus Rex (@ShawnG927) March 11, 2020
Weinstein not only birthed the careers of some of Hollywood's go-to Democrat policy mouthpieces, including Ben Affleck and Matt Damon, but directly interceded in Washington politics.
Weintein, a donor to Democrat presidential candidates Al Gore, John Kerry, and Barack Obama, bundled $1.4 million for Hillary Clinton's 2016 presidential campaign, after first supporting Clinton as a bundler when she ran for a New York Senate seat in 2000 and also donating $250,000 to the Clinton Foundation.
Weinstein was spotted with Hillary and Bill Clinton at a fancy December 2016 dinner in Harlem shortly after Clinton lost the presidential election to President Donald Trump. 
Weinstein was a close political adviser to Hillary Clinton, so much so that it was Weinstein who gave Clinton advice on how to beat Bernie Sanders in 2016. 
In a leaked email, Weinstein wrote directly to Clinton's campaign manager Robby Mook with strategic orders on April 10, 2016. The email showed Weinstein advising the Clinton campaign on how to off-set Sanders' messaging on police shootings and turn the Sandy Hook tragedy against Sanders.
"That Daily News piece needs to be circulated to every online outlet under the headline, "The Emperor Has No Clothers," (sic) or "We Won't Get Fooled Again. It made me smile the other day when Hillary said his policies just don't add up, based on what the Daily News said I'd hammer that. He also has an incredibly effective ad with the daughter of the man who was killed. They're going to hit you hard in the African-American community, and they have a lot of Latino deputies. I'm probably telling you what you know already, but that needs to be silenced, probably with the Sandy Hook issue," Weinstein wrote to Mook, recommending some communications specialists to the Clinton campaign.
Joe Biden is not immune to the Harvey drama. In fact, Biden recently promoted one of Weinstein's closest advisers to a leadership position on his campaign. In February, Biden touted his elevation of Anita Dunn, the longtime SKDKnickerbocker public relations consultant who advised Harvey Weinstein pro bono beginning in October 2017. Dunn is a pillar of the Democrat establishment in Washington, D.C., and it seems like no coincidence that she assumed a larger role for Biden just as the party bosses plotted to coronate him to stifle the momentum of socialist insurgent Bernie Sanders.
"She will be working closely with us on campaign strategy and overall coordination on budget and personnel as we build a bigger campaign for the next phase," the Biden campaign stated in an interview with The New York Times, referring to Anita Dunn.
Harvey Weinstein is, in many respects, the face of the modern liberal Democrat age. He ran an idol-worship factory, creating false idols and selling the image of sex and glamour to ordinary people who otherwise could have focused on religious pursuits or forged a relationship with nature. He was a mainstay at the Academy Awards, where elites hand each other golden statues. He violated women – forcing them to have sex with him in exchange for the fruits of the poison tree of celebrity that he offered them.
He advised, donated to, and raised money for the very Democrat establishment politicians who oversaw America's governmental decline in recent decades, caring not for the concerns of the underprivileged but only for his exclusive lifestyle and relationships. He was a hanger-on, a fixer, a wheeler-and-dealer, a gatekeeper, and an oligarch. He stands for everything that patriotic Americans in the age of President Donald Trump roundly reject.
Harvey Weinstein may have made it to the top of Hollywood, but his downfall might end up bringing Hollywood down with him.

By Patrick Howley
###