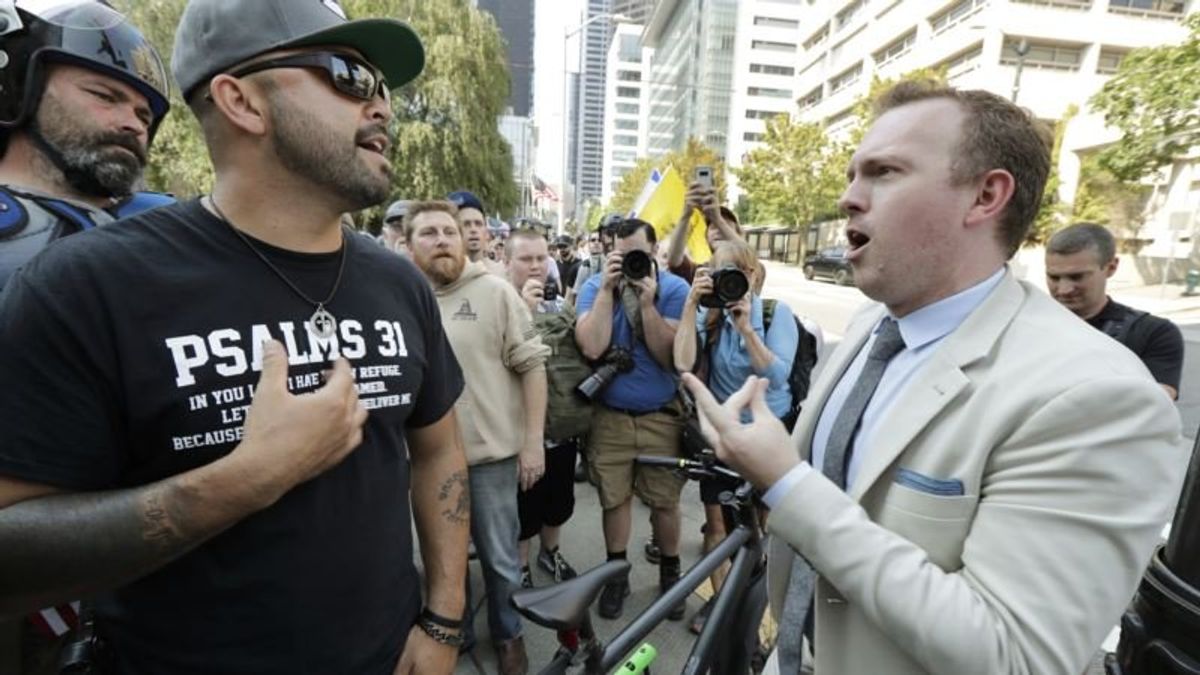 Gun-Control Initiative Brings Protesters on Both Sides to Seattle
Gun-Control Initiative Brings Protesters on Both Sides to Seattle
SEATTLE —
Right-wing demonstrators gathered Saturday in Seattle for a "Liberty or Death" rally that drew counter-protesters from the left while dozens of police kept the two sides apart.
The right-wing groups Washington 3 Percenters and Patriot Prayer were holding the rally outside Seattle City Hall to protest an effort to launch a gun-control initiative that would raise the age in Washington state for people buying semi-automatic rifles.
The left-wing groups Organized Workers for Labor Solidarity, Radical Women and the Freedom Socialist Party were rallying at the same site.
​Protesters on each side
Hundreds of protesters on each side of the street were separated Saturday afternoon by metal barriers and police officers as the left-wing protesters yelled and used cow bells and sirens to try to drown out speeches from the right-wing side.
Three men were arrested, all for misdemeanor assault, Sgt. Sean Whitcomb, a Seattle police spokesman, told the Seattle Times.
One person on the right-wing group side was treated for an injury at the scene.
Additional police also arrived, including police in riot gear with batons who took up positions in the street. Bicycle officers lined up their bikes as a type of moving barrier to keep protesters from entering the street, which remained open to traffic.
Gun-control initiative
The gun-control initiative would boost the age for the purchase of semi-automatic rifles from 18 to 21 and would expand the background checks for those purchases. The measure would also require people to complete a firearm safety training course and create standards for safely storing firearms.
A judge on Friday, however, threw out 300,000 signatures needed to put the initiative on the November ballot, saying the petition's format did not follow election law. The Alliance for Gun Responsibility, the group behind the initiative, has filed a notice of appeal with the Washington Supreme Court.
The protest came two weeks after police in riot gear in Portland, Oregon, tried to keep right-wing and left-wing groups apart. The effort mostly succeeded, but police were accused of being heavy-handed, prompting the city's new police chief to order a review of officers' use of force