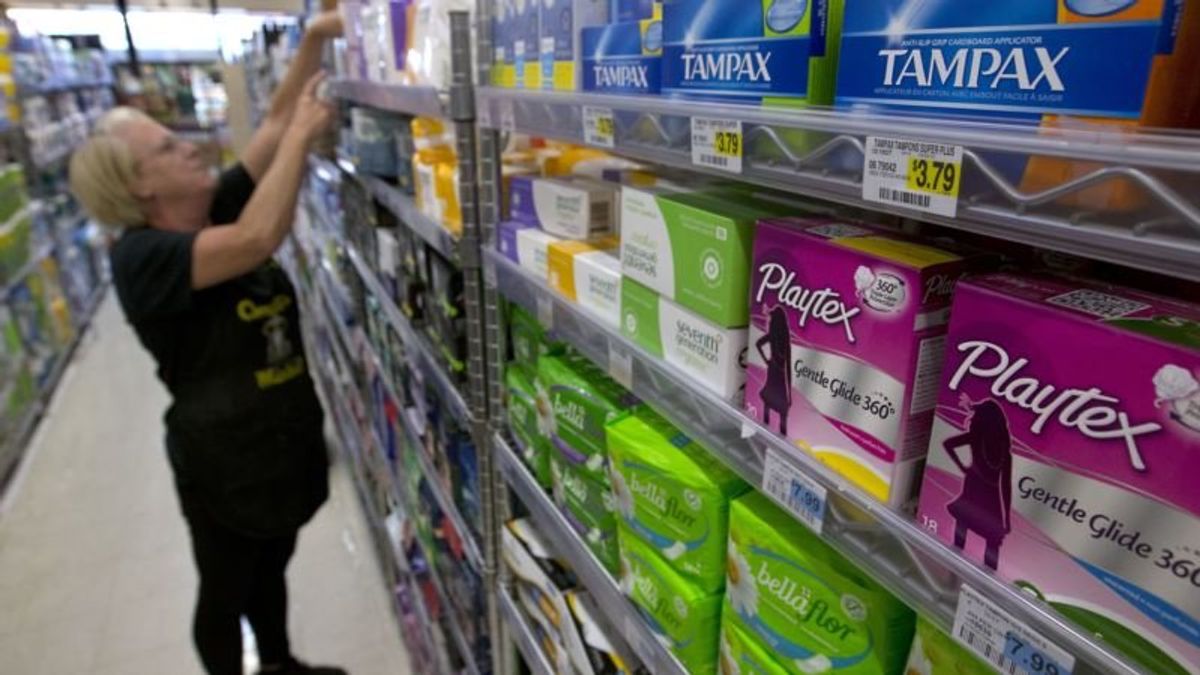 Growing Number of US States Move to End Tax on Menstrual Products
Growing Number of US States Move to End Tax on Menstrual Products
A growing number of states are moving to end a tax on feminine hygiene products seen as discriminating against women.
The issue will be on a state ballot this November for the first time, with voters in Nevada decided the matter in a referendum.
While there is no specific tax on menstrual products in any U.S. state, many states exempt people from having to pay a tax on "medically necessary" products. These products can include medicines, as well as personal care items such as ChapStick and dandruff shampoo. Women's feminine products, including tampons and pads, have historically not been included in these exemptions.
With state taxes typically running between 4 and 9 percent, activists have increasingly been advocating for eliminating the so-called "tampon tax," saying it unfairly hurts women.
"I think the issue itself has come out of the shadows. It's really quite a no-brainer," said Jennifer Weiss-Wolf, who has written a book on the issue, "Periods Gone Public."
Weiss-Wolf, who also founded the organization Period Equity to eliminate sales tax on menstrual products, notes that women typically spend $70-$100 per year on such products. Many women typically menstruate between the ages of 12 to 50.
Nadya Okamoto, who named her nonprofit organization PERIOD, said the tampon tax can greatly affect low-income women.
"For some people, the few extra cents or dollars really do make a difference," said Okamoto, whose organization provides menstrual products for those in need.
Okamoto said she became interested in accessible menstrual products when she was younger, and her family did not have a home for a time. During that time, she met homeless women who had to make their own menstrual pads.
"When you don't have a roof over your head, the tampon tax can mean the difference between buying tampons and having to resort to using socks or cardboard, instead," she said.
State legislation
Nine states have specifically exempted feminine hygiene products from sales tax: Connecticut, Florida, Illinois, Maryland, Massachusetts, Minnesota, New Jersey, New York, and Pennsylvania. Five other states have no sales tax at all.
"We still have 36 states to go," said Weiss-Wolf, who expressed optimism the measure would be adopted by other states. "Nationally, this is a policy issue that has extraordinary support," she said, noting that Democrats and Republicans have backed state legislation.
Last year, lawmakers in Nevada passed a bill repealing the tampon tax, with large majorities in both parties supporting the legislation. Republican Gov. Brian Sandoval signed the bill, but the issue must still be decided by voters. Nevada law requires all amendments to sales tax decisions be put to a voter referendum.
"What happens there could be inspiring," said Weiss-Wolf, who explained that the successful passage of a referendum could create another model for activists to use in their campaign to eliminate the tampon tax.
The latest region to adopt the policy change was the District of Columbia. Mayor Muriel Bowser announced in October that the city would no longer charge sales tax on tampons, sanitary napkins, menstrual cups or comparable products.
She explained her decision in a tweet: "Because feminine hygiene is a necessity, not a luxury." Sales tax in the District is 6 percent.
In some states, bills have been circulated but not passed. California Gov. Jerry Brown vetoed legislation in 2016 on the grounds that it would cost the state too much money. California's state Board of Equalization estimated the tampon tax repeal would have cost $20 million in 2016.
Okamoto said the main argument she hears against repeal is from people who "don't see periods as a necessity," and who "don't think their tax dollars should be used on periods."
She said one model that can work for states is to introduce a tax on "something that isn't a necessity, like alcohol, in place of menstrual hygiene products."
International issue
The fight against the tampon tax is relatively new in the United States, with most state legislation introduced in the last few years. Activists say they were influenced by similar campaigns in other countries, including in Britain and Australia.
Years of campaigning in Australia culminated in October, when federal and state governments announced they were removing a 10 percent tax on feminine hygiene products.
A campaign in Spain also scored a victory in October when the government announced that the value-added tax (VAT) on feminine hygiene products will be cut from 10 percent to 4 percent.
In Asia, India and Malaysia ended their tax on feminine hygiene products this year, as well.