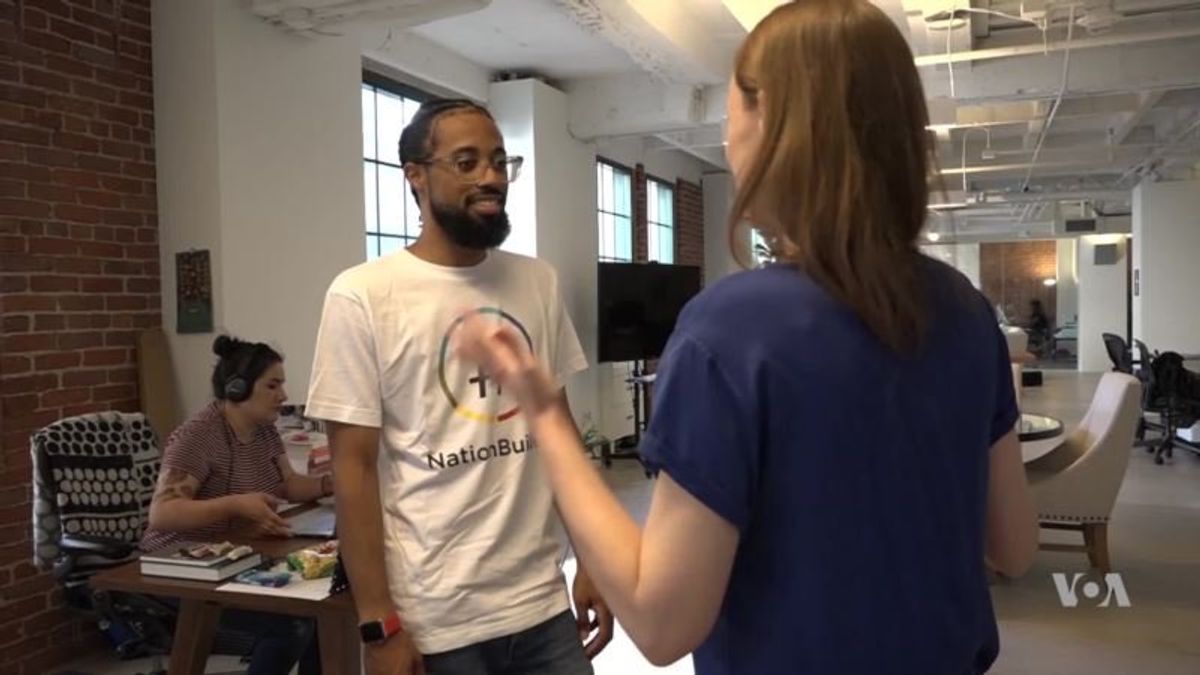 Grassroots Movements Now Built With Digital Tools
Grassroots Movements Now Built With Digital Tools LOS ANGELES —
Grassroots organizing is the key to building a movement, and much of it today is done online. Connections made through social media sites such as Facebook and Twitter bring supporters to rallies, and dozens of online sites help politicians and activists manage vast amounts of data, disseminate their message and connect with supporters.
Several candidates in last year's French presidential election turned to a U.S.-based company called NationBuilder for digital tools to manage their outreach. The election's surprise winner, 39-year-old Emmanuel Macron, did not, but he later turned to the company to build a legislative majority in the National Assembly.
His field of candidates in the legislative election in June 2017 included many political novices, but Macron gained a majority of the assembly's 577 seats, securing 350 seats for his La Republique En Marche! party with coalition partner Mouvement Democrate.
"Macron ended up using us to field an entire government, to run his legislative elections," said NationBuilder CEO Lea Endres at the company's headquarters in Los Angeles. "There are people all over the world in 112 countries" who do the same, she said, "political parties and political candidates, nonprofit organizations, small businesses, large businesses."
Causes across the spectrum
The company is one of dozens of sources for the digital tools that activists use. Others include the open-source CiviCRM for nonprofit management and the petition-writing site Change.org.
NationBuilder says it attracts people across the political spectrum, from Republicans in Maryland and several southern U.S. states to Jagmeet Singh, the newly elected leader of Canada's left-leaning New Democratic Party. A Sikh, Singh is the first member of an ethnic minority group to serve as permanent leader of a major Canadian party.
Brexit
The debate surrounding Brexit, the 2016 vote to withdraw Britain from the European Union, spurred activists on the "remain" side. They used NationBuilder to target supporters, sending targeted emails to supporters in specific parts of the country "to set up a campaign group or support one that's already there, or promote an action that's happening locally," said James MacCleary, campaign director for the European Movement UK.
"It gives an ability to be very flexible with our data and get away from global email blasts," he said. The group is pressing for a national referendum on the final Brexit agreement.
For any organization or cause, supporters receive targeted emails that help to build relationships, according to Ryan Vaillancourt, director of sales enablement at NationBuilder.
For environmental groups, an email might say "you told us six months ago that you want to get involved in this organization and the reason that you cared about this campaign is that you're passionate about the environment," Vaillancourt explained. "We've got an event coming up, it's down the street from you, and we'd love to see you there."
Adapts to technology
With a presence in more than 100 countries, the company adapts to local needs in places like Africa, where "they're not about long email lists and long newsletters," said Toni Cowan-Brown, NationBuilder's vice president for European Business Development. "They want to be able to communicate with people on their smartphones because that's the biggest and richest technology source that they have right now," she said.
From political parties to nonprofits, promoting a cause or building a movement are all about people, and the tools to connect and motivate them, these tech developers say, are found today online.