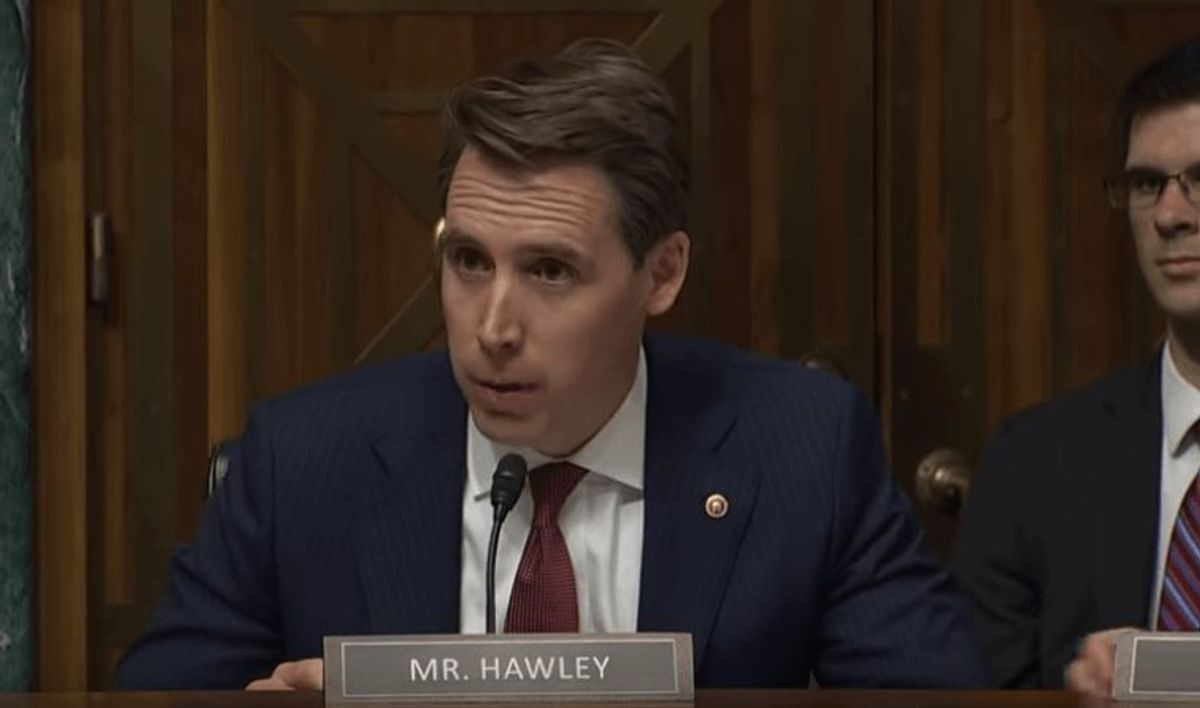 GOP Sen. Hawley prepares motions to subpoena Bidens, Schiff, alleged whistle-blower to testify
January 26, 2020, 11:42 PM
If the Senate votes to include new witnesses and documents in the ongoing impeachment trial of President Donald Trump, Sen. Josh Hawley, R-Mo., intends to force votes to subpoena everyone from Democrat House Manager Adam Schiff to the Bidens and the so-called "whistle-blower," whose complaint began the current push for impeachment, Politico reported Saturday.
"If the Senate calls witnesses, I will ask for votes on all these next week," Hawley said.
I have drafted motions to subpoena Adam Schiff, the "whistleblower," Hunter Biden, and Joe Biden to testify. If the Senate calls witnesses, I will ask for votes on all these next week https://t.co/NW1fuyYVF4

— Josh Hawley (@HawleyMO) January 25, 2020
"If the witness vote succeeds," Burgess Everett reported at Politico, "Hawley aims to force votes on subpoenas for House Intelligence Chairman Schiff (D-Calif.), Vice President Biden, Hunter Biden, Intelligence Community Inspector General Michael Atkinson, the still-unnamed whistleblower who reported Trump's July call with the Ukrainian president and a reported acquaintance of the whistleblower's."
The report adds:
White House counsel Pat Cipollone hinted at a Schiff subpoena during testimony before the Senate on Saturday by noting he didn't appear before the House Judiciary Committee hearing on impeachment.

Democrats already forced votes to subpoena acting White House chief of staff Mick Mulvaney, former national security adviser John Bolton, and documents related to the administration's decision-making on aid to Ukraine earlier this week, all of which failed on party lines. Democrats say that the Bidens aren't relevant to the investigation.

Hawley would also seek communications among the whistleblower, Schiff and his staff, transcripts of Atkinson's congressional testimony, communications between the House impeachment managers and Democratic presidential candidates as well as documents related to Biden's drive to oust former Ukrainian prosecutor Viktor Shokin. Shokin was deeply unpopular with Western officials, who viewed him as corrupt.
A simple majority is all that is needed to bring in new evidence, Everett said, however, most Republican Senators do not support the measure and Democrats do not have the votes necessary to force the issue.  Several Republicans, Everett added, are undecided.
The Gateway Pundit's Cristina Laila observed:
President Trump's lead impeachment lawyer Pat Cipollone on Saturday hinted that Schiff may be subpoenaed because he never appeared before the House Judiciary Committee's impeachment hearing.

Lead investigator Adam Schiff still has not testified or answered any questions.

In contrast, Ken Starr was cross-examined by the Clinton White House during Slick Willie's impeachment in 1998.
###
By Joe Newby
Joe Newby is a 10-year veteran of the U.S. Marine Corps, Joe ran for a city council position in Riverside, Calif., in 1991 and managed successful campaigns for the Idaho state legislature. Co-author of "Banned: How Facebook enables militant Islamic jihad," Joe wrote for Examiner.com from 2010 until it closed in 2016 and his work has been published at Newsbusters, Spokane Faith and Values and other sites. He now runs the Conservative Firing Line.