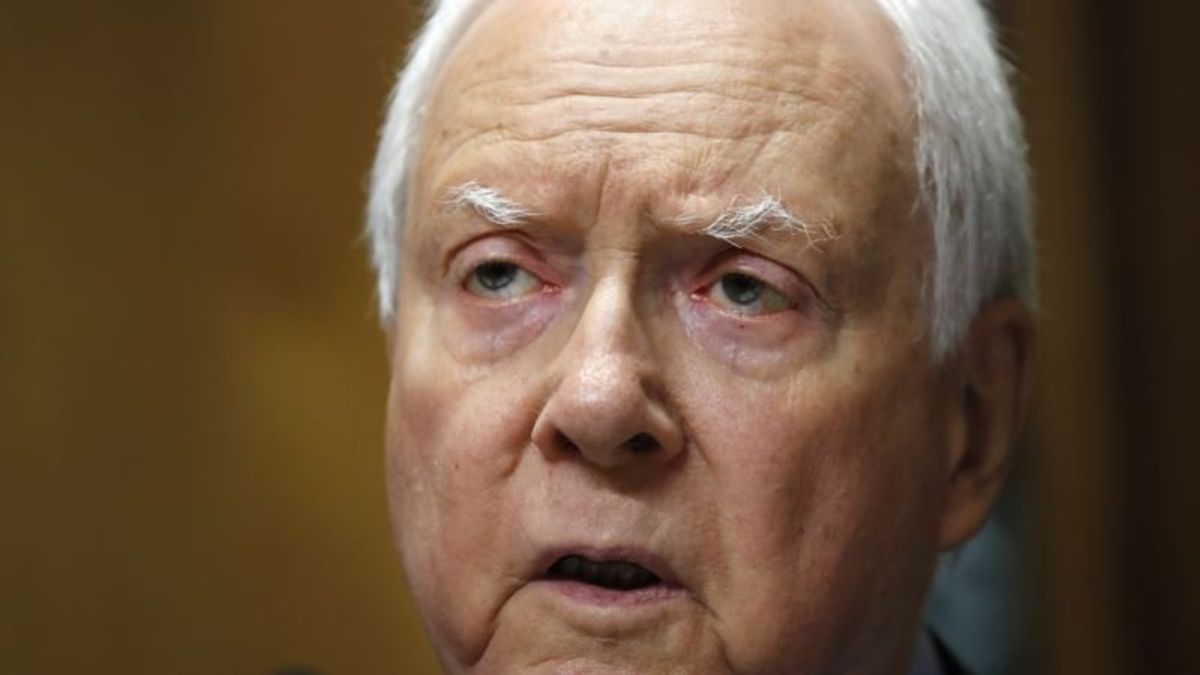 Frustrated US Lawmakers Threaten Action on Trump's Tariffs
Frustrated US Lawmakers Threaten Action on Trump's Tariffs
WASHINGTON —
Lawmakers are losing patience with the Trump administration's reliance on tariffs to win trade disputes and are talking increasingly about legislative action to protect U.S. jobs.
A senior Republican senator has threatened legislation to curb President Donald Trump's trade actions, and other senators joined him on Wednesday in promising a complementary bill. Meanwhile, lawmakers are using congressional hearings to put the spotlight on the economic fallout for local farmers and businesses.
The prospects for any votes on trade legislation before the August recess are dim. Still, lawmakers appear to be putting the Trump administration on notice.
Sen. Orrin Hatch, the Republican chairman of the Senate Finance Committee, said that if the administration continues "with its misguided and reckless reliance on tariffs,'' he'll push for legislation. He said he's discussing options with colleagues now.
Hatch has been a critic of the administration's imposition of tariffs but has so far focused on working behind the scenes to influence the White House. His speech on the Senate floor served as a pointed warning to the administration not to move forward with tariffs on imported vehicles and auto parts on the grounds that they pose a threat to America's national security.
Sen. Doug Jones, D-Ala., and Sen. Lamar Alexander, R-Tenn., followed his cue. They said the president's proposed auto tariffs threaten tens of thousands of jobs in the South, where foreign automakers have invested heavily in recent decades.
They announced on the Senate floor Wednesday that they'll introduce legislation as soon as next week that would freeze the Commerce Department's investigation into whether auto imports present a national security threat. The bill would halt the Commerce Department probe while the International Trade Commission conducts a study.
Alexander urged Trump to reconsider his trade policy and "drop the tariffs.''
"These tariffs are dangerous. These tariffs are going to cost us jobs. These tariffs are going to lower our family incomes,'' Alexander said.
While Jones and Alexander went to bat for auto manufacturers in their state, lawmakers from farm country sought to highlight concerns that retaliatory tariffs will dry up export markets as consumers in China, Europe and other places look elsewhere to buy soybeans, pork and other farm goods.
"Our farmers and our ranchers are being used as pawns in a trade war that I can guarantee you not one of them asked for,'' Sen. Jon Tester, D-Mont., said on the Senate floor. "This trade war is eliminating access to foreign markets that have taken generations to develop.''
On the House side, a trade subcommittee heard from farm groups directly on Wednesday. The same panel will examine next week the process that U.S. companies must go through to be excluded from the administration's tariffs on imported steel and aluminum. No witnesses from the administration testified, much to the dismay of Democrats.
Kevin Paap, a corn and soybean farmer from Minnesota, said the tariffs are hitting farmers from all sides, increasing their costs at a time when prices for their products are falling.
"Agriculture is facing the perfect storm: trade uncertainties, decade lows in farm income, agricultural labor shortages and the uncompleted farm bill,'' Paap said. "It's quickly becoming more than we can handle.''
Cass Gebbers, a fruit grower from Washington state, said China this month increased tariff rates to 50 percent for U.S. cherries, apples and pears. He said that customers have canceled orders as a result of the tariffs and that has pushed down prices as a result of the extra product in the domestic market.
If the tariffs remain in place next year, competitors elsewhere in the world "will snatch up these markets as soon as we stumble.''
Behind the scenes, Sen. Mike Rounds, R-S.D., is urging constituents to make their voices heard at the White House. He said they may have better luck convincing Trump than lawmakers.
"He puts a lot more stock in what he sees and hears from his base than he does from elected members in Congress,'' Rounds said.
While concern about a trade war is clearly growing on Capitol Hill, many Republican lawmakers are still giving Trump the benefit of the doubt, hoping the tariffs will lead trading partners, particularly China, to make concessions.
"I think what he had to do is get their attention, particularly China,'' said Sen. David Perdue, R-Ga., adding that tariffs did just that.
Rep. Mark Walker of North Carolina, chairman of the Republican Study Committee, the largest GOP caucus in the House, said members have been talking about the tariffs at all their recent meetings but are admittedly "slow-walking'' the issue.
"The majority is wanting to kind of wait and give President Trump time to see if he can seal the deal,'' Walker said."But, yeah, there are some concerns, and it seems to be growing with each passing week.''
As lawmakers deal with the series of tariffs announced in recent months, the Trump administration opened another front on that issue Wednesday with the Department of Commerce initiating an investigation into whether imports of foreign uranium, especially from Russia and nations under its influence, are a national security risk. Uranium is used in producing fuel for the nation's nuclear power plants.