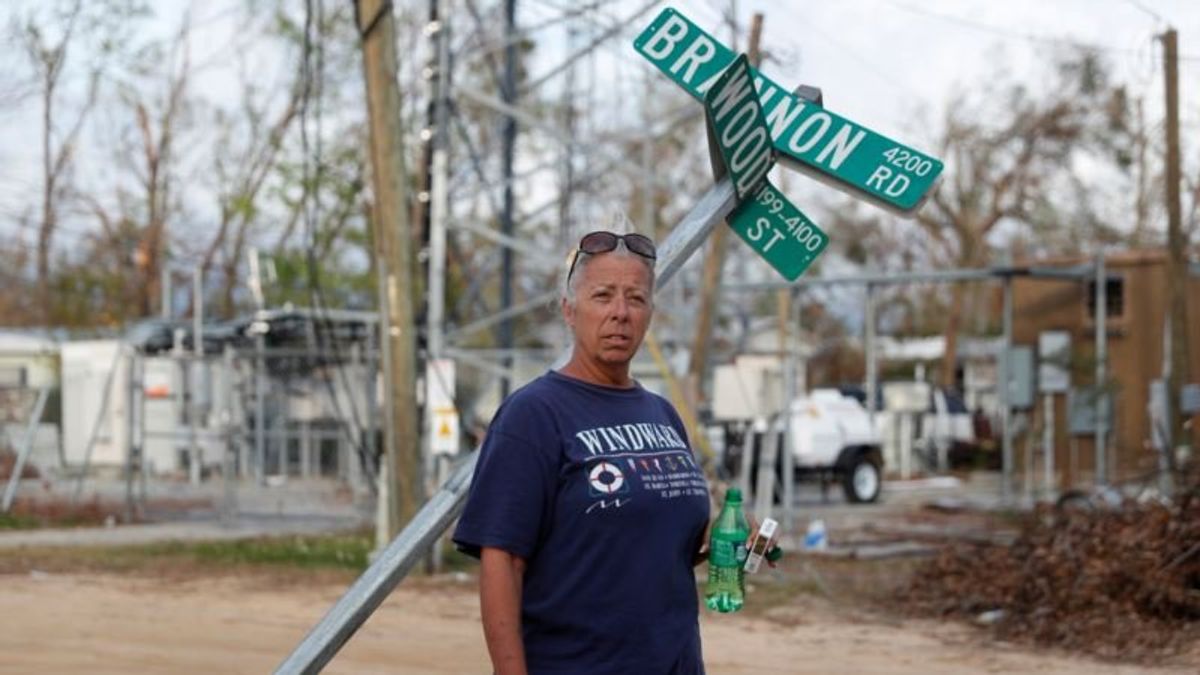 For Some in Florida Panhandle, Voting Takes Back Seat to Hurricane Hardships
For Some in Florida Panhandle, Voting Takes Back Seat to Hurricane Hardships
PANAMA CITY, FLORIDA —
Sissy Karr, a landlady with 14 rental properties around Panama City, Florida, is a loyal Republican who voted for Donald Trump for president in 2016. But she says she is too busy cleaning up from Hurricane Michael to vote in Tuesday's elections.
Many of her rental units remain badly damaged from the storm, which struck less than a month ago with roof-ripping force, leaving Karr, 55, and countless others like her with a seemingly insurmountable amount of work to do.
"My list today was just endless. We've got rain coming in the next four days, and I've got tarps on houses," she told Reuters. "Are you kidding? I can't imagine taking the time to go vote."
State and local Republican leaders have gone to great lengths to boost turnout in hurricane-stricken areas of Florida's Panhandle, a largely rural, conservative-leaning region seen as vital to their party's Election Day fortunes.
Especially hard hit were Bay and Gulf counties, where officials have opened eight large voting centers in place of dozens of precinct-by-precinct local polling places damaged or destroyed in the storm.
Early voting also was extended by an extra day or two, through Monday in Bay County, the only jurisdiction in Florida where voters could actually cast ballots on the eve of the election, according to Dave Ramba, a local Republican chairman and consultant for election supervisors statewide.
In the midst of persistent internet and phone outages caused by the hurricane, Republican officials posted thousands of signs around Bay County to alert voters to changes in voting locations and hours, said James Waterstradt, party chairman for the county.
But Gulf County state Republican committeeman David Ashbrook said he remained concerned that storm-related dislocations would depress turnout in his more remote communities.
"Our biggest issue has just been transportation. We have a lot of people in outlying areas whose cars have been crushed, who are homeless," he said. "Honestly, the election was the last thing on a lot of people's minds. It's sad, too, because this is an important one for the GOP in Florida."
Toss-up Races
Two hotly contested races in the nation's most populous swing state are considered bellwethers for the elections, which will decide whether Trump's Republicans maintain control of both the Senate and House of Representatives.
Public opinion polls show the Republican gubernatorial nominee, former U.S. Representative Ron DeSantis, trailing his Democratic opponent, Tallahassee Mayor Andrew Gillum, who is seeking to become the state's first black governor.
Democratic incumbent U.S. Senator Bill Nelson is also seen leading his Republican challenger, Governor Rick Scott.
A lower-than-normal turnout in the Panhandle could hurt DeSantis and Scott.
On the outskirts of Panama City where she owns a cleaning business, Melissa Hutchinson, 51, said she, her husband and two adult sons were "100 percent" behind Trump.
But she was preoccupied with issues like whether she can afford to cut down a tree threatening to fall on her house, and does not expect to be able to vote.
"It's what I've got to do to get my normal life running again," she said outside her trailer home, which lacked electricity and running water for two weeks and was still without air conditioning on Monday.
Denise Bass, 56, a pediatric nurse attending a Republican rally in Lynn Haven on Sunday night, said she and her husband, George, 59, and their son, George Jr., 25, managed to obtain mail-in ballots before their home and much of their neighborhood was ravaged.
About two weeks ago, they all sat down, filled out the ballots and mailed them in.
"That's our right. It's one of the few rights we have left," she said.
Some took some solace in the fact the disaster would dampen turnout among Democrats, too.
"I don't think this storm said, 'Oh we're going to tear up Republicans' houses and not Democrats,'" Karr said. "It didn't matter if you were a poor person renting a manufactured home or a wealthy doctor with a big home at Bay Point. The storm tore your stuff up."