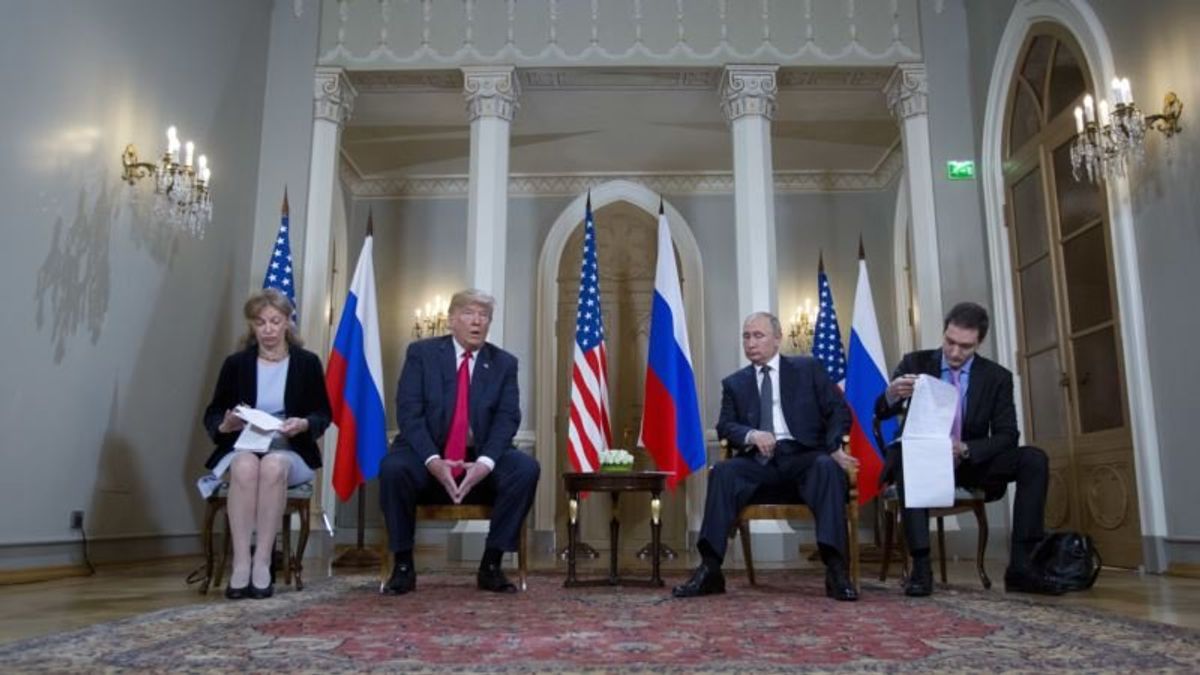 Democrats Want to Compel Interpreter to Testify About Helsinki Summit
Democrats Want to Compel Interpreter to Testify About Helsinki Summit
U.S. Democratic lawmakers are trying to compel a government interpreter to testify about what was discussed during President Donald Trump's one-on-one meeting with Russian leader Vladimir Putin in Helsinki, but legal analysts say that is not likely to happen — unless the president allows it.
Trump and Putin met privately for more than two hours at Monday's Helsinki summit. Only interpreters were present for the meeting, and details of what was discussed remain unknown to anyone else.
Democrats want to compel the U.S. government interpreter, Marina Gross, to testify before lawmakers, while Republicans are blocking the move.
The call for Gross to testify raises questions concerning legality, executive privilege and the ethical code for interpreters who pride themselves on their discretion and confidentiality.
"There is no precedent for issuing a subpoena for the translator," scholar William Pomeranz told VOA.
Pomeranz, deputy director of the Kennan Institute for Advanced Russian Studies at the Woodrow Wilson Center in Washington, said he did not expect the translator to be questioned by Congress, "especially because the intent of the [Trump-Putin] meeting was to be an off-the-record conversation."
Subpoena request
Democrats say that they are concerned about what Trump may have said to Putin and that the circumstances of the summit are exceptional. They cite the fact that the Trump's administration is already being investigated by special counsel Robert Mueller over Russia's interference in the 2016 presidential election, and say the circumstances justify subpoenaing Trump's interpreter.
The White House has been engulfed in controversy since the Helsinki summit, when Trump cast doubt on U.S. intelligence findings that Russia interfered in the 2016 election. Trump has since walked back his comments, saying he does believe U.S. intelligence conclusions.
Pomeranz said the summit "is still clouded in mystery in terms of what were the concrete results."
He said, "President Putin has suggested there were certain agreements that emerged from the summit. Yet, the State Department and President Trump have not articulated them."
The top Democrat on the House Intelligence Committee, Adam Schiff of California, formally requested Thursday that the committee issue a subpoena for Gross to testify, but he was overruled by Republicans who hold the majority in the House.
Democratic Representative Bill Pascrell Jr. of New Jersey also raised concerns about whether Trump could have used the summit to pursue his worldwide business interests.
"Given this history, the American people deserve to know if Trump used his position or this meeting with Putin to continue to pursue his own financial interests," he wrote in a letter requesting that the House Committee on Oversight and Government Reform hear public testimony from Gross.
Executive privilege
Conservatives in the House are arguing that executive privilege shields a president's interpreter from reporting to Congress, and many if not most legal scholars seem to agree.
While Congress has an oversight role over the executive branch, conservative lawmakers say that presidents should be able to meet with world leaders and speak candidly without interference from lawmakers.
They also warn that subpoenaing Gross would create a dangerous precedent that could hurt the state of U.S. diplomacy as well as future presidents of either party.
Legal scholars who expressed opinions said it's likely that only Trump could permit Gross to tell anyone about what she heard. The White House has not said whether Trump has asked her to do that.
Interpreters' code of ethics
The move by Democrats to compel Gross to testify also raised questions about the right of interpreters to adhere to their code of ethics, which bounds them to strict secrecy.
Interpreters say they view their ethics code of confidentiality similar to the lawyer-client privilege or the duty of priests not to disclose what penitents tell them during confession.
Interpreters also say that it can sometimes be difficult to recall the big picture of a conversation they have listened to after relying on short-term memory to interpret.
Pomeranz said the role of the translator is "focused simply on making the statements, not necessarily of the content of the discussions."
"To be a simultaneous translator is a very difficult job and it doesn't necessary mean you are in the position to remember the specific details of the conversation," he said.
Gross is an employee of the State Department and has served as an interpreter to high-level U.S. government officials before. She was the interpreter for Laura Bush at the Russian resort of Sochi in 2008 and interpreted for former Secretary of State Rex Tillerson in Moscow in 2017.
VOA's Sarah Williams and Pete Cobus contributed.to this report.