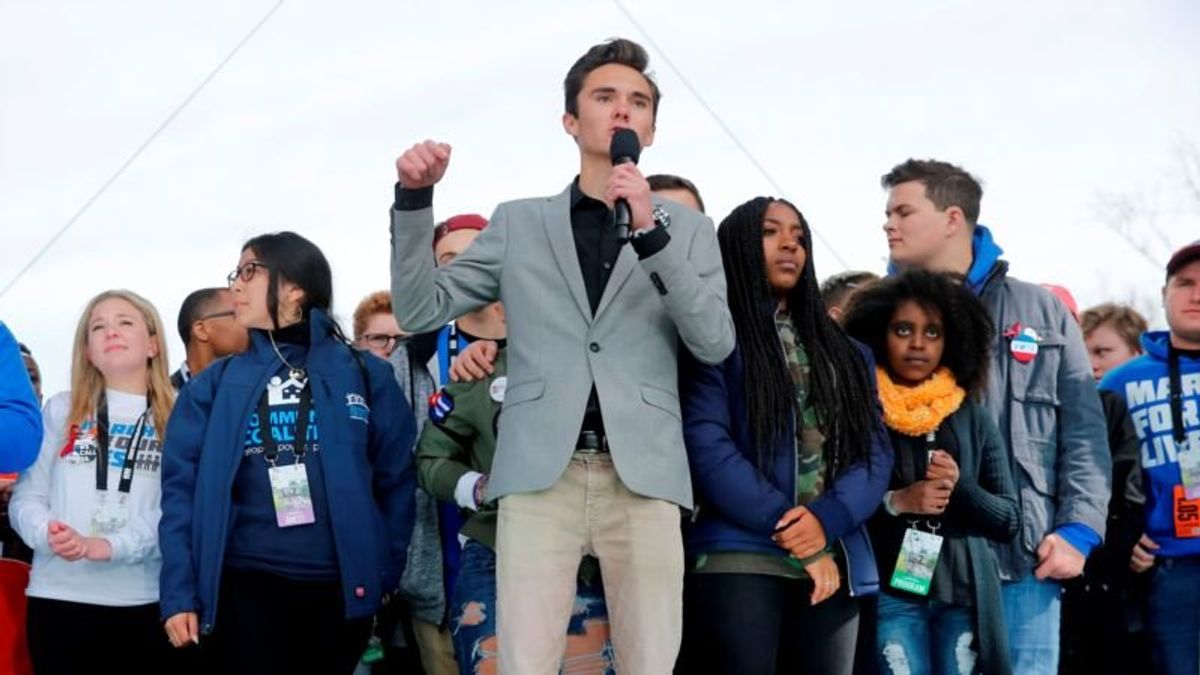 Democrats Campaign for Tougher Guns Laws in Midterm Elections
Democrats Campaign for Tougher Guns Laws in Midterm Elections
WASHINGTON —
In years past, Democrats largely steered clear of campaigning on gun control for fear of alienating voters in conservative districts. That line of thinking appears to have changed in the wake of recent mass killings, including a deadly shooting at a Florida high school in February.
From Florida to Republican-leaning Southern California, Democratic candidates for Congress are campaigning on gun control in toss-up races critical for their takeover of Congress. They're betting that growing public support for more stringent gun measures will help them win votes in these districts.
In Virginia, for example, state Sen. Jennifer Wexton is taking on Barbara Comstock, a two-term member of the U.S. House of Representatives with an A rating from the National Rifle Association, the nation's largest gun rights advocacy organization.
In Texas, U.S. Rep. Beto O'Rourke, a progressive Democrat, is challenging Republican Sen. Ted Cruz, a conservative who has received an A+ rating from the NRA. O'Rourke champions expanded background checks and a ban on assault weapons.
And in California's conservative Orange County, liberal Democrats with pro-gun control platforms are contesting four seats long held by Republicans with close ties to the gun lobby.
Democratic strategist Steve Schale said Democrats used to face "significant risk" in running on the guns issue in a state like Florida. Now, nearly every Democrat (plus a handful of Republicans) competing in Florida's 27 House races has embraced one form or another of gun control.
"Not only is it not a dangerous political position, in some ways … if you're on the wrong side of it, you could be punished for it," said Schale, who headed former President Barack Obama's 2008 campaign in Florida.
The emergence of guns as a campaign issue in competitive districts reflects changing voter attitudes in the age of mass shootings. While not among voters' top concerns, the issue has nonetheless given Democrats an edge as they court voters disaffected by Republican inaction on gun policy.
Public sentiment was turning in favor of greater gun restrictions well before the Feb. 14 massacre in Parkland, Florida, that killed 17 high school students and staff members and injured others.
Epidemic of mass shootings
Over the past two years, there have been a stunning 608 mass shootings that killed 698 peopel and injured 2,881, according the Gun Violence Archive. The data collection group defines a mass shooting as the shooting or killing of four or more people in one incident.
But the mass killing at the Marjory Stoneman Douglas High School in Parkland, carried out by a teenager who legally obtained the rifle used in the massacre, was something of a tipping point in the simmering public outrage over gun violence.
It sparked a wave of student activism and led to the passage of dozens of new state gun laws.
In Florida, a state pejoratively nicknamed the "Gunshine State" — a play on its state nickname of the Sunshine State — conservative Republican Gov. Rick Scott, an ardent champion of the NRA, signed a new law that raises the minimum age to buy long guns to 21 and imposes a three-day waiting period for their purchase.
In Vermont, another state with an entrenched gun culture, Phil Scott, the NRA-backed Republican governor, signed a law with some of the same provisions, angering the gun lobby.
Despite these and more than 50 other state laws, passed since the Parkland shooting, Congress notably failed to take action at the federal level.
House and Senate Republican leaders and President Donald Trump voiced sympathy for the victims and their families but did little else to respond to the tragedy or seek ways to prevent future shootings.
Republicans, including House Speaker Paul Ryan and Senate Majority Leader Mitch McConnell, argued that the gun violence was a manifestation of mental health problems and that there already were adequate gun control laws on the books.
This congressional inaction has given Democratic candidates a prominent campaign issue.
A Gallup poll conducted after the Parkland shootings showed that 67 percent of Americans favored stricter gun laws, the highest level of support in a quarter century. And a June NBC News/Wall Street Journal poll found that guns are a major issue for a quarter of voters in the midterm elections.
Seeing gun control as a winning strategy, many Democrat candidates have embraced it in districts where raising the issue once risked turning off voters. And it's not just progressive candidates who are campaigning on gun control, but also many of the 61 military veterans who are running as Democratic candidates for House races.
A recent NBC News analysis found that 71 percent of Democratic candidates for House seats mentioned the issue on their campaign websites.
"I can't tell you how often my phone rings with a candidate calling us cold, saying, 'Could I please get Brady to endorse me?'" said Avery Gardiner, co-president of the Brady Campaign, a leading gun advocacy organization in Washington, D.C., named for James Brady, the late press secretary to President Ronald Reagan who was seriously wounded during an assassination attempt against Reagan in 1981. "That kind of thing didn't happen in the past."
Single-issue voters
Historically, elections have energized gun rights advocates far more than gun control proponents, with many so-called "single-issue voters" casting ballots based solely on a candidate's position on guns, said Mark Rozell, dean of the Schar School of Policy and Government at George Mason University.
Now, a new crop of single-issue voters is emerging: citizens who'll vote for their favorite candidates on the basis of their support for stricter gun laws.
"It's almost a litmus-test-type issue for many voters right now," Rozell said.
The Parkland students who are leading the push for greater gun control hit the road this summer to mobilize these new voters. The 60-day bus tour, billed "Road to Change," took them to more than 65 cities. Organizers say tens of thousands of people registered to vote at their events.
"We want politicians who pass legislation that will actively save lives within our country," said Jamal Lenny, a 2016 graduate of Marjory Stoneman Douglas High School who serves as creative director of March for Our Lives. "Our main call to action is registering, educating and voting."
There are large swaths of the country where support for gun rights runs deep and advocating for gun restrictions is anathema. That is why Democrats are largely avoiding the issue in pro-gun states such as North Dakota and West Virginia.
"These are places where, if the Democrats embraced gun control, the Republican opponents can paint them as out of touch with their states, catering to the far left base of their party, which would jeopardize their chances," said Republican strategist Ryan Williams,who served as a spokesman for former presidential candidate Mitt Romney.
Overall, however, Democrats see the gun issue as a winner for them.
"These days you're seeing real energy on the side of people who want to vote for people to have gun safety proposals in their platform," said Schale, the Democratic strategist.
JOIN US ON RUMBLE LIVE NOW!