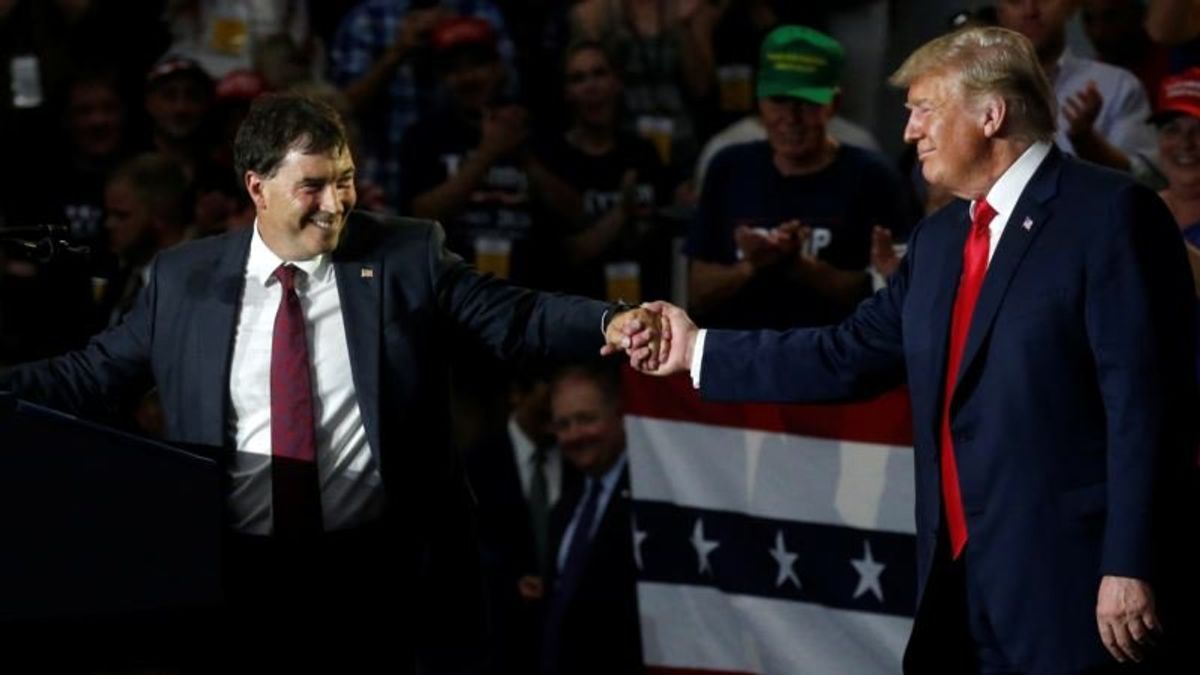 Both Trump, Democrats See Positives in Ohio Election Results
Both Trump, Democrats See Positives in Ohio Election Results
WASHINGTON —
President Donald Trump and his Republican supporters are claiming victory in a special congressional election in Ohio, even though officially the race remains too close to call. The race was seen by many as a possible bellwether for the midterm congressional elections in November.
Republican Troy Balderson leads Democrat Danny O'Connor by about 1,700 votes, but a few thousand provisional ballots remain to be counted.
Even if the Republican eventually emerges victorious in the Ohio race, opposition Democrats also see plenty to be optimistic about as they look ahead to the November midterms, when all 435 House seats will be at stake along with 35 of the 100 U.S. Senate seats.
​Tipping by Trump
President Trump held a rally in Ohio a few days before the voting on behalf of Balderson, and many analysts believe that may have tipped the election in Balderson's favor.
Trump was quick to take credit on Twitter Wednesday, claiming that Balderson's fortunes took "a big turn for the better" after his speech Saturday night. In a second tweet, the president boasted that "As long as I campaign and/or support Senate and House candidates (within reason), they will win!"
Trump also promised to campaign on behalf of Republican candidates in the midterm elections and predicted, "We will have a giant Red Wave!"
In remarks to his supporters Tuesday night, Balderson was quick to pay tribute to the president for his last-minute help.
"I'd like to thank President Trump," Balderson said to cheers. "America is on the right path and we are going to keep it going that way."
​Democratic surge
Balderson benefited from large campaign contributions from the Republican Party's campaign arm to offset heavy Democratic spending in the race on behalf of Danny O'Connor.
For the most part, O'Connor tried to stay focused on economic issues and health care and was less interested in making Trump the central issue in the race.
"I heard over and over again that the people of central Ohio are sick and tired of the same old Washington politics," O'Connor told supporters Tuesday night. "Folks want new leadership."
O'Connor's strong showing came in a district that Republicans have held for more than three decades and which Trump carried in the 2016 election by more than 11 points.
In his rally Saturday on behalf of Balderson, Trump laid out a template for future campaign attacks as he strove to take the focus off of him and aim squarely at opposition Democrats.
"If the Democrats get in, they are going to raise your taxes, you are going to have crime all over the place and you are going to have people pouring across the border," Trump told supporters. "So why would that be a blue wave? I think it could be a red wave, really I think it should be a red wave."
Warning signs
The fact that Democrat O'Connor ran a close race in a strongly Republican district, however, strikes experts as yet another warning sign for Republicans in November.
"It is more evidence that in race after race throughout this year, Republicans have been underperforming the levels that they were at in 2016, which has to spell trouble for them moving forward," said Brookings Institution analyst John Hudak.
Balderson also received help from Ohio Governor John Kasich. On Sunday on ABC's This Week, Kasich predicted a narrow Republican victory in the election, but he also warned that Trump remains a polarizing figure for the broader electorate.
"The chaos that seems to surround Donald Trump has unnerved a lot of people. So suburban women in particular here are the ones who are really turned off," Kasich told ABC.
Double-edged weapon
So on one hand, the Ohio results suggest the president can tip a close race into the Republican column.
"Oh, I believe the president does think that his ability to weigh in and endorse a candidate can have an effect," said analyst Hudak.
But Hudak also argued that in addition to motivating his own base, Trump also is proving to be a turnout motivator for Democrats who want to show their displeasure with him.
"While his intervention or maybe Governor Kasich's intervention or someone else's intervention may well have made the difference in this 1,700-vote margin in Ohio, the president has probably also played a significant role in the shift from Republicans toward Democrats in a race like this."
No matter who is declared the eventual winner of Tuesday's special election, Balderson and O'Connor are expected to face off again in November when it is likely that Trump will once again be the pivotal issue for voters in midterm elections where the control of Congress is at stake.