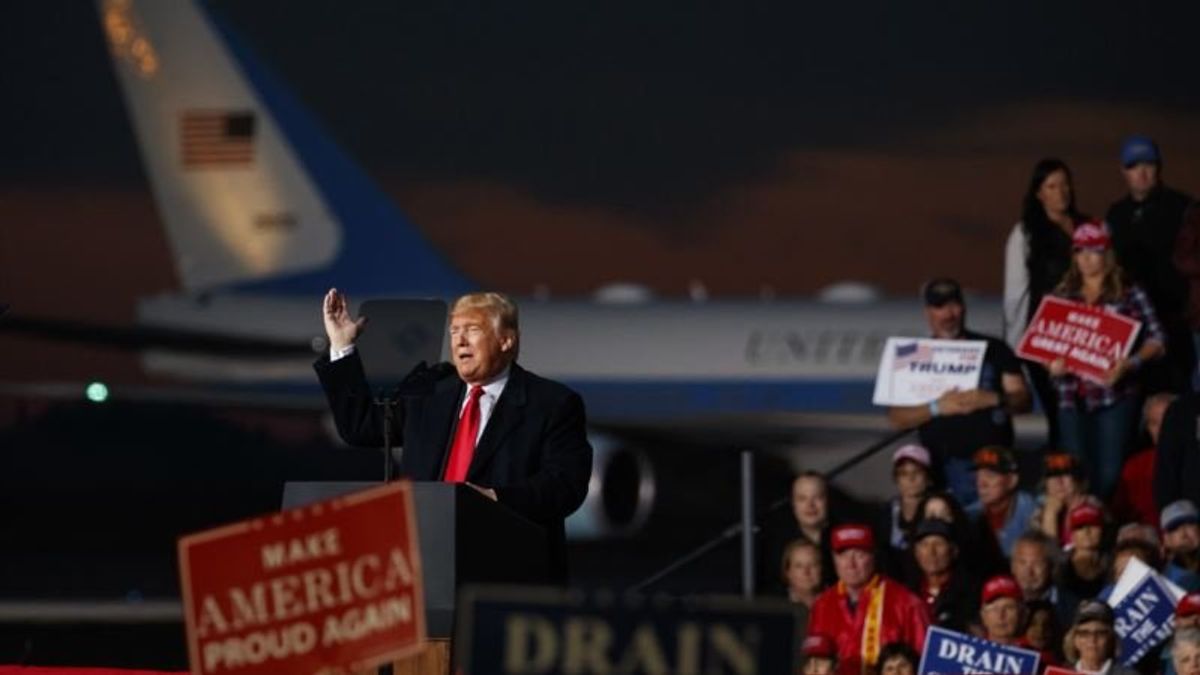 At Rally and Without Evidence, Trump Says Democrats Back Caravan
October 18, 2018, 10:30 PM
At Rally and Without Evidence, Trump Says Democrats Back Caravan
MISSOULA, MONTANA —
President Donald Trump suggested without evidence Thursday that Democrats or their allies are supporting a "caravan" of Central American migrants who are traveling north aiming to enter the United States.
Addressing thousands of supporters at a campaign rally in Montana, Trump said immigration is now one of the leading issues in the 2018 midterms, and he accused Democrats of supporting the migrants because they "figure everybody coming in is going to vote Democrat."
The comments mark the injection of one of Trump's signature 2016 campaign themes back into national conversation as he looks to boost Republican turnout to maintain their congressional majorities in 2018.
Perhaps no issue was more identifiable with Trump's last campaign than immigration, particularly his much-vaunted — and still-unfulfilled — promise to build a U.S.-Mexico border wall. For Trump, those pledges are still rallying cries for his supporters, who cheered his call for construction of a wall and booed mentions of Democratic opposition to his hard-line policies.
Unfounded allegation
"A lot of money's been passing through people to come up and try to get to the border by Election Day because they think that's a negative for us," Trump said. "No. 1, they're being stopped, and No. 2, regardless, that's our issue."
He added: "They wanted that caravan and there are those that say that caravan didn't just happen. It didn't just happen."
Trump appeared to be referring to an unfounded allegation promoted by ally Rep. Matt Gaetz of Florida. The Republican lawmaker tweeted a video Wednesday of men handing out money to people standing in line. He claimed the video showed people being paid in Honduras to join a caravan and "storm the border (at) election time." Trump on Thursday tweeted the same video, writing, "Can you believe this, and what Democrats are allowing to be done to our Country?"
Correction issued
After questions about the video's origin, Gaetz posted a correction later Thursday on Twitter, saying, "This video was provided to me by a Honduran government official. Thus, I believed it to be from Honduras."
Neither Republican provided evidence of his claim that the people were being paid to join a caravan.
About 3,000 Hondurans are in a migrant caravan passing through Guatemala trying to reach the United States. Mexico's government says migrants with proper documents can enter Mexico and those who don't either have to apply for refugee status or face deportation.
On Thursday, Trump threatened to close the U.S.-Mexico border if authorities there fail to stop them.
Trump criticizes Tester
Trump was in Montana to boost GOP Senate candidate Matt Rosendale, who is running against Democratic Sen. Jon Tester, whom the president said has been a "disaster for Montana."
The president blames Tester for the backlash against former White House doctor Adm. Ronny Jackson, whom the president had tapped to serve as Veterans Affairs secretary. Jackson was forced to withdraw after facing ethics allegations, including claims that he "got drunk and wrecked a government vehicle" at a Secret Service going-away party. Tester had released a list of allegations against Jackson that was compiled by the Democratic staff of the Senate Veterans Affairs Committee.
"He was attacked so viciously, so violently by Jon Tester," Trump said. "That's really why I'm here."
He also criticized Tester's opposition to the confirmation of Supreme Court Justice Brett Kavanaugh, who was accused of decades-old sexual assault. Kavanaugh denied the allegations.
Praise for body slam candidate
Trump also praised Republican Rep. Greg Gianforte, who pleaded guilty to misdemeanor assault last year after attacking a reporter in 2017.
"Any guy that can do a body slam, he's my kind of guy," Trump said. "He's a great guy, tough cookie."
Trump accused Democrats of engaging in a "heartless" campaign to sink Kavanaugh's confirmation, saying voters will "remember" how he was treated at the polls.
"This will be an election of Kavanaugh, the caravan, law and order, and common sense," Trump said.