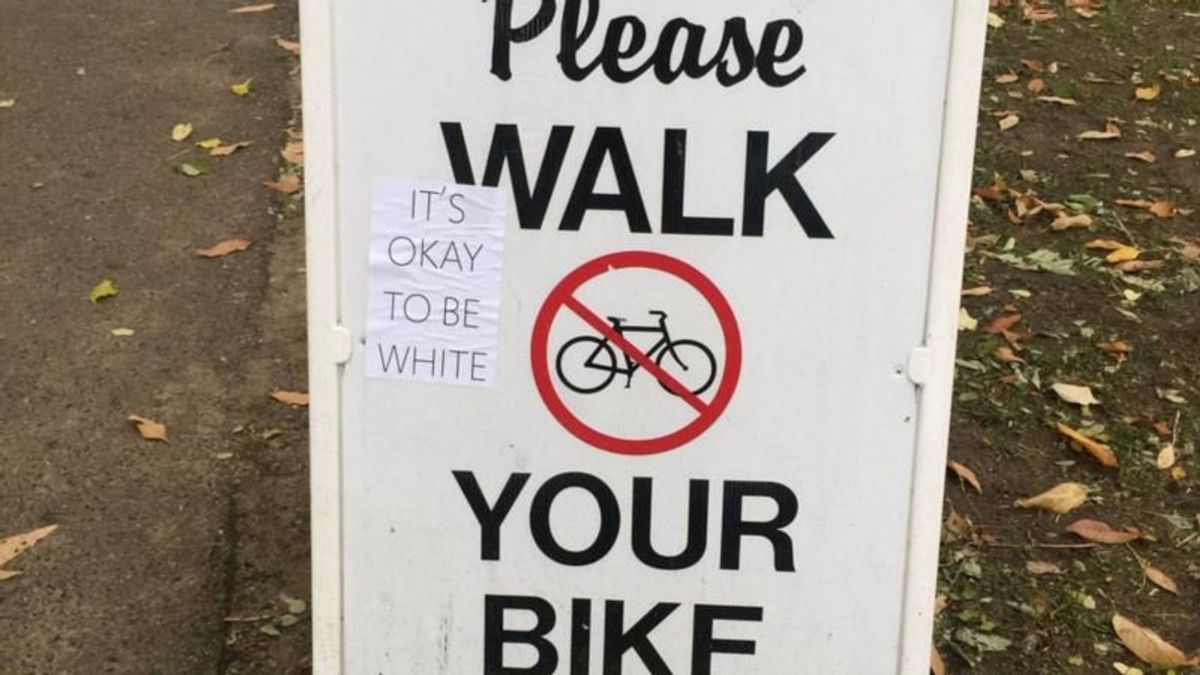 As US Election Nears, Racist Fliers, Antisemitic Graffiti Appear
November 2, 2018, 3:55 PM
As US Election Nears, Racist Fliers, Antisemitic Graffiti Appear
Days ahead of a contentious U.S. national election in which immigration has become a central issue, racist fliers saying "It's okay to be white" have been reported on university campuses in five states, while synagogues in New York
and California have been sprayed with antisemitic graffiti.
The phrase on the fliers is associated with the white supremacist Ku Klux Klan. The fliers have been reported at campuses including Duke University in North Carolina, Tufts University in Massachusetts, the University of Delaware, the University of Vermont and Iowa State University. In some cases, vandals attached the fliers to posters encouraging people to vote on November 6.
Meanwhile, after a gunman killed 11 worshippers at a synagogue in Pittsburgh last weekend, graffiti saying "Kill all Jews" was sprayed at the Union Temple synagogue in New York City on Thursday night. Similar graffiti was found on an Irvine, California, synagogue earlier this week.
During the attack on the Tree of Life synagogue last weekend, the worst ever on the U.S. Jewish community, the man accused of the massacre yelled "All Jews must die."
Robert Bowers, 46, an avowed anti-Semite, pleaded not guilty on Thursday in federal court to all 44 counts against him in the attack.
A post on controversial online image board 4chan last week called on participants to put the fliers up in public places. Some participants this week posted pictures of themselves with the fliers.
The universities affected condemned the fliers.
"We denounce these actions for what they are: cowardly acts of vandalism that are intended to intimidate," Michael Schoenfeld, Duke's vice president for public affairs, said in a statement.
"I want to assure our community that we do not tolerate hatred and bigotry," Tufts president Anthony Monaco said in a message sent to his university.
Meanwhile, former KKK leader David Duke posted on Twitter that the "hateful response" to the fliers "proves ubiquitous anti-white hate & racism!"
A spate of politically motivated pipe-bomb mailings to prominent Democrats last week, followed by the synagogue shooting, have heightened national tensions ahead of the November 6 elections that will decide whether U.S. President Donald Trump's Republican Party maintains control of Congress.
The massacre also fueled a debate over Trump's political rhetoric and his self-identification as a "nationalist," which critics say has fomented a surge in right-wing extremism.
The Trump administration has rejected the notion that he has encouraged white nationalists and neo-Nazis who have embraced him, insisting he is trying to unify America.