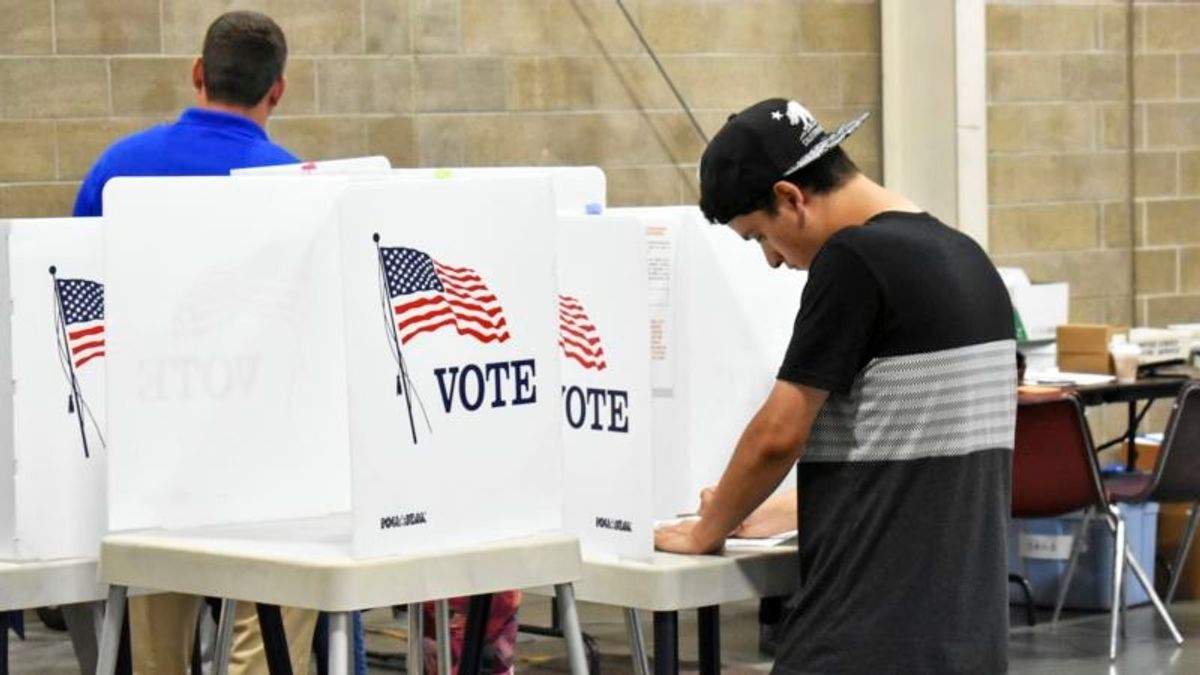 As Polls Close, California Holds Key on Big Night of Primary Elections
As Polls Close, California Holds Key on Big Night of Primary Elections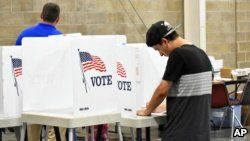 LOS ANGELES —
For all their talk of a "blue wave," Democrats needed a good day Tuesday in California to have much hope of seizing the House majority this fall.
No state will play a more significant role in the fight for control of Congress. And with primary elections across California and seven other states on Tuesday, the political battlefield will soon be set for the first midterm elections of Donald Trump's presidency.
The first wave of polls closed at 8 p.m. EDT in New Jersey, Alabama and Mississippi.
Mississippi Republican Senator Roger Wicker won his primary contest, as did New Jersey Senator Bob Menendez, a Democrat who faced federal bribery charges last year. Former Navy pilot and federal prosecutor Mikie Sherrill won the Democratic primary in New Jersey's 11th District.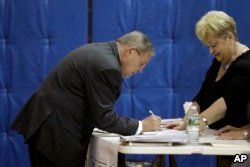 Polls were also closed in Alabama, where Republican Governor Kay Ivey faced three GOP challengers.
California's results, however, may not be finalized for days in some cases because the state will count any mail ballots postmarked by Tuesday.
Recognizing the high stakes, Trump sought to energize his supporters in a series of tweets praising his preferred California Republican candidates.
"In High Tax, High Crime California, be sure to get out and vote for Republican John Cox for Governor. He will make a BIG difference!" Trump tweeted.
Yet nightmare scenarios exist for both parties.
Because of California's unusual primary system, Trump's party faces the embarrassing prospect of not qualifying any candidate for the governor's race or the U.S. Senate. Democrats, meanwhile, could be shut out of a handful of competitive House races because they ran too many primary candidates and diluted their vote.
California tops a list of eight states with primary contests Tuesday from Montana to Mississippi and New Mexico to New Jersey.
With the possibility of a Democratic wave on the horizon, the elections will test voter enthusiasm, candidate quality and Trump's influence as each party picks its nominees to face off in November.
Francine Karuntzos, a 57-year-old retiree from Huntington Beach, California, said she has deep concerns about the Republican president — particularly his recent declaration that he could pardon himself. She said she isn't a member of a political party, but she voted Democratic on Tuesday.
"I'm really, really worried about our Constitution being ruined by this presidency," Karuntzos said after casting her ballot at a local community center.
Across the country in Montclair, New Jersey, Lynnette Joy Baskinger, a psychotherapist, said she's fed up with the GOP.
"I still consider myself an independent, but I just won't vote Republican because of what's going on," she said.
It was a different story in Mississippi, where 66-year-old Gladys Cruz wasn't sure which Republican she would support in the state's Senate primary, but she wants whoever wins to firmly support Trump.
The president "touches my heart," she said.
California complications
While several states had competitive primaries on Tuesday, none will be more consequential in the fight for congressional control than California, which features seven Republican seats in districts won by Democratic presidential nominee Hillary Clinton in 2016. No other state features more than three.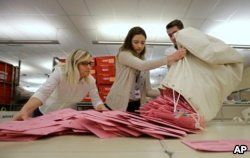 Yet the state's unusual election laws complicate things for both sides.
Under California's system, all candidates appear on a single primary ballot, with the top two vote-getters regardless of party advancing to the November election. That allows the possibility of two candidates from the same party qualifying.
That's exactly what could happen in California's marquee races for Senate and governor, where Republicans fear the prospect of being left off the general election ballot altogether.
In the race to succeed term-limited Democrat Jerry Brown, two Democrats, Lieutenant Governor Gavin Newsom and former Los Angeles Mayor Antonio Villaraigosa, are leading the pack. For the GOP, the Trump-backed Cox, a business executive, has the best chance at earning a spot.
It's also possible Republicans may not secure a nomination spot in the challenge against 84-year-old Senator Dianne Feinstein, who is expected to easily win first place in her primary. Second place is far less certain.
On the other hand, Democrats could be shut out in a handful of House races, which would be a massive blow to the party's fight to claim the House majority this fall. The party must wrest at least 23 seats from Republican hands.
National Democrats have spent more than $7 million trying to curb and repair the damage inflicted by Democrats attacking each other in districts opened by retiring Republican Representaives Ed Royce and Darrell Issa, and the district where Republican Dana Rohrabacher is facing challenges from the left and the right.
That's money the Democrats would have preferred to spend promoting their candidates this fall.
Trump also urged Republicans to support the party's congressional candidates, in light of Democrats' increased chances of taking the House, where GOP retirements have made such a changeover more likely in the past year.
"Keep our country out of the hands of High Tax, High Crime Nancy Pelosi," Trump tweeted, referring to House Minority Leader Pelosi of San Francisco.
Election drama
There are other kinds of drama playing out in other parts of the country.
In New Jersey, Menendez was expected to become the Democratic Party's nominee for a third term despite being tainted by a hung jury in his recent federal bribery trial. Republican businessman Bob Hugin claimed the Republican nomination Tuesday and will face Menendez this fall.
Republicans hope to use Menendez's legal troubles to tar other Democrats in the state, including those fighting to defeat vulnerable GOP incumbents in suburban districts.
In Montana, Republicans will pick a candidate to take on Democratic Senator Jon Tester, who is among the most vulnerable Democratic senators in the nation. The GOP struggled to recruit top-tier candidates, leaving the most likely nominees as state Auditor Matt Rosendale or retired Judge Russ Fagg.
Democrats have aimed their most aggressive attacks at Rosendale, seizing on his background in Maryland and questions about his experience as a rancher.
In Alabama, Republican Representative Martha Roby faced a difficult primary challenge after becoming the first to withdraw her endorsement of Trump in 2016. She made the decision after Trump was caught on video bragging about grabbing women's genitals. Roby's top challenger was the man she beat to win the seat in 2010, former Democratic Representative Bobby Bright, who switched parties to try to even the score.
Governors' races will also take shape Tuesday in Alabama, Iowa, South Dakota and New Mexico, where Republicans in most cases were fighting to demonstrate their loyalty to Trump.
Female candidates
Women were trying to make history in a few states.
Tuesday's contests featured one in South Dakota, where Representative Kristi Noem's bid to become the state GOP's first female nominee for governor opened the only House seat.
In Iowa, 28-year-old Democratic state Representative Abby Finkenauer was trying to become the youngest woman to serve in Congress. And in New Mexico, former state Democratic Party Chairwoman Debra Haaland, a tribal member of Laguna Pueblo, was making a bid to become the first Native American woman in Congress.