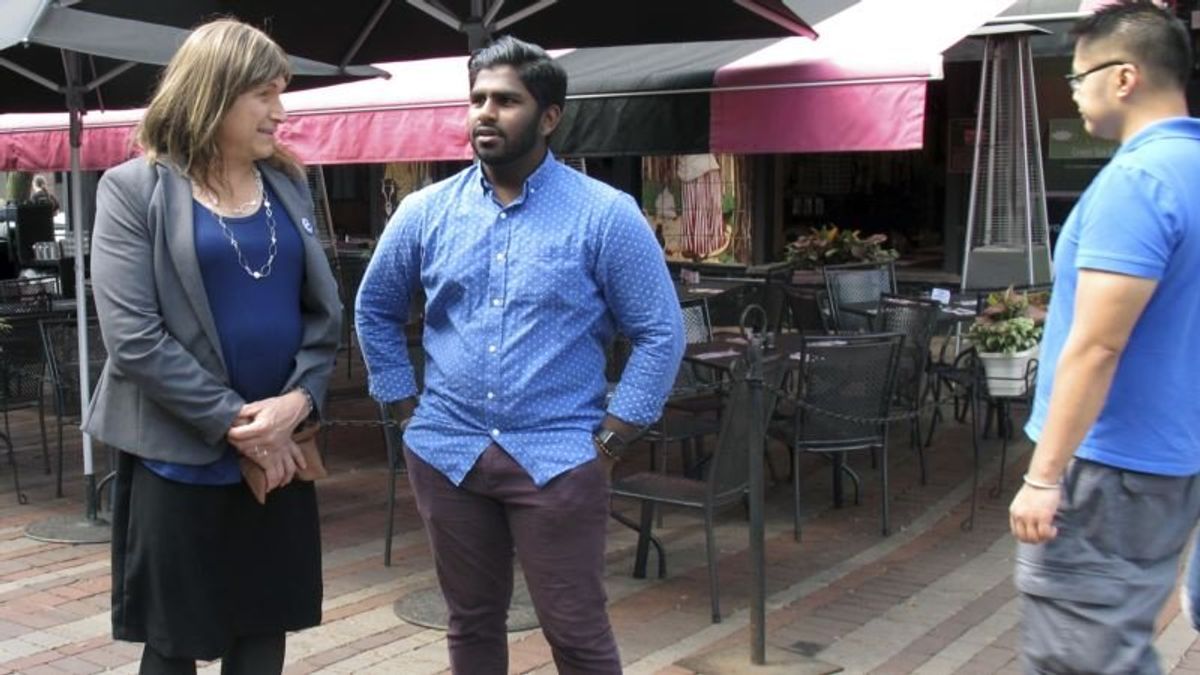 A GOP Favorite Faces a Democratic Groundbreaker in Vermont
A GOP Favorite Faces a Democratic Groundbreaker in Vermont
VERGENNES, VT. —
In front of a small group of supporters on a chilly fall morning, Christine Hallquist laid out her economic development plan for a state that she feels is being left behind by prosperity in larger states and urban areas.
She reiterates her Bernie Sanders-esque call for a $15 per hour minimum wage, universal health care and paid family leave while adding that high speed internet access is critical for everyone in Vermont, even those who live in the state's most rural areas.
Hallquist, Vermont's Democratic candidate for governor, argues that Republican Gov. Phil Scott vetoed a series of legislative calls to address those economic issues and that he doesn't understand just how critical high-speed broadband is for the state.
"Vermont is a microcosm of what's happening in rural America," Hallquist said. "We're seeing flights to the city, aging demographics and increasing rates of poverty."
What Hallquist, who until she announced her candidacy for governor this year led a rural electric cooperative, doesn't mention is her status as the nation's first major-party transgender gubernatorial candidate. Within the state, her campaign is focused on the issues facing Vermonters, but looking at her race from outside, she proudly carries the mantle as a way to reduce stigma.
"I think balancing has been pretty easy because locally, reporters talk about local issues," Hallquist said before the rally in the Vergennes city park. "Nationally, people talk about the identity. It's pretty straightforward. I don't find it a problem at all."
After winning the Democratic nomination in August, Hallquist, 62, received death threats from across the country. Since then, she is unaware of any others and she says the people of Vermont are focusing on her ideas.
The day after the primary, Scott said in a statement that he wouldn't tolerate "hateful, discriminatory and disrespectful speech of any type."
"A person's gender doesn't dictate whether they're fit for public office," he said. "What does is their commitment to serve, their ideas to improve peoples' lives, and their ability to listen."
Prior to the Vergennes rally, Greg Burdick, 68, a Republican and part-time city employee who also works in real estate, said as he was walking by the park that he was backing Scott because, among other reasons, he liked the governor's position of no increased taxes.
When asked whether Hallquist's transgender status affected his thinking, he answered, "No."
"I'm pretty open to that,'' Burdick said. "It's not my place to make the call."
Before the primary, The Victory Fund, a Washington-based political action committee that backs LGBTQ candidates across the country, rated Hallquist a "game changer." The organization says Hallquist is one of at least 244 openly LGBTQ candidates who will appear on the ballot across the country.
"For Christine Hallquist to be running a competitive race for governor of a U.S. state is a tremendous leap forward for the trans community," said Victory Fund spokesman Elliot Imse. "There are hundreds of thousands of trans young people all across the nation who are scared, unsure about their futures, but can look to Christine as someone who is proving to them that anything is possible regardless of their gender identity or expression."
By historical standards, Hallquist's quest to defeat a first-term incumbent is quixotic. No sitting Vermont governor has been defeated since 1962, and Scott, whose first political ad calls for a return to civility in politics, remains liked.
A poll released Monday by Vermont Public Radio and Vermont Public Television, gave Scott a 14 point lead.
Scott, the former owner of a construction company and a part-time race car driver, spent his first two years saying the best way to help Vermont's struggling families is to keep taxes and fees low for everyone, while minimizing what he feels are governmental burdens on job-creating business owners.
"We want Vermonters to keep more money in their pockets," Scott said during a debate hosted by the news organization VtDigger. "What we've been doing over the last decade or two is just raising taxes, raising taxes, increasing the burden on Vermonters."
But as a popular Republican in liberal Vermont, Scott is also a frequent critic of President Donald Trump, is liberal on many social issues, and last winter, after what police described as a near-miss school shooting, he urged the Legislature to pass what turned out to be the state's first significant gun ownership restrictions.
While the move angered many of Vermont's fervent gun owners, it won him praise from others who favored the restrictions — mild by the standards of other states.
The election isn't drawing the money of the 2016 race, when Scott was competing for an open seat.
As of the Oct. 15 campaign finance filing deadline, Scott had raised just over $560,000, while Hallquist had raised just under $440,000. At the same point in the 2016 campaign, Scott had raised just over $1.3 million, while his Democratic opponent, Sue Minter, had raised $1.7 million.
During a series of debates Scott and Hallquist have gone back on forth on their political philosophies and vision for the future of Vermont.
"Vermonters have a real choice," Hallquist said during one debate.
People are listening to the debate.
"I loved what I heard," said Jeremy Holm, 50, an actor who plays agent Nathan Green on "House of Cards," lives in Vergennes and attended Hallquist's rally. "It's really refreshing to hear a candidate who understands the nuts and bolts of what's going on and can articulate how to solve the problems we have, and is also realistic about the solutions. We don't see that very often."
JOIN US ON RUMBLE LIVE NOW!