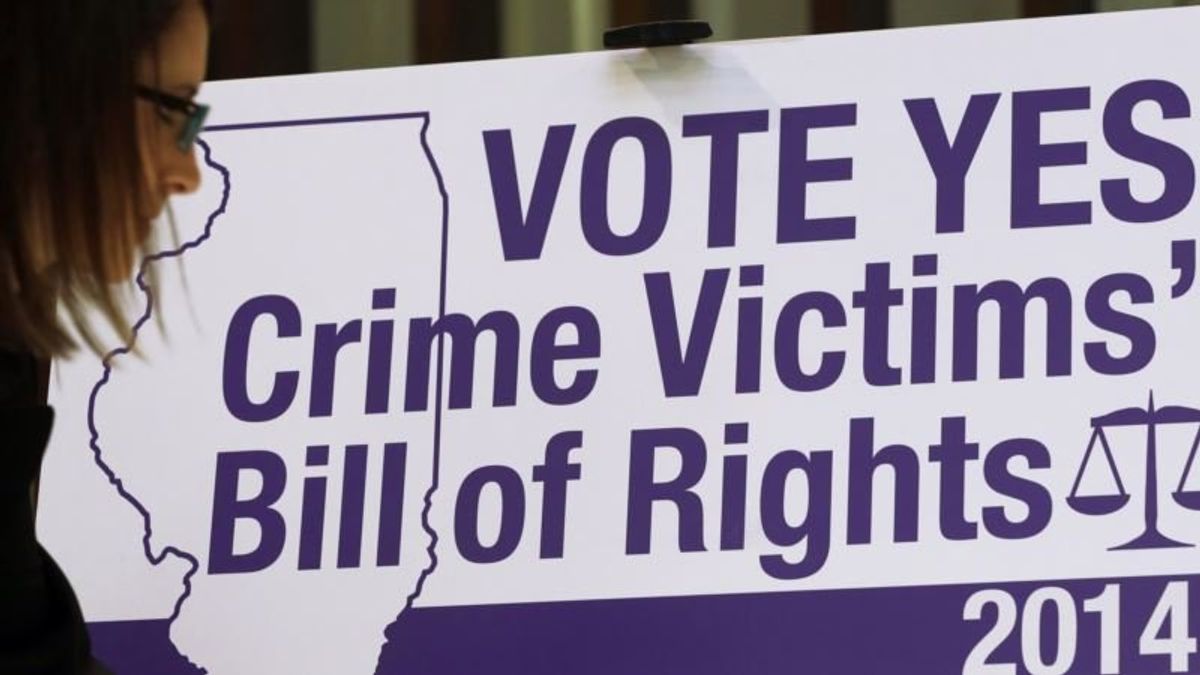 6 States OK 'Marsy's Law' Protections for Crime Victims
November 8, 2018, 6:57 PM
6 States OK 'Marsy's Law' Protections for Crime Victims
The official website of the campaign supporting Amendment 6 in Florida featured a white-and-purple layout, filled with endorsements from local politicians and filmed testimonials from crime victims, who say their personal tragedies could have been prevented by the proposed legislation. The website was identical to others supporting Amendment 4 in Georgia, Question 1 in Nevada, and State Question 794 in Oklahoma.
The campaigns all linked back to the website for Marsy's Law for All, a nonprofit organization driving what it calls the victims' rights movement. It recruits and funds local efforts to incorporate Marsy's Law, a controversial set of protections for crime victims, into state constitutions.
Six states had Marsy's Law amendments on their ballots Tuesday, all of which passed. Five of these states now will alter their constitutions to include proposed changes that critics say are overly broad and harmful.
Marsy's Law encompasses a number of provisions based on the idea that victims should have equal rights to those of the accused in criminal proceedings. This includes requiring victims to be notified of proceedings involving their case and the release or escape of the accused; to be heard at plea or sentencing hearings; to obtain reasonable protection from the accused, and to be guaranteed a meaningful role in the criminal justice system.
Critics say the protections hamper the justice system through their vague wording, while undermining due process by pitting defendants' rights, which are meant to protect defendants from the state, against those of victims. Notably, the American Civil Liberties Union opposes Marsy's Law, calling it "poorly drafted" and "a threat to existing constitutional rights."
Marsy's Law for All national communications adviser Henry Goodwin told VOA News he had never heard a good example of a victim's rights undermining a defendant's rights.
"The justice system is very adept at balancing rights within the system," Goodwin said. "You know, the victim's rights which Marsy's Law advocates are complementary to defendant's rights. We're not seeking to undermine or take anything away from defendants. It's not a zero-sum game."
Marsy's Law for All was formed in 2009 by Dr. Henry Nicholas, a former Broadcom CEO recently estimated by Forbes to be worth more than $3 billion. Marsy's Law is named for his sister Marsalee, who was shot to death by her ex-boyfriend in 1983.
After successfully spearheading a 2008 campaign to bring Marsy's Law to California, Nicholas decided to form a national organization with the goal of bringing the amendments to all 50 states, and eventually the U.S. Constitution. Since then, Marsy's Law amendments have passed in Illinois, the Dakotas and Ohio.
The movement, on a state and national level, is funded by Nicholas' personal wealth. The six campaigns backing Marsy's Law this November all received the vast majority of their money either directly from Nicholas or from Marsy's Law for All, which Goodwin confirmed to VOA News is entirely funded by Nicholas. In total, the six campaigns amassed a war chest of $60 million. Roughly $30 million was spent in Florida alone.