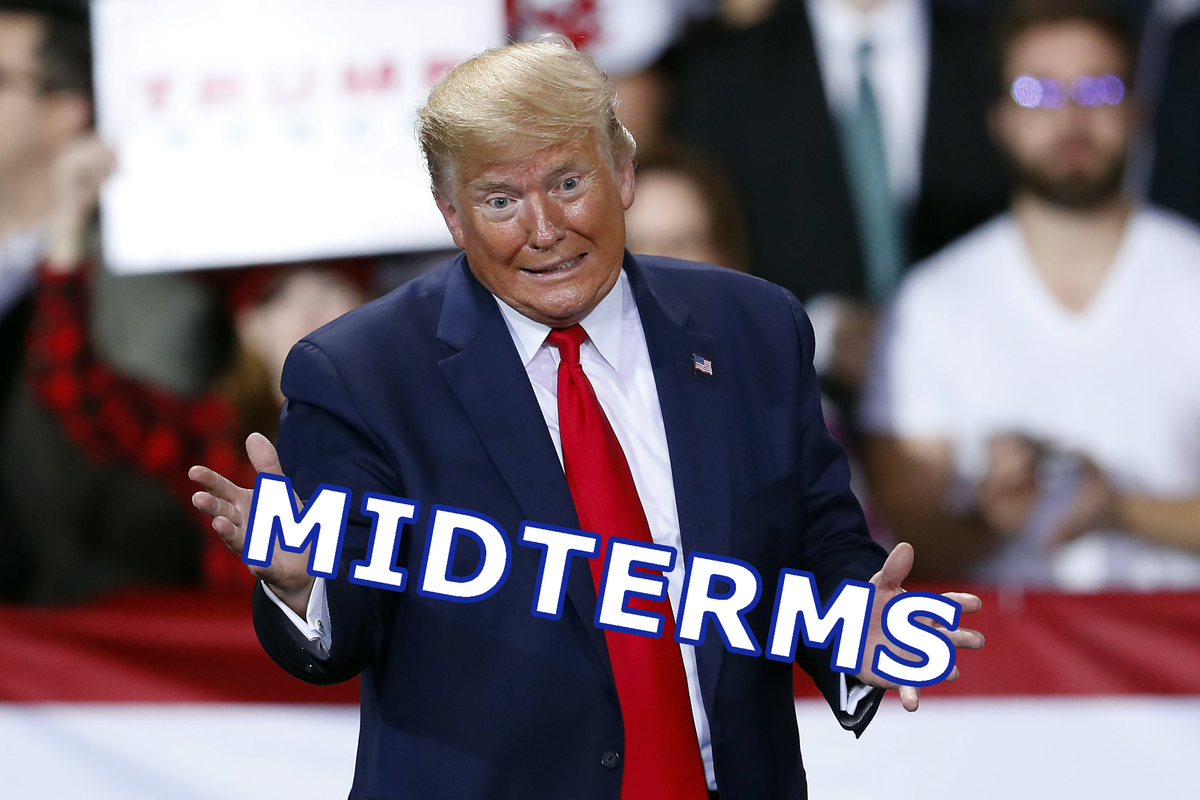 Why Do the Republicans Want To Lose the Midterm Elections?
With the United States Senate currently equally divided between the Democrats and Republicans, one would think that the Republican Party would be fighting harder to win the majority. But they aren't. Why?
Harken back to the good old days of the Tea Party. Delve deep into your memory banks for a moment. The Tea Party was formed because of Barack Obama. Obama was threatening gun-control, higher taxes, and for the most part, a total upheaval of America as we knew it. Patriotic Americans from the Pacific to the Atlantic oceans rose up. They rallied from Bangor, Maine, to Orlando, Florida, and into the deserts outside of Las Vegas, Nevada. Flag-waving patriots even showed up by the train loads, planeloads, and busloads to the mall in Washington, D. C. And the message was clear, "We ain't taking it no more."
With all of this amassed American patriotism for lower taxes, small government, and more freedom, one would have thought that the Republican Party would have jumped on this much like a duck on a June bug. But they did not. At the time, one of the higher profile GOP henchmen was a fellow by the name of Karl Rove. Because of Rove's high-ranking status in the previous White House, Rove was one of the principal orchestrators of the Republican's message to America. He was also instrumental in "who got the support of the GOP, who could run for higher office, and all things elephant."
Millions of patriotic Americans were waving their Gadsden flags (the yellow flag with the snake on it) and crying out for Republicans to stand against this very obvious socialistic new administration. The Tea Party had given voice to fire-breathing patriotic speakers such as the former Veep Candidate from Alaska, Sarah Palin. Senator Ted Cruz was a product of Tea Party groups organizing and rallying for his grassroots campaign in Texas. Again, why would the Republican Party be so all-fired and ready to rid the land of patriotic Americans screaming what the GOP claims they stand for?
Why would Karl Rove publically state that the "Republican Party will destroy the Tea Party?"
Tea Party candidates and now elected officials such as Cruz, Senators Rand Paul, Jim Jordon, and many others are the nemesis of the Republican Party elitists in the Ivory Tower. Why?
Simply because they are trying in vain to clean out what former President Trump refers to as the "SWAMP."
This was one of the originating goals of the Old Tea Party – that being to clean out the corruption in our federal government.
THEN CAME THE MAGA GANG!
Who is the bulk of Trump (err; MAGA) Nation? If you've never been to a Trump event, you should attend at least one. You will see hundreds and hundreds of red signs depicting the words "Make America Great Again," and you will likely see almost as many bright yellow Gadsden flags waving as well.
Trump campaigned and preached for lower taxes, smaller government, closed borders, fewer government regulations, stronger defense, and to be proud of our nation. THE SAME IDENTICAL THING THE TEA PARTY rallied for.
The some fifty-million Tea Party Patriots, which Amy Kremer, Jenny Beth Martin, and so many more organized, became rabid Trump supporters almost overnight.
Now the Elitists Establishment Republican Blue Bloods are once again panic-stricken. Why?
Here is an example; Remember (I know, we are trying to forget her) Congresswoman Liz Cheney? When Liz became a Congressional Rep back in 2017, her net wealth was in the vicinity of $7M. When she leaves this year's end, she will take some $44M home with her. She obviously has an incredible investment counselor. Anyone who can turn a $174-199K salary into a $44M estate in six years, I want to hire them.
This is why Congress has an 18% approval rating. Harry, the nice fellow from Central Wisconsin, goes to Washington. Harry owns a couple of plumbing companies and a lovely home. He is worth $500k. Harry comes home after serving 5-terms on Capitol Hill and is worth $30M. And we have seen this time and again. Nancy Pelosi is the epitome of Capitol Hill corruption, and all of America knows it.
And now we know why the Elitists Establishment doesn't want Trump-endorsed candidates winning this fall. The worst thing that can happen for these nefarious crooks is for Trump to regain the office of the presidency with a Republican patriot-led House and Senate. Parish the thought! Now the gravy train of payoffs, bribes, lobbyist's cash, PACs, and more ends.
Ask yourself this, why else would the Republican Party have abandoned Dr. Oz in Pennsylvania and Herschel Walker in Georgia? The GOP is allowing a confessed socialist named Raphael Warnock to defeat a Trump-endorsed Herschel Walker. Warnock has outspent and outraised Walker by 2-1 and now has a commanding double-digit lead. Dr. Oz is also a Trumpster and is now losing to John Fetterman, who suffered a stroke three months ago and has almost the same speech issues as Joe Biden.
While our heart goes out to anyone suffering such a medical condition, the fact is, "is he really capable of doing his job in the Senate?" And the GOP is doing nothing to assist the good Doctor.
The sad truth is America; the Republican Party wants "go-along-get-along" candidates who will tow the party line, do as they're told, and make money. That is the bottom line.
The Republicans today on Capitol Hill (except a few) are no different than the Democrats. The GOP has shown its true colors this midterm, and it is a sad day for our nation.
By Ken Crow
#####