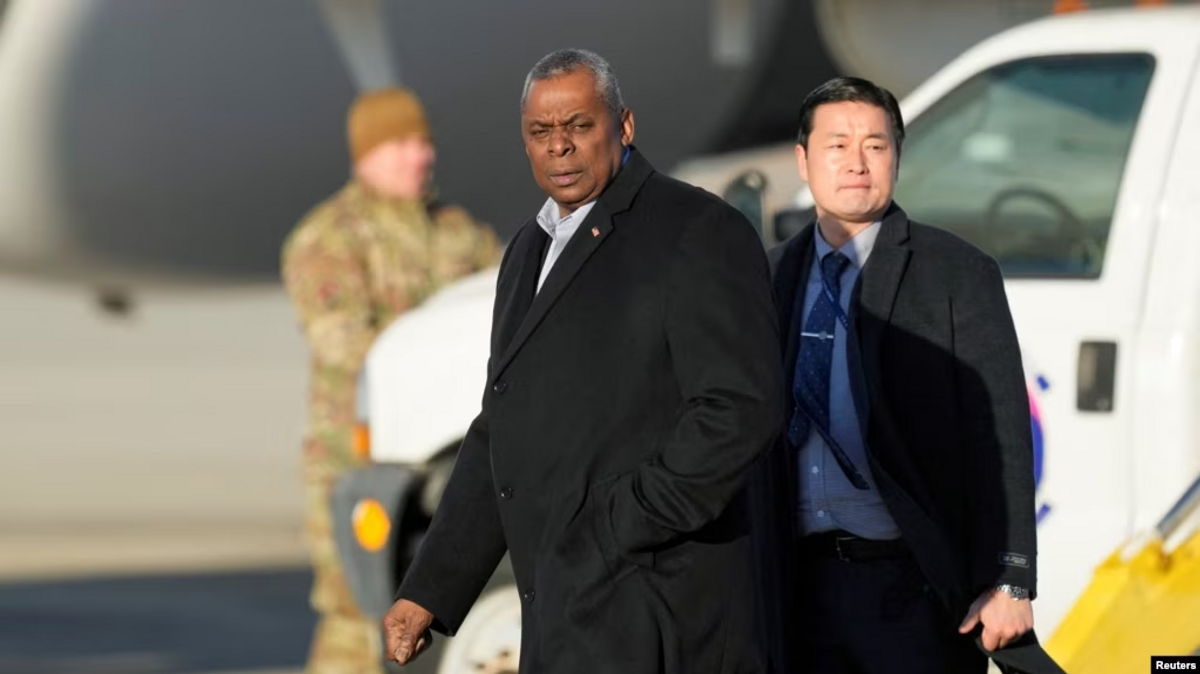 US Defense Officials Not Losing Sight of China, North Korea
ABOARD A U.S. MILITARY PLANE OVER THE PACIFIC —
Less than a week after helping secure billions of dollars in additional military assistance for Ukraine in its fight against Russia, including U.S.- and German-made battle tanks, top U.S. defense officials are shifting their focus to the Indo-Pacific and growing threats from China and North Korea.
Defense Secretary Lloyd Austin is making his sixth official visit to the region, starting late Monday with high-level meetings in Seoul, followed by a visit to the Philippines to meet with recently elected President Ferdinand Marcos, Jr. and his new national security leadership team.
"The security environment in the Indo-Pacific is growing more complex, which we see day to day," said a senior U.S. defense official, citing ever more aggressive behavior by both China and North Korea.
Specifically, the official, who briefed reporters on the condition of anonymity under ground rules set by the Pentagon, cited a "a sharp uptick in destabilizing PRC [People's Republic of China] operational behavior," including what was described as "dangerous air-to-air intercepts" and Beijing's use of "swarms of maritime militia vessels" in the South China Sea.
U.S. defense officials also emphasized their concern about North Korea's growing nuclear arsenal and its ongoing ballistic missile tests, calling the number of test launches unprecedented.
Pyongyang's bellicose behavior has stoked growing fears in South Korea, where President Yoon Suk Yeol earlier this month suggested that Washington might need to redeploy nuclear weapons to the peninsula or that Seoul could begin developing its own nuclear arsenal.
Austin will use meetings Tuesday with Yoon and South Korean Defense Minister Lee Jong-sup to highlight Washington's "ironclad extended deterrence commitment," a second senior U.S. defense official said.
But the official cautioned the deployment of U.S. nuclear weapons to South Korea will not be on the table.
"We are committed to the denuclearization of the Korean Peninsula," the official said. "Our focus is emphasizing the importance of extended deterrence … that includes the full range of U.S. capabilities, including certainly our nuclear abilities, our conventional capabilities, as well as our missile defense."
It also includes increased cooperation and additional training, including a resumption later this year of U.S.-South Korean joint live-fire exercises on the peninsula following a hiatus of several years.
"We are committed to doing more," the official added.
U.S. defense officials also expect to discuss Seoul's support for Ukraine and ways the U.S. can deepen its cooperation with South Korea's defense industry, which the officials praised as a world leader in advanced weaponry.
Following his meetings in South Korea. Austin will fly to the Philippines, where he will meet with U.S. troops working with their Philippine counterparts in Zamboanga before looking to further cement ties with Manila over shared concerns about China.
"We'll be actively talking about what we can do together to address what has been a pretty notable period of harassment and coercion recently in the South China Sea," said a third senior U.S. defense official, who like the others spoke on the condition of anonymity.
After several years of tense discourse between Manila and Washington, the official said the Pentagon is seeing "a very positive upswing in the trajectory of the relationship."
According to U.S. officials, the Pentagon sees the Philippines as a crucial part of a growing alliance of countries across the Indo-Pacific aimed at pushing back against Beijing, both with and without U.S. help.
And at the Pentagon, there is hope Austin's visit will enable both countries to build upon previous defense agreements, including 2014's Enhanced Defense Cooperation Agreement, and help Manila modernize its forces and pivot from its ongoing counterterrorism mission so it can better confront Beijing.
"[Austin] will reiterate publicly what we have been very clear about, which is that our treaty commitments do apply in the South China Sea and that an armed attack on Philippine forces or vessels or aircraft in the South China Sea would be relevant to the defense treaty commitments that we have," the official said.
Already, the Philippines is one of a handful of countries that gets critical maritime information and intelligence through a new U.S. initiative. And U.S. officials are also hoping to expand cooperation in Manila in the areas of space and cyberspace.