JOIN US LIVE ON RUMBLE NOW!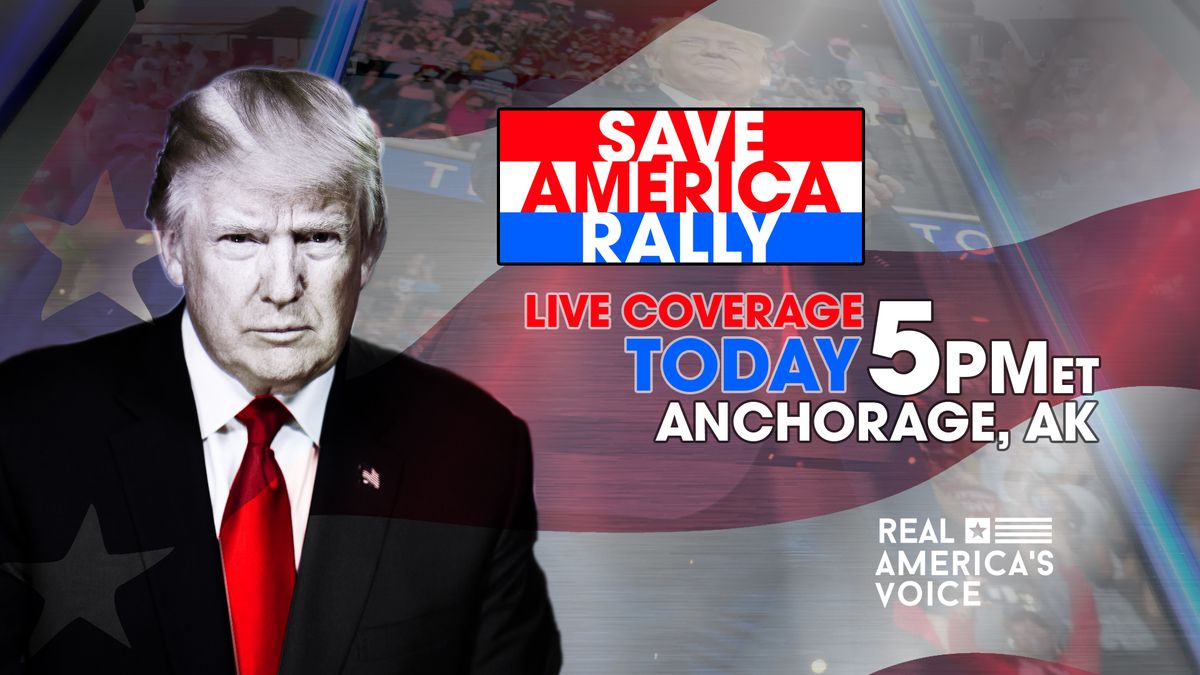 TRUMP TO CAMPAIGN FOR PALIN, TSHIBAKA AT ALASKA RALLY AIRING LIVE ON REAL AMERICA'S VOICE
FOR IMMEDIATE RELEASE
Contact: americasvnews@gmail.com
Fastest-growing news network providing wall-to-wall coverage of 45th President's 'Save America' rally in Anchorage
Centennial, CO/July 8, 2022 —Seeking to oust his old adversary Sen. Lisa Murkowski from her seat in the Senate, Donald Trump is expected to pull a few punches on Saturday as he holds a rally in support of Murkowski's GOP challenger, Kelly Tshibaka, as well as GOP congressional candidate and former Alaska Governor Sarah Palin, and incumbent Governor Mike Dulvaney.
Real America's Voice will be airing the rally live across all of its digital media platforms with coverage of the event beginning at 5 pm eastern.
"Saturday's rally in Anchorage is set to be one of the most electrifying Trump rallies in recent memory. Not only will Trump be campaigning against Lisa Murkowski, one of his most prominent GOP adversaries who voted to impeach him, but he will also be sharing the stage with Sarah Palin, one of his earliest supporters and a politician. The latter in many ways was a proto-Trump herself during the 2008 Presidential campaign," Real America's Voice CEO Howard Diamond. "We're excited to be able to provide our viewers with front-row access to what is likely to be a rally for the record books."
Full wall-to-wall LIVE coverage of Trump's July 9 rally in Anchorage, Alaska will begin at 5 pm eastern. Ed Henry, Karyn Turk, and Terrance Bates will anchor the event live from the Real America's Voice West Palm Beach studio, and correspondents Amanda Head and David Zere will be on site.

LIVE team coverage of the Anchorage, Alaska "Save America Rally" begins Saturday, July 8 at 5:00 pm EDT. Stream online at http://realamericasvoice.com or on DISH Ch. 219, Pluto TV Ch. 240, Samsung TV Plus Ch. 1029, The Roku Channel Ch. 175, SelectTV Ch. 106, as well as Apple TV, Fire TV, and Roku streaming devices.
# # # # #