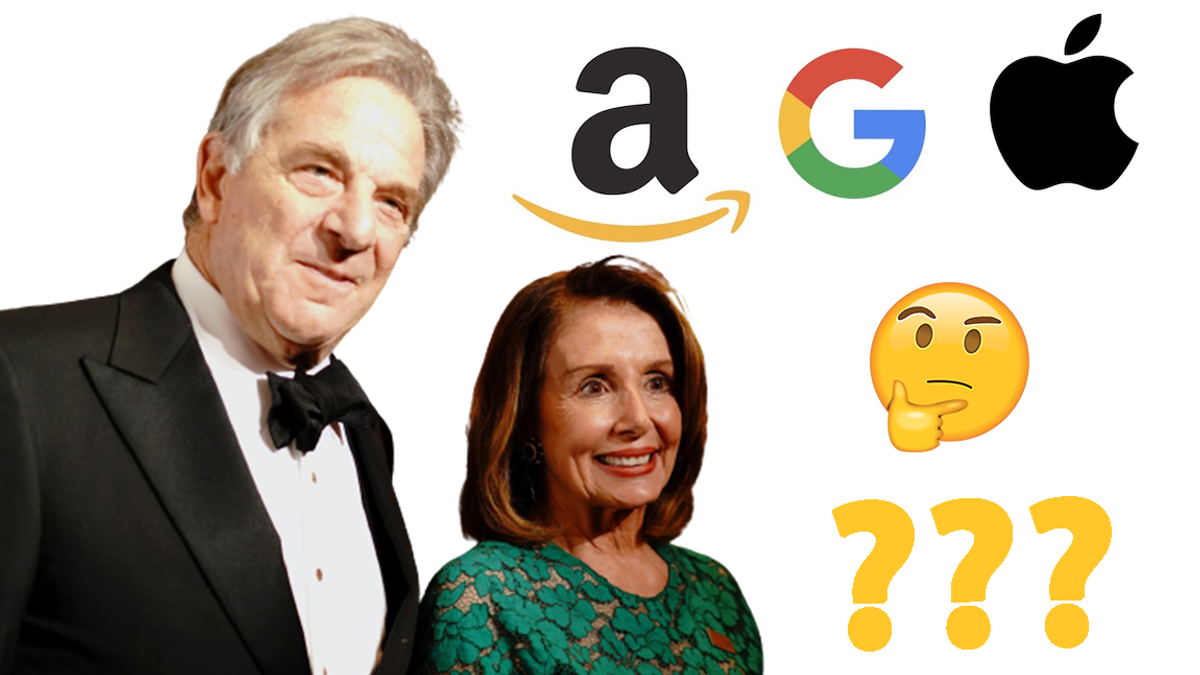 The Appearance of Evil - Nancy Pelosi's Disturbing History of Insider Trading?
A federal financial filing released on July 2nd of 2021 revealed that in May of 2021, Paul Pelosi, the husband of Nancy Pelosi - the U.S. Speaker of the House, and third in line to the presidency, spent $250,000 purchasing 50 calls on Apple stock. Mr. Pelosi also purchased 20 calls on Amazon stock for a price of $1 million, and exercised call options on Alphabet stock valued at $4.8 million. These stock purchases put the Pelosi's in a unique position to profit quite handsomely if the big tech market were to suddenly shift dramatically.
Notably, these multi-million dollar big tech stock trades came just weeks before the House pushed through a number of bills expressly designed to limit the overarching powers of big tech firms like Apple, Google, and Amazon. Many in the media have begun to scrutinize these curiously timed trades, and have scratched their heads at what looks like a clear example of insider trading.
This isn't the first time the Pelosi's have happened to "get lucky" in the stock market. In March of 2021, Mr. Pelosi made the omniscient move of exercising Microsoft call options valued at $1.95 million just two weeks before Microsoft was given a $22 billion contract with the U.S. Army. There was very little public information on the $22 billion contract available, and if Speaker Pelosi had shared insider knowledge, then the trades in question would have smacked of illegality. Perhaps Mr. Pelosi just got lucky.
In January Paul Pelosi made the curious move of purchasing $1 million Tesla call options. His decision to make this risky move paid off when just weeks later the Biden administration signed an Executive Order transitioning the U.S. towards electric vehicles. One could chalk up his successes to "the luck of the Irish," except the Pelosi's are Italian and more importantly, had access to insider information that clearly explained this round of stock purchases.
Over the past three decades Speaker Pelosi's net worth has risen to $114 million, while receiving a federal salary ranging from $174,000 to $223,500. The largest increase in wealth for Speaker Pelosi and her husband has come from a series of stock market "success stories."
Maybe the Pelosi's are in communion with God himself as their financial advisor, maybe they're just remarkably lucky, or maybe something more nefarious, akin to insider trading, is afoot.
Congressional watchdogs ought to dig deeper into the Speaker's rocky history of false statements and fraudulent claims. There are laws on the books, notably the STOCK Act, and the Ethics in Government Act, that are designed to empower law enforcement and other entities to police clear insider trading violations. Even left-wing media has begun to cry "foul" as the Speaker of the House's pocketbook grows fatter.
These disturbing stories matter, because foundational to the concept of American Democracy is the idea of government accountability. Our founders recognized that rank corruption represented an existential threat to this republic and dictated that standards of conduct exist for those that held public office. Subsequent iterations of the federal government have expanded on these wise principles and instituted certain checks and balances against government corruption, particularly financial corruption of elected officials.
In 1978 the Ethics in Government Act was passed in the wake of Watergate. The goal of this legislation was to rein in the exorbitant amount of power public officials possessed, and to enumerate acceptable and unacceptable actions by office holders on a federal level. By and large the Act did what it was designed to do, and helped provide clear and effective guidance for lawmakers and government watchdogs seeking to hold our leaders accountable.
On a purely financial level, the act mandated that government officials disclose when they, or members of their close family, buy or sell stock or securities for any transaction that exceeds $1,000. Further federal law, such as the STOCK act, also prohibits the usage of information, obtained through official duties and not publicly available from being used to conduct insider trading.
Make no mistake, these laws are necessary pieces of legislation that provide a legal bulwark and framework to prohibit an unscrupulous few from using the power of the people to line their own pocketbooks. Unfortunately lawmaking often begets new methods of lawbreaking, and since their passage, public officials have faced numerous credible allegations of criminal behavior and insider trading. Unfortunately, the clout and power that most of these public officials possess has kept serious legal action from being pursued on a federal level.
The Pelosi's have yet to be indicted for insider trading, and perhaps they never will be, but as the old saying goes: "be sure your sin will find you out," and with increased scrutiny falling on each and every suspicious trade conducted perhaps the truth is closer to the surface than the Pelosi's would like the world to think. Career politics is the breeding ground for career corruption, and those who seek to utilize public office for their own gain deserve nothing less than prosecution to the fullest extent of the law.
By RAV - Staff Writer
###