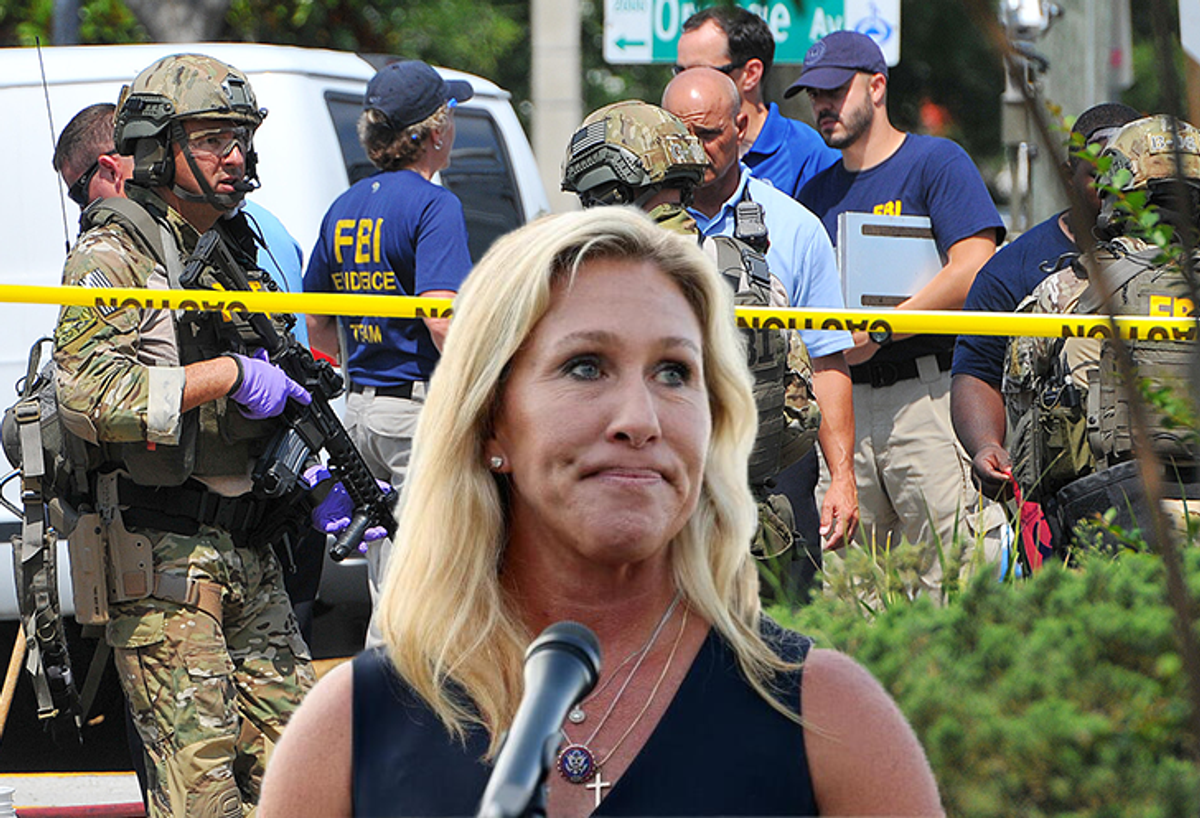 Swatting Of Marjorie Taylor Greene Highlights Alarming Tactic That Is Being Wielded By The Left Against Conservatives
Republican populist firebrand Georgia Rep. Marjorie Taylor Greene's home was visited by police in the early morning hours Wednesday because police received a call that falsely claimed someone had been shot at Greene's home.
Last night, I was swatted just after 1 am.

I can't express enough gratitude to my local law enforcement here in Rome, Floyd County.

More details to come.

— Rep. Marjorie Taylor Greene🇺🇸 (@RepMTG) August 24, 2022
In an exclusive interview today with Jack Posobiec on Real America's Voice, Greene described what she experienced and elaborated on what she knew about the phone call that led to the raid. The caller had claimed "that someone had shot either her husband or her boyfriend," and that they called back a second time to say "there are children in the home," Greene said.
"If this is the war the Left wants to bring, then they can bring it — Because there is no way I'm backing down.": @RepMTG responds after being "swatted" last night at her home. @JackPosobiec

Watch LIVE: https://t.co/cUOaVs2xKO

Watch #TheCharlieKirkShow: https://t.co/36UAQ8FRLM pic.twitter.com/gAmaR2mFqV

— Real America's Voice (RAV) (@RealAmVoice) August 24, 2022
Greene said she invited the responding officers inside, who assessed the situation and informed Greene that she was the victim of a very dangerous prank referred to as "swatting."
In another exclusive RAV interview this time on War Room, Greene told Steve Bannon that "swatting a way for someone to get another person killed. It is attempted murder," adding "someone tried to have me killed last night."
A police report of the incident states that five police officers were sent to Greene's home, reported the New York Post. The police report also states that they received another call after the dispatch to Greene's home, where the speaker, in a "computer generated voice," claimed that they made the hoax call to the police because of Greene's position on "trans gender youth's rights," said the Post.
"Police came with guns drawn . . . my life could have been taken. "@RepMTG joins Steve Bannon to discuss the lack of MSM coverage about last night's "swatting" and the attempt on her life.

Watch the full discussion on War Room with #SteveBannon here: https://t.co/6MQwEV4jrd pic.twitter.com/TSod8KoaOo

— Real America's Voice (RAV) (@RealAmVoice) August 24, 2022
In the interview with Bannon, Greene noted that Bannon has also been a victim of swatting and attributed her experience earlier this morning to legislation she introduced last week "to protect children all over this country from the radical left's disgusting agenda to get children to undergo gender reassignment surgery, mastectomies, castration, hormone therapy, puberty blockers."
"It's attempted murder."

Steve Bannon and @RepMTG detail her harrowing and potentially dangerous experience from early this morning.

Watch the full discussion on War Room with #SteveBannon here: https://t.co/6MQwEV4jrd pic.twitter.com/uhZpDLzIYl

— Real America's Voice (RAV) (@RealAmVoice) August 24, 2022
"Swatting" is the practice of contacting the police to report a hoax emergency with the aim of having the police SWAT team raid the target's home. Swatting is often associated with the competitive video gaming community, where competitors engage in escalating online trash talk while engaged in multi-player games that are often streamed to an audience that watches the video game battle like a spectator sport.
Watch the full interview on #JustTheNewsNotNoise with @jsolomonReports and @AmandaHead here: https://t.co/7SAAe19zOP

— Real America's Voice (RAV) (@RealAmVoice) August 25, 2022
In one such case in December 2017, two Call of Duty players' competitive streaks led to tragedy when one of them got a prankster to report a fake hostage situation to the local Wichita, Kansas police, ostensibly at the address of his opponent. However, the address provided was that of someone else. When the police arrived at the home, in the confusion they confronted and shot an innocent man to death.
Wherever this extremely reckless behavior originated, it appears to have escaped the virtual gaming realm and is being wielded in the political world. Earlier in July, former Republican Georgia candidate for governor Kandiss Taylor was swatted when someone falsely reported a murder at her home using the "TextNow" app. In a written statement, Taylor claimed that same app has been used to swat other conservative figures including "Stew Peters, Nicholas J. Fuentes, Ethan Ralph, Tim Pool, Bryson Gray, Dalton Clodfelter, just to name a handful," Fox5 Atlanta reported.
By Andrew Afifian
#####