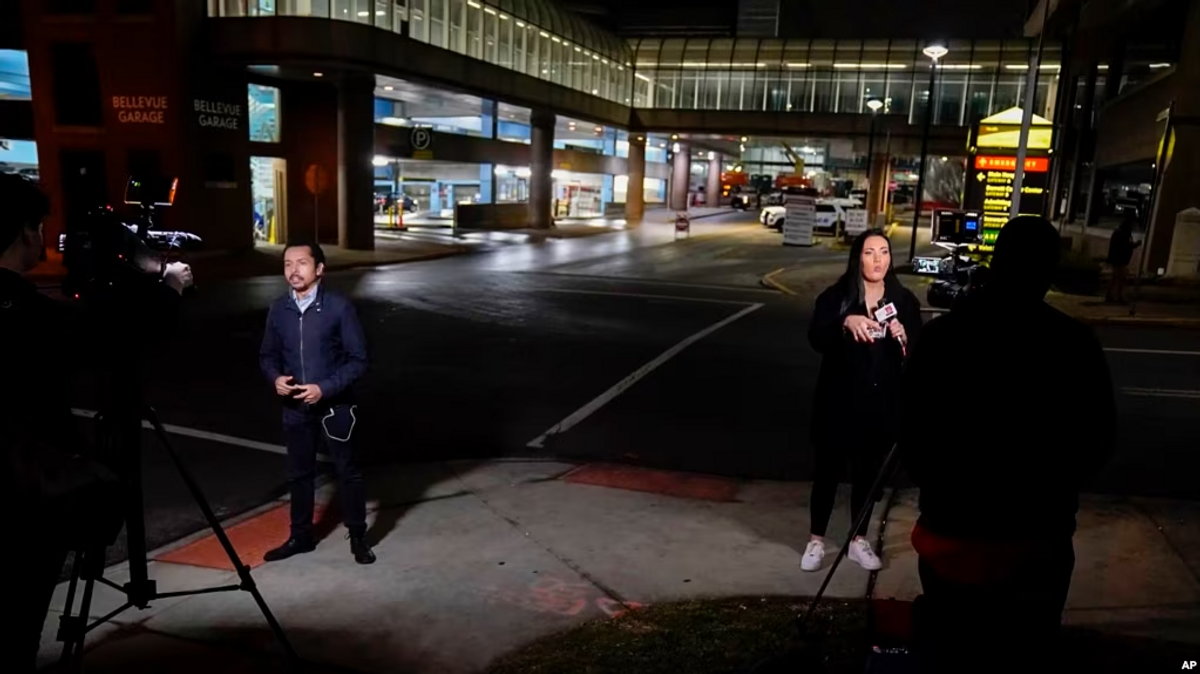 Student Reporters in US Find Challenges, Opportunities
Cate Charron spent the latter half of 2021 investigating how a student at Indiana University Bloomington had managed to re-enroll at the school after violating the terms of a sexual assault suspension.
Under Indiana law, she was permitted to access records on the suspension, but the university denied the requests.
"It was just really difficult," Charron told VOA. "The university was not easy to work with."
Charron, a student and editor at Bloomington's Indiana Daily Student, took her case to the state's Public Access Counselor, who issued a non-legally binding opinion that the school should release the documents.
With the slow process to access records, Charron had found other ways to get the details needed for her story before the university could respond to the Public Access Counselor opinion. Her article also cites a campus official as saying that under the Family Educational Rights and Privacy Act, the university cannot comment on any student's conduct.
But, she said, "If I was even a little bit younger, didn't have as much experience, didn't have as much support as I did, I don't know if I would have been able to circumvent those issues."
Charron also sees wider implications to the block on access to information, saying, "[It] wouldn't really hurt me as much as it would hurt the community to not have a story with all the facts of a university that was trying to escape transparency."
The communications department of Indiana University Bloomington did not respond to VOA's request for comment.
Next generation
The experiences of Charron, who graduated in December, underscore the issues student journalists face across the United States.
Those range from reduced funding for student publications to blocked access to sources and information, experts in student press freedom told VOA.
Despite those obstacles, student journalism remains an important training ground for the next generation of reporters, and in some cases, provides news in communities where other media outlets have been shuttered.
Censorship is one of the most pressing issues, says Hillary Davis, advocacy director at the Washington-based Student Press Law Center (SPLC).
"The extent to which schools often see student journalism as a PR campaign for the schools and less of actual journalism training" is concerning, she told VOA.
Little hard data is available, Davis said, but "when we ask for a show of hands at conventions and things like that, the majority of students have had some sort of censorship issue. But they don't necessarily report it because there's a 'what's the point' feeling. It happens so often."
Censorship at universities rarely takes the form of outright bans, but rather manifests in ways that make it harder for student journalists to report.
Sometimes students don't even realize they are being censored, according to Anna Colletto. The student press freedom day co-chair at the SPLC is also editor in chief of The Maneater, a newspaper run by students at the University of Missouri-Columbia since 1955.
While her university has not blocked the newspaper from covering issues or events, Colletto said there is an "almost a weaponized incompetence, like taking a while to get back to us or being incredibly denigrating to reporters."
Both Colletto and Davis said student reporters across the U.S. are frequently told to go through a school's communications team to get information.
"It's a lack of access, a lack of ability to get information directly from the person who knows it the most," Colletto told VOA about the general practice. "It really harms the educational space that student media is designed to provide," she said, and "it turns people away from the industry."
The University of Missouri-Columbia told VOA that its communications department team "do not mandate that anyone sends media" to their office.
The university has a strong history of investing in student journalism, said the facility's news bureau director Christian Basi.
"At Mizzou, we treat all reporters the same. It does not matter whether they are students or professionals, we respond to them as quickly as we are able to do so and provide them with as much information as we can," he told VOA. "We're also part of an educational institution, so we're going to work to help educate them in their chosen profession."
Community role
Overall, Davis at the SPLC believes that the state of student press freedom is trending in a positive direction.
"Students know full well what the state of journalism is, and they're going to go in to change it," she said. "They're fixing it. And it might sound a little pie in the sky, but that makes me think we're going to be better off."
Student reporters are also increasingly supporting the news industry, especially in local markets.
Since late 2019, more than 360 newspapers have closed around the United States, according to a June 2022 report by Northwestern's Medill School of Journalism. Economic pressures often result in the closures, the report found.
Northwestern estimates that one-third the country's remaining local newspapers will close by 2025. About 70 million U.S. residents — or a fifth of the country's population — now live in areas with limited access to local news or without any local news at all, the report said.
With the decline of local news, student journalists are filling in gaps, said Shannon Stocking, co-editor in chief of The Michigan Daily at the University of Michigan.
When Ann Arbor lost two of its established local newspapers, The Michigan Daily found itself providing regular news to the city's residents.
"It's a really exciting thing. It's also stressful," Stocking said. But her student paper is telling stories that otherwise would go untold.
"The Michigan Daily has had to step into that role of broadening the city beat's resources, making sure that it's completely staffed at all times," Stocking said.
Additionally, the paper is "training news reporters that they are not only working at a student newspaper, but they are providing a community of 100,000 people with their primary news."