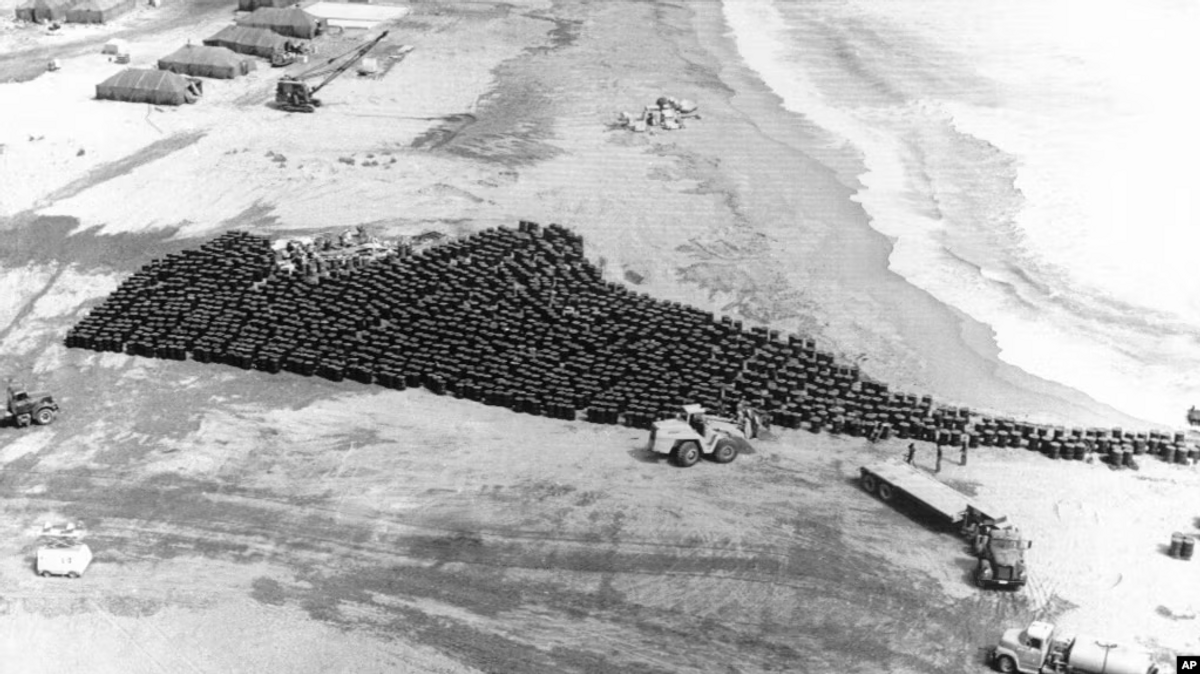 Spain Requests US Cleanup of Cold War Nuclear Crash Site
Nearly sixty years after one of the world's worst nuclear accidents, Spain has asked the United States to clean up tens of thousands of cubic meters of radioactive soil and end a controversial chapter of the Cold War.
Madrid hopes that improved relations with Washington may make the U.S. honor a promise made in 2015 to cart off the contaminated soil.
In 1966, a B-52 bomber lost four hydrogen bombs after it collided with a refueling aircraft over the village of Palomares in southern Spain.
While the hydrogen bombs did not explode, two of them released plutonium, contaminating a two square kilometer area of land.
About 1,600 U.S. Air Force personnel were sent from a nearby base to clean up the area but were issued little protective gear while they spent weeks working in the remote site. Some later died.
About 1,400 tons of contaminated soil were shipped to a facility in the U.S. state of South Carolina.
It was the height of the Cold War and the matter was considered highly sensitive, so Washington's priority was to quickly eliminate all evidence of one of the biggest nuclear accidents in history.
Years later, concerns over the lingering impact of the collision began to surface after a study conducted in 2007 by the Spanish Nuclear Safety Council suggested that up to 50,000 square meters of land remained contaminated. The area was fenced off and barred from use for development or agriculture.
Promises
In 2015, after decades of pressure from Madrid, Spain and the United States signed a statement of intent to dig up a patch of contaminated soil near Palomares and bury it in a secure area in the desert near Las Vegas in the U.S. state of Nevada.
But no final agreement was reached, and nothing happened.
Diplomatic relations worsened between Washington and Madrid during the presidency of Donald Trump, especially after a leftist government took power in Spain in 2018.
Spain now hopes improved relations between the administration of U.S. President Joe Biden and the Spanish government led by Socialist Prime Minister Pedro Sánchez may resolve the issue.
"The Ministry of Foreign Affairs has presented an official request to the United States asking it to retrieve the soil. So far, there has not been a response from the U.S." a source at the Spanish Foreign Ministry, who declined to be named in accordance with custom, told VOA.
The Spanish newspaper El País reported Monday that the request had been made a few months ago.
"The United States conducted remediation following the 1966 accident at Palomares and met with Spanish government officials on numerous occasions to discuss a range of bilateral issues including possible further remediation of the site. The Biden-Harris administration is open to further dialogue on this issue," a U.S. State Department official told VOA.
Calls for action
Oscar Velasco, mayor of Cuevas de Almanzora, which includes Palomares, said unless action was taken now, the plutonium in the subsoil could spread.
"If they leave it until 80 years after the crash we could have a worse problem on our hands," he told VOA.
However, advocates, who have been fighting for removal of the contaminated soil, were not hopeful that Washington would deliver on Spain's request to resolve the matter.
José Herrera Plaza, who has spent 20 years investigating the Palomares accident, said since 1966, the incident had been manipulated by politicians.
"Unfortunately, I don't hold out much hope that this will be solved again. Once again, the politicians are using this for political ends," he told VOA from his home near Palomares.
"We are two months before regional and local elections in May in Spain and we are expecting national elections in December. It is no accident that Spain has made this request now."
Herrera said successive governments in Spain had manipulated the accident for political gains.
In 1966, shortly after the accident, Manuel Fraga, a minister in the government of longtime Spanish ruler General Francisco Franco, and the U.S. Ambassador Angier Biddle Duke swam in a nearby waterway to prove everything was safe in a staged photo opportunity.
However, decades later, U.S. veterans started to suffer from cancer or other ailments that many claimed were caused by exposure to plutonium during the clean-up operation.
As more veterans started to die, a dwindling band of survivors fought for recognition that their conditions were linked to weeks spent collecting debris in the Spanish countryside.
In 2021, the retired U.S. servicemen scored a landmark victory, which meant the U.S. Department of Veterans Affairs had to re-examine claims by veterans of Palomares.
The decision was a major step toward ensuring veterans have access to benefits they earned while serving.
Until the 1980s Spanish scientists relied on outdated equipment to assess the pollution. Several areas are still contaminated and fenced off but the effect on local residents is unclear.
"In 2015, we hoped they would remove 50,000 square meters of land, which we know is polluted. So far, nothing has happened. I am not hopeful," José Ignacio Domínguez, a lawyer for Ecologists in Action, a Spanish conservation group, told VOA.
Ecologists in Action is taking legal action to try to make the Spanish government reveal details of the accident, which remain state secrets 57 years after the crash.
In 2020, Spain's National Court, which deals with terrorism, major financial fraud or matters of national security, asked the government to open the files on the case.
Some information for this report was provided by the Associated Press.