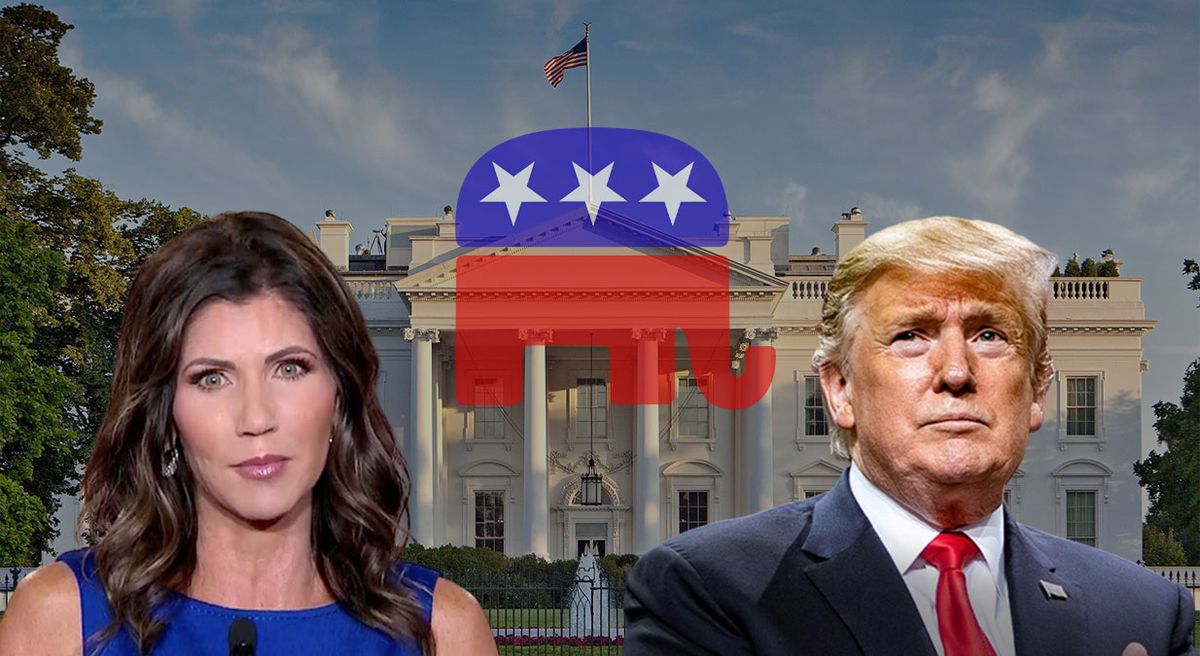 South Dakota Governor Reveals True Ambitions
Bengal Tigers often have beautiful colors and striping.
In the end, as pretty as they are to look at, they still have large and very sharp teeth and claws. As unpredictable as these wild creatures are, so is politics. Just when you think something will be tame and predictable, these inhabitants of the profession known as politics will turn on you and devour you if it suits their agenda and ambitions.
Just as these beautiful beasts have been known to "turn on their trainers and handlers," so too has the Governor of South Dakota turned on the one that aided and endorsed both of her runs for Governor.
In an article from The Hill, reported that Governor Kristi Noem of South Dakota apparently has bigger ambitions than just being the Governor of this rural and picturesque Midwestern State.
In a statement, Noem (R) said former President Trump, who just announced his 2024 reelection bid, doesn't offer "the best chance" for the GOP in the next presidential election cycle. She continued her back-stabbing of Trump by saying, "If we narrow our focus there, then we're not talking to every single American. Our job is not just to talk to people who love Trump or hate Trump. Our job is to talk to every single American," Noem, who herself has gotten nods as a potential GOP candidate for 2024, told The New York Times.
As recently as February of 2022, this is what Donald Trump said about Kristi Noem in her bid to be re-elected as Governor. "Kristi Noem has done a great job as Governor of South Dakota," Trump said in a statement. "She is strong on Borders, the Second Amendment, preserving land and Energy Dominance, Medical Freedom, and kept South Dakota open during COVID. She fully supports our great Law Enforcement, Military, our wonderful Vets—and is a fighter for the incredible people of South Dakota. Kristi has my Complete and Total Endorsement!"
Former President Trump had to be thinking "Et-Tu Mike" after his daggers came out with this Tweet:
To give this story of treachery and political treason a bit more credibility, it is also being reported by the Western Journal that Noem has had meetings with and even hired former Trump campaign manager Corey Lewandowski to be her "political advisor."
The question should now be asked, "who is paying for Lewandowski?" Corey Lewandowski is not a cheap date and will likely be costing Noem into the five and possibly six digits a month (if he brought his entire team) to Pierre, South Dakota.
Kristi Noem has to be looking at a run for President very seriously, or she would not have begun tossing arrows at former President Trump, and she certainly did not hire Lewandowski for "maybe-what if-what are your thoughts type of meetings and advisory sessions."
Until Mike Pompeo and or Kristi Noem can fill a stadium, an airport tarmac, or a coliseum with 20-30-50,000 plus screaming fans wearing all their swag, I don't think President Trump has much to worry about in winning the nomination for the Republican Party in 2024.
By Ken Crow
#####